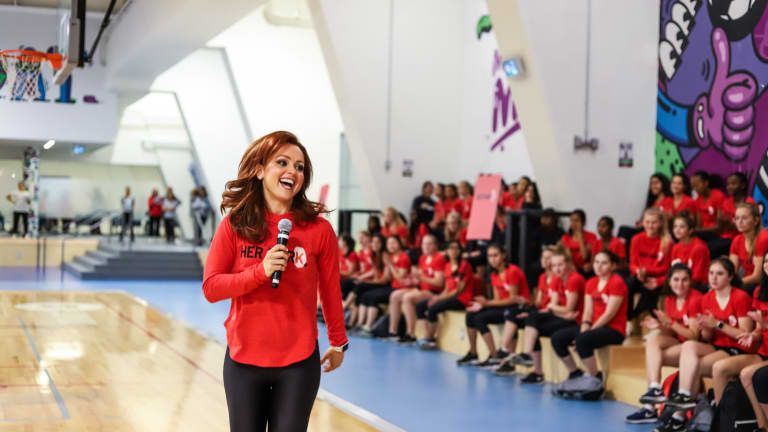 TSN's Kate Beirness Keeps Empowering Girls During Pandemic
Tune into a Raptors' game and you will most likely be greeted by 36-year-old Kate Beirness of Port Perry, Ontario. The reporter has been a staple of basketball broadcasts on TSN. But the cheerful broadcaster can be spotted all over North America.
Beirness has covered everything from the NBA Finals, Women's World Cup, March Madness, and the Olympics. She can also be found hosting events such as the Her Mark summit.
Founded by Beirness, Her Mark is a one-day event catered to female athletes ages 15-18. Now in its fourth year, it has drawn more than 500 participants from all over Canada. Beirness gathers professional female athletes and media personalities to inspire and educate participants. Past panelists have included two-time Olympic gold medalist Rosie MacLennan and TSN's Kayla Grey, who made history as the first Black woman to anchor a national television sports show in Canada.
The girls circle through stations led by Canadian Olympians. From soccer drills, exercises, and even boxing, the summit provides the opportunity to try new activities.
"You're getting taught by a gold medalist to do a certain exercise, so you're probably going to listen right?" Beirness jokes.
Food plays a significant role in everyone's lives. Sylvie Tetrault, a nutritionist for hockey's biggest stars such as Connor McDavid and Steven Stamkos, prepares lunch and educates the girls about the importance of eating right.
In previous years, the event has taken place at the BMO Field and MLSE Launchpad. Unfortunately, due to the current pandemic, this year's summit had to be cancelled. Despite those circumstances, TSN gave Beirness the opportunity to showcase interviews with female competitors such as Kia Nurse, Tessa Virtue, and Christine Sinclair in a half-hour special. Beirness promises a bigger and better summit in the years to come.
One issue she's focused on is high school–aged girls dropping out of sports. Cultivating community, developing friendships, and inspiring each other are three ways to encourage girls to stay in sports, and the event is the perfect place to do so.
"We can't have that happen, because sports are one of the greatest things," Beirness says. "It gives you confidence. You learn so much from it, and it's critically important to our future generations,"
She wanted to incorporate Canada's Olympians, her zeal for female empowerment, and the next generation into one event. So she dreamt up the concept of Her Mark.
"What was important to me was for young women to meet these athletes in our country because they are inspirational," Beirness says.
She also wanted to provide a platform for young women. ESPN's Doris Burke was one of very few female NBA broadcasters in the '90s. Beirness demonstrated her appreciation for the icon, knowing the battle Burke fought.
"What she went through to allow women like me broadcast, in the NBA especially—I don't know how to ever thank a woman like that," Beirness says.
Despite her monumental success in sports broadcasting, she wants to be remembered for the Her Mark summit. Beirness strives to be her best self and dedicates her time to empowering others. She hopes to inspire others through her work and words.
For budding commentators, broadcasters, and journalists, Beirness shared two ingredients in her recipe for success: confidence and hard work. She spent many years working for local television before joining TSN.
"With whatever you're covering, make sure you give it your all because that's going to set you apart at the end of the day," Beirness explained, "Know that you can do it because you have to be your No. 1 advocate before anyone else."
Photo courtesy of TSN