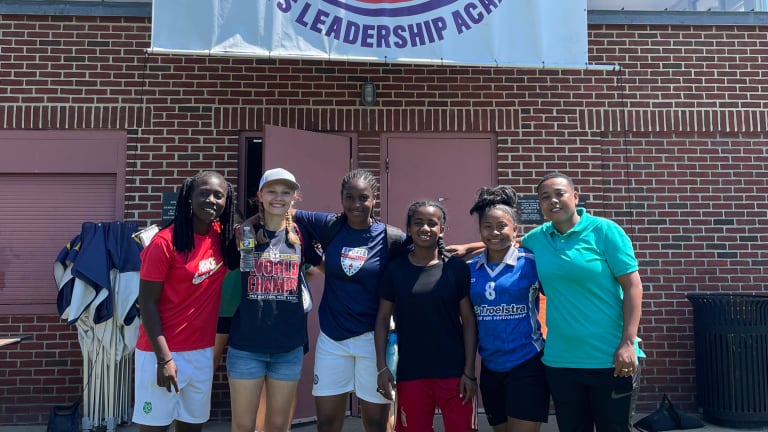 Julie Foudy Sports Leadership Academy Draws Female Athletes from Around the Globe
The Julie Foudy Sports Leadership Academy recently took place in New Jersey on June 26-30 where teenage female athletes from all over the world came together to enhance their sports and leadership skills. Led by two-time Olympic soccer medalist Julie Foudy, four-time Olympic basketball gold medalist Tamika Catchings, and two-time World Lacrosse women's world champion Jen Adams, dozens of girls from all over had the opportunity to learn life skills, both on and off the field. This academy is focused on one thing: leadership!
The JFSLA, which started in 2006, is geared toward female athletes ages 12-18 who are striving to not only become better players, but also better citizens in their communities.
"We started the leadership academy for girls because we felt like there needed to be more discussion within sports about how sports shape you as a person, and be more overt about the leadership qualities learned from just playing sports," Foudy said. "Plus, we really wanted to create a fun, positive, empowering environment where the girls walked away knowing they could be leaders in their community."
Throughout this five day program, the girls worked on sports drills, listened to motivational classroom talks, and volunteered in the community. One such inspirational guest was Amy Liss, who first met Foudy in 2009 in Villa Park, Illinois, at Easterseals, a healthcare organization dedicated to helping those living with disabilities. Foudy asked Liss, who's lived with cerebral palsy her whole life, to start volunteering at the academy in 2013 and share her story to inspire athletes to "live each day with an attitude of gratitude." Amy's contagious smile encourages campers to stay positive even when life's circumstances are hard.
This year's group featured young athletes from Brazil, Suriname, Nepal, Bolivia, Angola, Bangladesh, Zambia, Jordan, and more. For two weeks, these international athletes participated in workshops, cheered at a professional soccer game, and watched a WNBA game. They are not just immersed in the American culture—they have the opportunity to give presentations about their countries.
"The main thing I learned here is how do we learn things over here, and take the things to give back to our communities," said Kalpana Bastola, a soccer player from Nepal. "I'm going to give back to my community whatever I learned here."
Every day, all of the athletes participated in classroom activities. They focused on team building exercises and hands-on activities to work on confidence, leadership, and more. In addition, these young athletes had the opportunity to hear from activists and educators. .
"The classroom portion is even more important than us being out on the court," said basketball Hall of Famer Tamika Catchings. "I love the classroom—being able to talk about confidence, how to handle peer pressure, how to handle tough situations, how to communicate with your teammates."
Another component of the JFSLA is the community service aspect. Each day, the athletes partake in a service activity. One of the days, basketball and soccer athletes went to Special Olympics New Jersey to play their sports with the Special Olympics athletes.
Of course, all of these different activities are meant to teach a different aspect of the program's core focus—leadership.
"We believe leadership is personal, not positional. And that leadership is about service and lifting up people around you," Foudy said.
After the academy, the athletes go back to their home communities, hoping to apply what they learned here. Rama Farah, a basketball player, summed up her experience in a way sure to please her coaches: "I used to think that to be a leader, you had to be loud and show your presence, but it's actually not about that. You can be a very quiet leader and have the hugest impact."
Together, Foudy, Catchings, and Adams are changing the future of the Gen Z athletes by teaching skills that last far beyond the field.