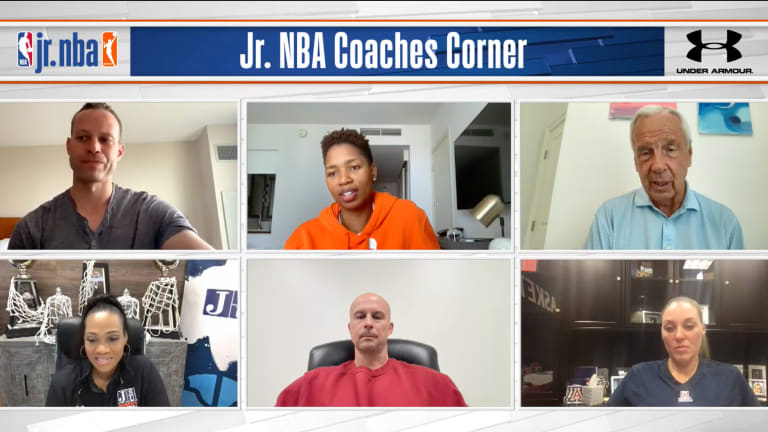 Jr. NBA Conference Provides Resources for Next Generation of Basketball Stars
The sixth annual Jr. NBA Conference recently took place in a virtual setting, giving young basketball players the opportunity to join from wherever to learn more about the game. This conference had a variety of panels with guests like the NBA Commissioner Adam Silver, WNBA Commissioner Cathy Engelbert, New Orleans Pelicans guard CJ McCollum, and former North Carolina coach Roy Williams.
The overall goal of the Jr. NBA is to grow the game and to help improve the youth basketball experience for coaches, players, and parents. It helps teach fundamental skills—dribbling, shooting, and passing—and the values of the game, like teamwork, respect, and determination. In addition, the Jr. NBA offers a free curriculum available on jrnba.com, "covering all levels of the game with 48 practice plans and more than 250 instructional videos featuring NBA and WNBA players that serve as helpful resources for all levels of coaches."
"We do a lot in terms of making sure our programs are accessible," Candice Haynes, NBA Youth Basketball Development Manager. "The majority of our Jr. NBA programs are free, so there are no barriers for entry. We also work closely with school districts to make sure that young people are able to engage with our programs and initiatives."
This year's conference theme was "growing the game through the power of connection and community." There were many different sessions, including the Jr. NBA Live on Elite Youth Basketball Development, Her Time To Play, Jr. NBA Skill Development Session, Jr. NBA Coaches Corner, and many more.
Her Time To Play, launched in 2018 to grow the number of girls playing basketball, talked about how girls come out to play basketball because it is fun. They also talked about the importance of representation and using your own voice to make a difference.
Viva Kreis, a high school athlete, talked about how to use social media as a positive, not a negative: "You just have to use it as motivation. You have to remind yourself they are only posting their highlights."
Haynes talks about what she enjoys most about the Jr. NBA Conference.
Haynes said her favorite part of the conference is the youth voice from kids like Viva. She also said she hopes to see the Jr. NBA conference grow in the future.
But the Jr. NBA is focused on growing more than just this event. Last year, the Jr. NBA launched the Next Level Mentality program, which is a series of videos that focuses on decision making, goal setting, and so much more.
The Jr. NBA also focuses on the importance of leadership, having launched their own youth leadership council called the Jr. NBA Court of Leaders in April 2021 to "support the development of promising young boys and girls through mentorship opportunities, life skills programming focused on career readiness and community impact."
Check our jrnba.com to find out about other events they will be holding this year including the Jr. NBA Week (Oct. 9-15) and the Jr. NBA Global Championship for 13 to 14 year olds. The Jr. NBA is offering incredible opportunities for young boys and girls to continue to develop their talents for the game of basketball.