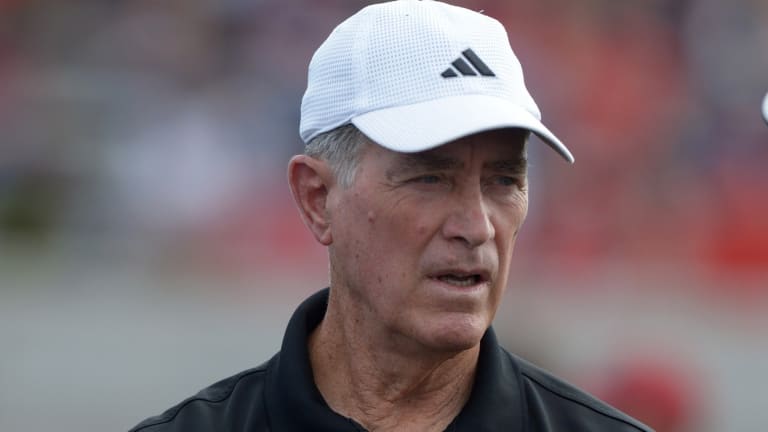 Jim White and Thomas Valles Reflect on 35 Years of McFarland Track
Feet thudding on the pavement, and shoes shuffling through the dirt in rhythm. A mass of athletes, competing in the purest level of competition – racing. Thirty-five years ago, the unlikely squad of seven children of Latino fieldworkers, short in stature but strong in character, won the first of McFarland High School's nine State Championships and 23-straight championship appearances, establishing an untouchable dynasty.
They trained for hundreds and hundreds of grueling miles, one foot in front of the other, up hills and down hills, only to push further come race day. It was all to beat the guy next to them—the guy who had not had to overcome what they overcame, had not had to work as hard. This mantra propelled the boys of McFarland High School to their the first California State Cross Country Championships in 1987.
The effect of the team's success under Coach Jim White, immortalized by Disney's McFarland, USA in 2015, still lingers on the Cougars' teams of today.
"Sometimes [our success is] a hindrance because the kids say, 'Well, I can't do that, or I can't be as good as this person or that person,'" coach White explains. "But then you have some little kid—I just met a little boy, Alex, in the market today. He came over, introduced himself, and said, 'I'm running. I'm in sixth grade, and I'm running.'"
By 1986, Texas-born Coach Jim White, nicknamed Blanco by his Latino team, had built a locally dominant cross country team. Training throughout the sweltering McFarland summer with White trailing on his bike, the kids rose early in the morning to work the fields with their families. No one outworked the boys of McFarland.
While Hollywood fictionalized the story, Blanco developed a real dynasty in high school cross country..
"The town had two places to go to jail and nine places to go to eat," Sports Illustrated's Gary Smith wrote in the story that inspired the movie.
But the character of the town started changing, as coach White built success. Cross country is an individual sport; no matter how well your team does, you still have your own time. But hours and hours together with nothing to do but run mile after grueling mile together creates a bond.
A young girl approached Thomas Valles, McFarland's No. 1 runner on the 1987 championship team, and asked if he was still close with his high school teammates. His response, "Well, they're not just my friends. They're my brothers."
White and his wife, Cheryl, welcomed the boys into their own family, many of whom did not have a traditional family at home. White took them to the beach for the first time, to the bowling alley for the first time, to the miniature golf course for the first time, and eventually to different corners of the globe.
"They became my kids," proclaims White. "They met at my house for practice. We had birthday parties with them. We became a real family, and we're still family."
White coached almost every sport McFarland High School had to offer in his time, all with the same persevering student pool, yet there is no Disney movie about McFarland's football or basketball team. What is it about distance running that not only allowed seven kids to dominate, but brought a whole community together?
"Coach White would tell me to imagine a line when there's that point of too much pain, and then I would try to run through and pass that line," Valles said. "So I would go numb. I wouldn't feel anything. And that pain would come back. And so I would imagine that line all over again."
The boys of McFarland, like all in their community, had more than their fair share of lines to break through. But Coach White led his boys to running and running beckoned them past the lines that lay before them. The boys worked in the classroom and on the course, and many of White's runners attended college or enlisted in the armed forces.
The town is now over 15,000 strong, well over the 4000 people there in 1987. It features a bridge with silhouettes of runners, and a water tower with a running mural. It's a town that draws in running teams from across the country for motivational talks, and it's a town that knows champions can be made there.
Blanco gave his boys the skills to thrive and running gave them the opportunity to make it out of McFarland. Yet 35 years later, coach White and all seven boys from the 1987 team are back making a difference in the city they love: McFarland, USA.