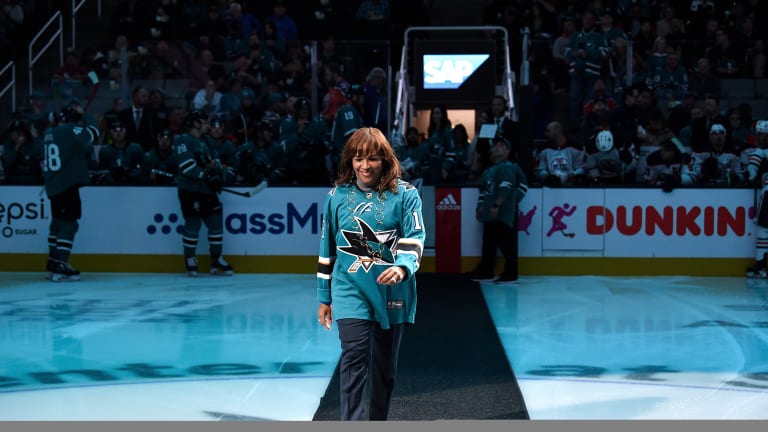 Kid Reporter Q&A: Kim Davis, NHL Senior Executive Vice President of Social Impact, Growth Initiatives & Legislative Affairs
The NHL recently wrapped up a successful two-bubble Stanley Cup tournament. During the tournament, the league acknowledged a national discourse about social justice and diversity. In empty stadiums, players knelt for the first time, and powerful messages were displayed around for all to see such as, "We Skate For Black Lives" and "End Racism." With sports leagues stepping up to make their games more diverse and accepting, I got to talk with Kim Davis, NHL Senior Executive Vice President of Social Impact, Growth Initiatives & Legislative Affairs about how the NHL is making a difference and growing the sport.
SI Kids: What does the NHL's diversity initiative entail?
Kim Davis: The NHL's diversity initiatives began with Willie O'Ree's "Hockey is for Everyone" programs, even though there is a rich history of people of color in the sport dating back to the colored hockey league in 1895. Willie O'Ree was the first black player to play professionally for the NHL, in 1958 for the Boston Bruins. For the past 27 years, he's been going around North America inspiring and encouraging kids to play hockey and to use hockey as a way to teach life skills. Across America, "Hockey is for Everyone" programs focus on hockey as a platform for stronger academic success and careers beyond hockey.
We also have a lot of programs across America: "Learn to Play," "Learn to Skate," and a STEM-education program called "Future Goals" that uses hockey to teach STEM education. We're trying to make everyone feel like the sport of hockey is something that can be theirs and to make the sport more welcoming both in the stadium and in our communities.
SIK: Why is diversity outreach important to you?
KD: As a woman of color, I know that growing up, representation always counted. Being able to look and see someone that looked like myself in any of the things that I endeavoured to do made me feel like I could achieve it. Billie Jean King once said to me, "If you see it, you can believe you can be it." It's important for young boys and girls to see representation in the sport of hockey so that they know this is achievable for them both as a player and also to work in the sport.
SIK: Will you support players if they take a knee during the regular season?
KD: Players have the right and opportunity to express themselves however they want. Hockey, unlike basketball, does not have a history where players use their platforms to talk about social justice. What was so encouraging about the last few months was that over 125 players used their social platform to speak out about social injustice.
SIK: The NHL started a BIPOC initiative in Toronto. How is this going?
KD: Two weeks ago, I participated with the GTHL (Greater Toronto Hockey League) in a Zoom town hall meeting where over 80 families of color in hockey gave examples of ways to meet the needs of more multicultural families. It was very positive and encouraging and it is going to help the GTHL set a new course and direction for the future. We had a similar town hall hosted by the NJ Devils and USA Hockey and hope to expand this across America.
SIK: How does the NHL plan to reach small-town America?
KD: The NHL is piloting a new invention called HoopNet in a couple of rural places in the U.S. and Canada. HoopNet allows basketball courts that sit idle to be outfitted with hockey nets, balls, and sticks that can move around and be taken to the court so that kids can do pickup hockey. This is a way for kids to get exposure to the sport in places where they may not have any ice. A lot of professional hockey players started not on ice but through ball and street hockey.
SIK: Hockey is an expensive sport. How do you plan to make hockey more diverse at the lower levels when the entry cost is so high, especially for families who have no experience with hockey?
KD: We have a partnership with the NHL Players Association where through the "Learn to Play" and "Learn to Skate" programs we provide neighborhood subsidies for kids to get registration fees waived, get free equipment and exposure to the game. We also partner with hockey providers, like Bauer, to provide either free or subsidized equipment. We are also looking at creative ways to have equipment circulate through their communities, so that when kids outgrow their equipment, they can donate it to areas that are in need of equipment.
SIK: Ice time is a huge problem for youth entering hockey. Does the NHL plan to work with USA Hockey to help ensure kids get the practice necessary to be a great player?
KD: Ball and street hockey is one way to do it. Another way is to share ice time at affluent rinks so they open up rinks to kids that can't afford ice time. There's a program in Washington D.C. and another pilot program in Norwalk, CT. We have to continue to look for creative ways to expose kids to our sport and not use those barriers to entry to prevent kids from this sport.
SIK: Will the NHL implement P.K. Subban's Blue Line Buddies program across the league to enable underprivileged youth to see a game?
KD: P.K. founded a program with the Nashville Predators which he then took to the New Jersey Devils that pairs youth and police officers to see a game. We've been talking to P.K. to make this a national model and to expand it beyond the police force to include front-line workers. P.K. has rallied 30 fellow players, and we are hoping to launch this program in some form or fashion over the next few months.
SIK: What is the main goal of the NHL youth initiative? How can youth join this group?
KD: There are a couple of initiatives that are underway. "Power Players" is an opportunity for us to hear the voices of young people so we can make our sport more exciting for the next generation. This group turns over periodically so young people can apply to be part of this group.
We also are about to launch a Youth Hockey Inclusion Committee which will include two youth hockey players, coaches, officials—and the governing bodies—so that we can continue to improve the experience that families and kids of color have in the game.
I also think that if you have a great idea, don't hesitate to tell us. Any time our Commissioner gets a note, he responds personally. We want to hear from your generation how we can make hockey more welcoming.
SIK: What do you plan to accomplish in the next 5 years?
KD: I hope to create a stronger pipeline of elite players of color since today only 47 of our prospects and current players are black and 90 of them are of color. I would also like to focus on our hiring practices in our offices so that other people of colour are in positions of power in the NHL. We want to make sure that the experience for boys and girls is welcoming so we are working with youth hockey to make sure that what we are doing at elite levels trickles down to the youth levels.
Photo credit: Brandon Magnus/NHLI/Getty Images