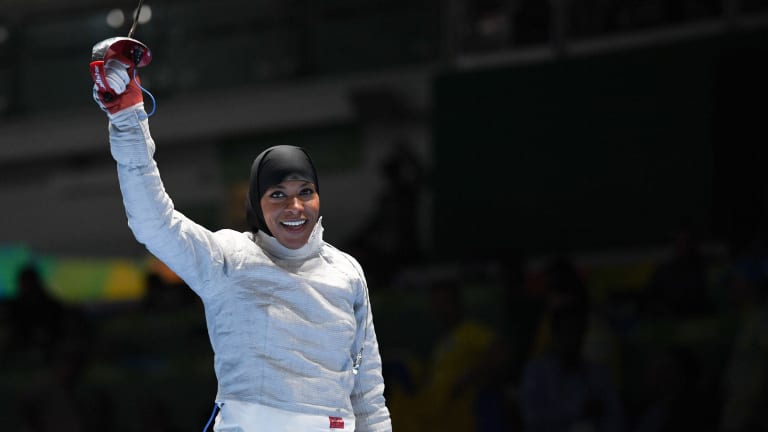 Q&A: Ibtihaj Muhammad Talks about Fencing, "The Proudest Blue," and Advice for Young Athletes
Ibtihaj Muhammad entered the world stage when she captured a bronze medal at the 2016 Rio de Janeiro Summer Olympics in the team sabre event. As the first American Muslim woman to compete for the United States wearing a hijab, Ibtihaj Muhammad is an inspiration and a role model for many young people.
A native of New Jersey, Muhammad was first introduced to fencing in high school in Maplewood, NJ. One of only sports that allowed a woman to fully cover, fencing was an ideal fit for Muhammad. Since then, she has become a trailblazing entrepreneur, sports ambassador, activist and author. After publishing a children's novel called The Proudest Blue in September 2019, she talked about the universal experience of bullying.
Keyahn Sethi: What have you learned from the sport of fencing?
Ibtihaj Muhammad: Like any sport, there are a few different facets to the sport of fencing. First, the dedication piece of the puzzle. You must be dedicated and willing to work hard in order to be successful. The other piece of fencing is that it's a tactical sport. There's a mental part of it where you want to be able to outsmart your opponent all the time. The people who can think quickest on their feet and be a step or two ahead of their opponents are the most successful.
KS: During your fencing career, how did you kept faith in yourself when others didn't believe in you?
IM: I have been able to stay really grounded through my own faith. Things that are meant for me are never going to miss me. That's something my religion teaches me. I don't hold on to a loss or win. Those are moments that happen. One of the cool things about sports is that you always have tomorrow to get back in the gym, to work hard, to correct some of the mistakes you have made, and to hone some of the skills that you are good at and make them your own.
KS: As an Olympic athlete, who was your greatest supporter?
IM: It's always my family. My parents were the ones to encourage me to get into sports at a young age. I was blessed to compete on Team USA with my younger sister, Faiza. Having family around—whether on the road or when I came home—helped me through those really difficult moments and those obstacles that I faced as a member of Team USA and allowed me to be successful.
KS: As a minority, do you think you had to work harder than your teammates to prove yourself?
IM: One of the gifts I have as an athlete is not comparing myself to others and my biggest competitor is myself. I do believe that African-American athletes are held to a higher standard. We have to be exceptional to be accepted. But if I'm always there to hold myself to a standard of hard work and grit and grime, then it doesn't matter what other people think. I am able to be a support system to myself, and I can overcome those obstacles and be successful.
KS: What advice do you have for minority athletes who don't fit in with their athletic team?
IM: Sport is built on the idea of inclusivity and diversity. I think that sport is one of the few things where we can all meet on this common ground no matter where we are from, or how much money we have, or what we look like. For kids out there who are made to feel as if they are different or that they don't belong, I was made to feel the same way and it can be really hurtful and it doesn't make us feel great about ourself. Know that you have a place within sports. Sports isn't about anything that is outside the boundaries of our control. Sports is about how hard you can work and having fun. I think that if you have those things, know that you belong in sport.
KS: Did you work with Nike in the creation of the Nike hijab?
IM: Yes. Being the first Muslim woman to represent the United States at the Olympic Games in hijab—I think Nike used this opportunity to make a performance hijab for active Muslim women and professional athletes. It has changed how I work out.
KS: What inspired you to create a modest fashion clothing line?
IM: My sisters and I created Louella because we found that there wasn't anyone in the United States making modest and fashionable clothing that was affordable. We design the clothes and manufacture them in New York and Los Angeles.
KS: What inspired you to write the Proudest Blue and can you explain the book?
IM: The Proudest Blue is a story of hijab and family. It follows my two younger sisters, Faizah and Asiyah, through Asiya's first day of wearing hijab at school. I wanted to enter the children's literary world because I know that there are very few books in which brown characters are the leads in stories. I think it's important that minority kids are reflected in the books that they read.
KS: Can you explain to readers why you wear hijab?
IM: I wear hijab because I am an observant Muslim woman who chooses to wear hijab. It's important for people to understand that not all Muslim women wear it and it should always be a choice. I cover everything except my face and hands. In Arabic, the word hijab literally means "to cover."
KS: What do you think is the most important lesson to take away from the book?
IM: The most important lesson from the book is the universal experience of bullying. It's something that we can all relate to no matter your age or where you are from. The Proudest Blue shows that no matter what other people say, you don't have to carry those hurtful words. They are not yours to keep or to hold onto.
KS: Do you plan to write another children's book?
IM: I have signed a book deal for two more children's books. They will still follow my sisters, but I'm not sure what they will be about yet.
KS: What advice do you have for young, minority kids today?
IM: It's important to be unapologetic about who you are and be your own biggest cheerleader and support system. It would be awesome if our youth would love themselves and accept others no matter where they are from. Hopefully, the youth find inspiration in the things that I have been able to do and accomplish. It's my hope that it becomes easier for them to reach their dreams.
KS: How do you manage to juggle everything in your life now?
IM: A good management team! I am also type A. I try to always take a step back and plan well. Something I've learned well through sport is that you must be willing to work hard to be successful. Even though I am not competing anymore, I have that same energy and urgency to get things done.
KS: What plans do you have for your future?
IM: I want to continue to be impactful and intentional about the work that I do. I feel strongly about using my platform to be an agent of change, to do good, and to leave the world in a better place.
Photo credit: Robert Hanashiro/USA TODAY Sports