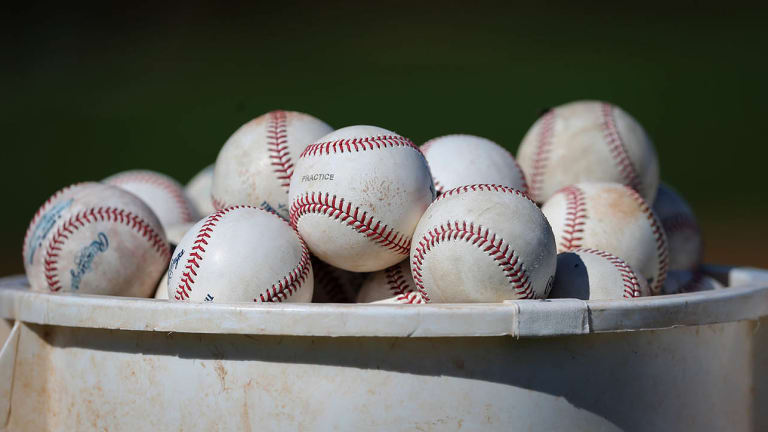 Pivoting in the Pandemic: High School Athletes Adapt Training Routines During COVID-19
The whole world turned upside down in early 2020 for high school athletes when spring sports seasons and summer workouts were canceled due to the COVID-19 pandemic. To have their seasons canceled after endless hours of preparation caused these athletes to ask, "Is all my effort worth it?"
Every athlete looks at playing sports with different goals in mind. Some students want to play in college, while others focus on staying in shape.
College recruiting based on past season performances took a dramatic pause in March when everything normal known to high schoolers shut down. Winter sports didn't get their championships and spring sports had barely started before they were brought to a halt by stay-at-home orders. While these athletes felt disappointed and discouraged, some of them rose to the challenge to work harder and come back stronger for their future seasons.
High schoolers Kenny Mallory and Sierra Lauko aspire to play baseball and softball at the next level in college. Mallory, a senior outfielder at Mountainview High School in Lawrenceville, Ga., committed last fall to play for Vanderbilt. Since his junior year season was canceled, Mallory's determination fueled him to "keep getting better and not develop bad habits." During quarantine, he's focused on lifting weights and hitting buckets of balls daily. Sometimes his younger brother, Kaden, or a few teammates join him. During the end of last school year, Mallory felt that the hardest part of remote learning was "to be motivated to do school when you can't play a sport [after school]." He kept a rigorous travel ball schedule this summer on Team Elite, one of the top travel teams in the U.S. that currently has 22 out of its 23 players committed to playing NCAA Division I baseball. Team Elite kept their intense game schedule despite the pandemic, as several of its players aim to eventually play Major League Baseball. Mallory hopes he will have a senior season but continues his intense workouts in the meantime.
On the softball diamond, Lauko, a sophomore from Phoenix, Ariz., has her eyes set on playing Division I college ball. She has played A-level travel ball since she was 12 and joined Paige Tonz's Mental Game Mentorship Program in the fall of 2019. During the pandemic, Tonz offered virtual daily workouts for 30+ consecutive days and launched "The Confident Athlete" over the summer. The mental game routine took Lauko's daily drills of hitting and catching to the next level and improved her confidence in pressure-filled situations. She hopes her teammates and college coaches will notice the changes and see she "won't back down" during games.
Even for Kyle Watson, a freshman baseball player from Bucks County, Pa., it's never too early to start thinking about the possibility of playing college baseball. Watson has been hitting multiple buckets of balls at home every day with his dad to improve his hitting. His travel ball season was cut in half, so he is currently focused on making his high school baseball team. Watson has been doing daily core and strength workouts, which helped his pitching velocity go from 70 mph to 75 mph in the last few months. Just recently, Watson was asked to practice with Penn State coaches. He hopes they were impressed by his grit during the pandemic.
While athletes on team sports are used to training with their teammates, the quarantine presented a new challenge for them to find ways to work out at home alone.
Johnny Hanford, a junior soccer player and track runner from Fairfax, Va., has been working hard to stay in shape because he is a vital part of his high school team's 4x400 meter relay. He practiced with some of his teammates before the stay-at-home order and began biking over four miles every day to stay in shape. Hanford would like to have a junior soccer season, even if it's postponed until the winter or spring of 2021, and hopes to run track, too.
In rural communities just south of the Pocono Mountains in Pennsylvania, the athletes in the Lehighton Area School District have navigated the COVID-19 restrictions. Senior football player Michael Yeakel has been doing conditioning workouts three times a week with his team. Their unique football practices in the school gym require players to wear face masks. Yeakel is still deciding if he wants to play college football, but his extra work on his family farm during the pandemic helped him train when his team wasn't allowed to practice.
Faith Yeakel, a sophomore field hockey player, has attended Zoom sessions at home where her coaches assign practice drills for strengthening stick skills and improving field strategy. Gabi Di Dea, a sophomore co-captain and varsity cheerleader, has been working on her tumbling passes in her front yard and her splits in the living room while watching movies with her family during quarantine.
Kyle Spotts, Lehighton's athletic director, has noted the impact with the Schuylkill League, a conference that includes 20 schools in northeast Pennsylvania.
"We are doing everything we can to practice the proper social distancing to hopefully get our [seasons] started," Spotts says on how the league is trying to return to sports safely.
The Schuylkill League recently began holding golf matches and will kick off its football season on Saturday. Late last month, the league tweeted "with every decision, comes great responsibility."
Athletes in large cities have also been affected by the sports changes during the pandemic. Katerina Claud, a co-captain and varsity swimmer from Chicago, Ill., has been preparing for her swimming season by running or biking over three miles daily and and completing workouts that her coaches email her. The home workouts include squats, jumps, planks and more. Claud hopes her increased training will help her hit her 25-second goal in the 50-meter freestyle race this season.
Although high school athletics will likely look different this year, students nationwide have adapted their normal training routines and remained focused on their goals of playing at the varsity or college levels. By creating unique workout plans during the pandemic, these athletes have quickly pivoted to stay ready for when sports return.