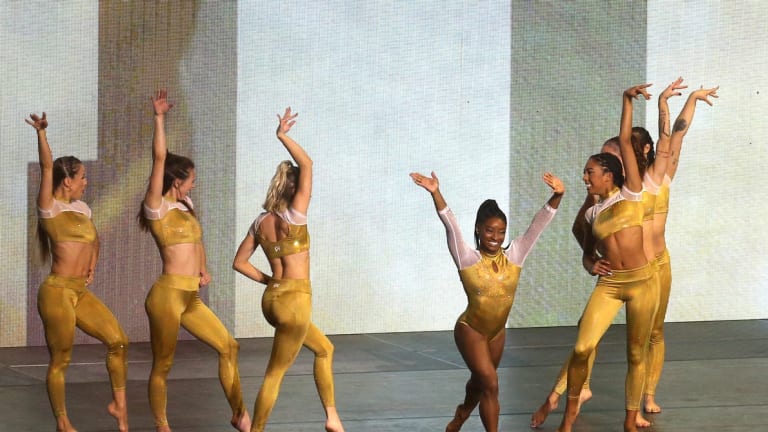 Gold Over America Tour Inspires the Next Generation of Gymnasts
The Gold Over America Tour (aka G.O.A.T.—get it?) features no shortage of role models for girls. This all-female gymnastics all-star team has toured the country and performed at 35 different venues to inspire the next generation of female athletes. They perform skills that wow the crowd, like double backs on bars, double layouts on floor, and backflips on beam, as they talk about self-confidence. Headlined by Olympians like Simone Biles, Jordan Chiles, and Laurie Hernandez, this group wants to show younger girls how powerful they truly are.
Starting in Arizona and ending in Massachusetts, these female gymnasts recently traveled all across the country to perform for thousands.
"Half the time, I never know what city we are in," said Olympic silver medalist Jordan Chiles. "When we travel, we are asleep so we literally wake up in a different city every day. I'm just thankful that I'm able to bond and make these memories with these amazing girls."
Young gymnasts at the Nov. 5 Philadelphia event could not wait to see their idols perform. The Manettes competitive gymnasts of Conshohocken, PA were excited to watch Simone, Laurie, Jordan, and Chelsie, along with the rest of the 19-member group. At the end of the show, they participated in a special finale in which younger gymnasts perform with the touring stars.
"I'm excited about meeting everyone and being with my friends," said Selah, a 13 year-old level-eight gymnast from Manettes.
The show included several acts—with unique leotards for each one of them. From "Don't You Worry Bout a Thing" to "What Doesn't Kill You Makes You Stronger," every part of the show was powerful and inspiring. The Wonder Women act highlighted the power that every woman, young or old, has inside of them, and it's no surprise that that is Chiles's favorite number to perform.
The show highlighted the importance of having dreams, and continuing to work towards them. The G.O.A.T. reminded the girls that failure is not a thing, because you are always learning. As Chiles said, "Always believe in the power of your dreams."
After the show, I talked to Steve Cornelison, the ACPR gym manager from Churchville, MD on what it was like getting to see his gymnasts enjoy the show.
"They were dying to see them," he said. "We had 120 people come out from our gym. They support the sports of gymnastics and Simone. The girls just love it."
The show definitely changed thousands of little girls' lives. I felt empowered and excited to keep trying new things.
"Every little girl out there has a little piece of gold inside of them that they can inspire others with," Chiles said. "That's what we are trying to do in our gymnastics and dance. Every piece we do has a message behind it."
The Athleta Presents Gold Over America Tour will debut on the Stellar streaming platform on December 4 at 1 p.m. PST/4:00 p.m. EST.
Photo credit: Scott Utterback/Courier Journal /USA TODAY NETWORK