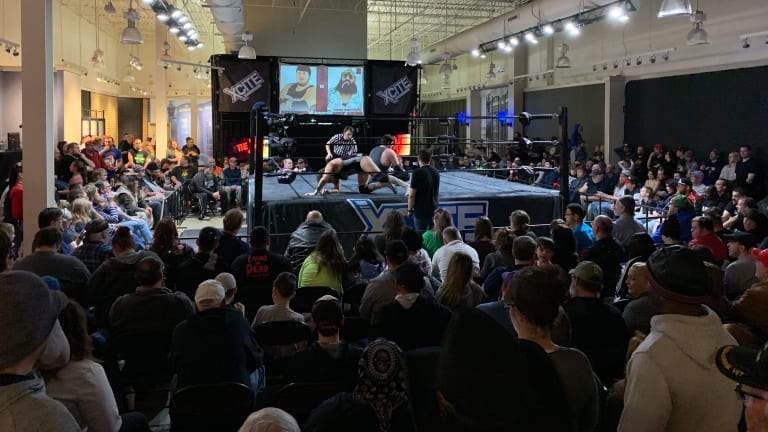 From Local Gyms to Arenas, Wrestling Bounces Back from the Pandemic
Wrestling continues to be a top ten sport in the United States. After a year without fans due to the pandemic, Wrestlemania 37 was held in Tampa, Florida in April 2021 in front of a boisterous crowd of over 50,000 people.
Wrestling is dominated by two companies: WWE (World Wrestling Entertainment) and AEW (All Elite Wrestling). WWE is the older and larger of the two promotions, with a hardcore fanbase. WWE boasts many famous stars such as John Cena, The Rock, and Ric Flair. AEW is the newer of the two, and was founded in 2019 by Tony Khan to bring an alternative wrestling experience to viewers. The AEW has a reputation for being not as tightly controlled as WWE, opening up opportunities for wrestlers to be creative with their moves and storylines.
What does it take to make it to the top of the wrestling pyramid? The road is long and difficult, combining athleticism with the ability to earn a loyal fanbase. All over the country, there are small wrestling gyms and clubs where kids can start training as early as age 16. Many wrestlers transfer from sports such as football and MMA. Wrestling also attracts female superstars such as Alexa Bliss, a former college cheerleader.
One such wrestling school is Xcite Wrestling in Binghamton, NY, where beginners learn the basics, including how to fall safely. A wrestling ring might look soft to the average viewer, but it is very hard. The ring is a metal frame with covered steel ropes and a floor comprising a two-inch pad covering the wood base. I went to try out how to fall and was simply told that the easiest way to learn is...to fall. It's definitely something that takes practice because it doesn't have the give of a gymnastics trampoline! No fear is an excellent quality in wrestling.
According to Jonathan Musok, owner of Xcite Wrestling, the path to becoming a pro is different for everyone but it usually starts at a wrestling school where "you get your feet wet in front of a crowd, and then you use your connections to go somewhere else."
The outcome of the matches may be predetermined, but it is up to the wrestlers how they coordinate their moves. The wrestlers have to work together to create the best show possible for the fans. The contact and props, such as chairs, doors—and even thumb-tacks and Legos—are real and serve to entertain the fans.
Ash Aubrey, 36, who goes by the professional name Anarchy, trains about three to four times a week year-round with matches almost every weekend. The training includes practicing in the ring and cardio, so he can be in the best shape possible to prolong his career. For Aubrey, wrestling's benefits are not just physical: "Wrestling opens you up to meeting different people and fans of different backgrounds and beliefs, with whom you can connect and enjoy the love of wrestling."
Superfan Julianna Horton, 21, became hooked on wrestling from her very first match as a child. She loves the loud noise and finds the wrestlers inspirational and kind, especially her fan favorite, Phillip The Real Deal Steele. Her mother, Maryann Horton sees a lot of benefits of wrestling for the special needs community. For instance, her daughter's nonverbal friend once stood up and yelled, "fight, fight, fight!" For the Hortons, wrestling is a nonjudgemental space where the kids are in awe of the larger-than-life figures.
With a slow return to normalcy after the pandemic, expect to see more wrestling, not just in real life at places like Xcite Wrestling, but also on the Peacock Network, where the WWE signed a major deal to provide content.
Photo credit: Xcite Wrestling