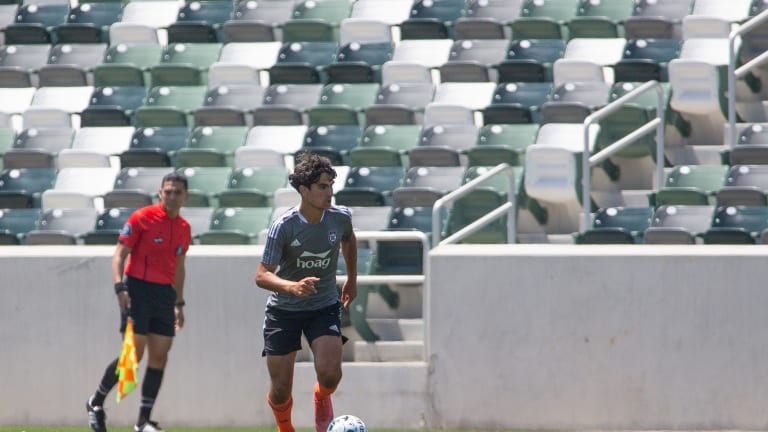 Francis Jacobs on Life as the Youngest Professional Player in U.S. Soccer History
Is the future of American soccer 16-year-old Francis Jacobs, a midfielder for Orange County Soccer Club in the United Soccer League? At age 14, Jacobs became the youngest player in American history to sign a professional contract, attracting attention from fans and media across the country.
The team aims to ease the pressure that comes with the spotlight by keeping him home with his family, but Jacobs still feels a need to prove something.
"To be honest, I feel like I like want to prove myself to the team and to everyone else that I can play with older players, be in this kind of environment, and actually thrive," Jacobs says.
While he has yet to make it onto the field in a game, OCSC is still very happy with his level of play and his growth. "We've seen Francis play since he was twelve years old," says OCSC General Manager and former Swiss Youth National Team player, Oliver Wyss. "We have watched him very closely, and we really thought by age 14, we wanted to bring him in to train with the team."
Club leadership says they weren't looking for headlines in signing the youngest player in U.S. history. They Jacobs because he earned it. "Francis has exceeded our expectations," added Wyss.
OCSC is not the only one to notice Jacobs' skill. There is rumor of a possible move to a European club after Jacobs impressed at the Alkass Cup (one of the top youth tournaments in the world) for the Glasgow Rangers, OCSC's Scottish partner club. While no move has been publicly announced, Wyss confirms there are multiple European clubs interested.
Despite his skills, Jacobs is still just a regular 16-year-old kid. He lives with his family in Laguna Beach, a small community just a short commute away from the OSCS facilities. After a morning training session with the club, Francis' mom picks him up and drives him home for lunch and to attend high school.
Jacobs is not the first youngster to play in the limelight at OCSC. Aaron Cervantes, a now-19-year-old goalkeeper for the Glasgow Rangers, started playing for the Orange County side at age 15. The team regularly scouts local kids.
"We have a list in every position of the most dominant player in the local community, and then we go and watch them," Wyss says. "But it's not only talent that we're looking for; for us, the most important thing is mentality and work ethic."
In Jacobs' case, his work ethic speaks volumes about why he was signed by OCSC. He trains hard even when no one is watching.
"I believe I need to improve on a little bit of everything, to be honest," Jacobs says. "Now I'm playing the sport with men—the pace is just so much quicker. But I'm working, and I'm getting better."
OCSC, a club with former World Cup players and rising young stars, illustrates the newfound depth of American soccer. As Jacobs continues to improve and mature, he may not only be the new face of the country's soccer hopes, but also an example of how to develop talent.
"One of the biggest changes is accepting my current role," Jacobs says. "Some games I'm not going to start or even play, but some games I will. I need to accept that and move on to the next training."
Club leadership indicates that is all part of why they brought Jacobs in so early. They wanted him surrounded by former World Club players, and part of the professional environment both on and off the field.
Could other young teens reach professional soccer by age 14? Jacobs thinks so. "There are so many opportunities for soccer, so many chances to work hard—just keep working."
Photo credit: Courtesy of Orange County SC