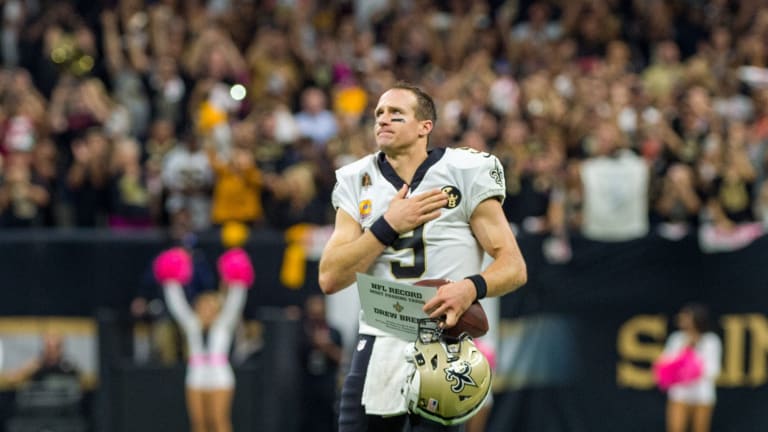 Every NFL Team's Biggest Offseason Need
Arizona Cardinals: Draft a replacement for Patrick Peterson
Patrick Peterson will enter the 2021-2022 season at 31 years old and well past his prime. The Cardinals will need a younger CB to replace him and to pair next to Byron Murphy, such as South Carolina's Jaycee Horn.
Atlanta Falcons: Find Matt Ryan's replacement
The Falcons had one of the league's worst defenses last year, but with Matt Ryan already at 35 years old, quarterback is by far their largest need. The Falcons pick at No. 4 overall, and will have a chance at drafting their next franchise QB.
Baltimore Ravens: Add playmakers for Lamar Jackson
Baltimore's divisional-round defeat showed that they rely too heavily on their rushing attack, more specifically, Lamar Jackson's rushing attack. They are in need of weapons for Jackson in the passing game, and luckily for them they will find plenty in the draft and free agency.
Buffalo Bills: Add edge rushers
Buffalo's defense proved stingy throughout the season, but would greatly benefit from a consistent edge rusher to pressure opposing quarterbacks. There won't be an immediate fix for them this offseason, but they could look to draft a player such as Miami's Jaelan Phillips and develop him into that role.
Carolina Panthers: Figure out QB
Teddy Bridgewater was decent in his time as a starter last year, but the team ultimately ended with a 5–11 record. In a quarterback-rich draft, the Panthers should look to use their No. 8 overall selection on their next franchise player.
Chicago Bears: Boost offensive line
Throughout 2020, poor quarterback play distracted from an even-worse offensive line. With the No. 20 selection, the Bears should look to draft a power-run offensive tackle, such as Michigan's Jalen Mayfield, to fit their run-first offense.
Cincinnati Bengals: Upgrade offensive tackles
Joe Burrow's season ending injury in Week 11 wasn't shocking given the offensive line he was behind. Drafting Oregon's Penei Sewell with the No. 5 pick will be a good start to ensuring Burrow has a long and successful career in Cincinnati.
Cleveland Browns: Improve linebackers
Cleveland is in desperate need of a true middle linebacker to effectively stop the run. The Browns could look to address this need in free agency, or draft a player such as Tulsa's Zaven Collins.
Dallas Cowboys: Improve secondary
Dallas' defense was historically bad to begin the 2020 season, mainly because of their lack of speed and athleticism in the secondary. In order to prevent faster wide receivers from dominating their defense, the Cowboys should look to spend their top-ten draft pick on Virginia Tech's Caleb Farley and/or sign Adoree' Jackson.
Denver Broncos: Improve offensive line
Offensive Tackle Garett Bolles enjoyed a breakout season in 2020 for what was an otherwise weak Broncos o-line. Denver's No. 9 pick could be well spent on another tackle to complement Bolles, such as Northwestern's Rashawn Slater.
Detroit Lions: Long-term quarterback
Whether Jared Goff is the franchise QB or not will decide what the Lions do with their No. 7-overall draft choice. If Detroit decides to stick with Goff, then a wide receiver such as Alabama's Jaylen Waddle could be in play in order to replace the potential loss of Kenny Golladay in free agency. If Detroit decides Goff isn't the guy, the pick will almost certainly be used on a QB.
Green Bay Packers: Improve CB2 position
The Packers have arguably the best cornerback in the league in Jaire Alexander, but not much else. The Packers should look to find younger, more athletic talent in the draft such as Northwestern's Greg Newsome II to fill this need.
Houston Texans: Move on at QB
By now, it's common knowledge that Deshaun Watson does not intend to play another game in a Texans uniform. The real challenges for Houston will be finding a trade partner and a new signal-caller.
Indianapolis Colts: Find a deep-threat WR
With T.Y. Hilton aging, the Colts are in need of a player to produce explosive, long-yardage plays for newly acquired QB Carson Wentz. Players such as Florida's Kadarius Toney could be a great selection for Indy at No. 21.
Jacksonville Jaguars: Upgrade safeties
Assuming the Jaguars select Trevor Lawrence with the first pick in the 2021 draft, the safety position will be their largest hole on an already porous defense. TCU's Trevon Moehrig can fit in nicely for Jacksonville with the No. 25 pick, a selection they acquired from the Rams.
Kansas City Chiefs: Upgrade offensive line
Even though they were missing their two starting offensive tackles, it was obvious to anyone who watched the Super Bowl that the Chiefs need to do a better job protecting Patrick Mahomes. Luckily for KC there will still be plenty of offensive line talent for them to choose from at the end of the first round.
Las Vegas Raiders: Draft pass-rushers
In 2020, the Raiders only generated 21 sacks, fourth worst in the league. In need of a consistent edge threat, LV should look to Michigan's Kwity Paye or Georgia's Azeez Ojulari in the draft.
Los Angeles Chargers: Improve offensive tackles
In order to ensure a healthy career for Justin Herbert, the Chargers have to do a better job protecting him from pass-rushers. Names like Virginia Tech's Christian Darrisaw should sound intriguing to LA in the mid first round.
Los Angeles Rams: Free salary-cap space
With the extensions of Cooper Kupp and Jalen Ramsey, the Rams are playing a dangerous game with the league's salary cap. They already restructured Ramsey's deal, but may have to do more..
Miami Dolphins: Draft a wide receiver
The Dolphins will be in a great position during the draft as they hold the third-overall selection. Whether Miami will use that pick or trade down is still in question, but targeting a dynamic WR such as LSU's Ja'Marr Chase or Alabama's Devonta Smith shouldn't be.
Minnesota Vikings: Draft interior offensive line
Running Back Dalvin Cook was amongst the league's best in 2020 even with a relatively poor interior line. If the Vikings draft a player such as USC's Alijah Vera-Tucker to solidify the guard position, Cook could be borderline unstoppable.
New England Patriots: Add playmakers to offense
New England had only 12 passing touchdowns in 2020, tied for league worst. They came out aggressively in free agency, signing tight ends Jonnu Smith and Hunter Henry, but could still do more.
New Orleans Saints: Find Drew Brees' replacement
With Brees retiring, the Saints are back on the QB market. Luckily for New Orleans, any QB they bring in will be put in a position to succeed.
New York Giants: Add weapons on offense
For the Giants to determine if Daniel Jones is their QB of the future, they must first give him a chance to succeed. Adding speedster John Ross on a low-risk deal is a good start.
New York Jets: Determine Sam Darnold's future
The Jets hold the second pick in the draft and need to decide whether they want to reset at QB or continue with Darnold. Whoever is under center will benefit from the addition of WR Corey Davis.
Philadelphia Eagles: Find a WR to take pressure off Jalen Hurts
In his limited time as starter last year, Jalen Hurts was the entire offense for Philadelphia, whether that was running or passing the ball. A stud WR from the draft or free agency would make Hurts' job much easier.
Pittsburgh Steelers: Revamp the running game
With an aging QB in Ben Roethlisberger, the Steelers can't afford to have another poor season running the ball. Whether it's addressing the offensive line or drafting a younger running back, the Steelers need to recreate the running game that brought them success in the 2010s.
San Francisco 49ers: Replace Richard Sherman
Sherman is still a technically sound CB, but can't keep up with younger, faster receivers at this stage of his career. They re-signed CB Jason Verrett, but he needs a partner.
Seattle Seahawks: Draft pass-blocking offensive tackles
Russel Wilson will have to face J.J. Watt, Chandler Jones, Aaron Donald, and Nick Bosa 6 times in 2021, while already being the most sacked QB, since he entered the league in 2012.
Tampa Bay Buccaneers: Keep the band together
There's not too much the Buccaneers can do to improve their already solid roster heading into the 2021 season. They've brought back Shaquil Barrett, Tom Brady, and Rob Gronkowski—a good start.
Tennessee Titans: Draft an edge threat
Even though they brought in Jadaveon Clowney last offseason, the Titans only registered 19 sacks in 2020. Texas's Joseph Ossai would be a perfect fit.].
Washington: Draft a consistent wide receiver
Terry McLaurin has proved to be a top wide receiver for Washington in his first two seasons. However, Washington's new QB Taylor Heinicke will need more than just one option.
Photo credit: Scott Clause/USA Today