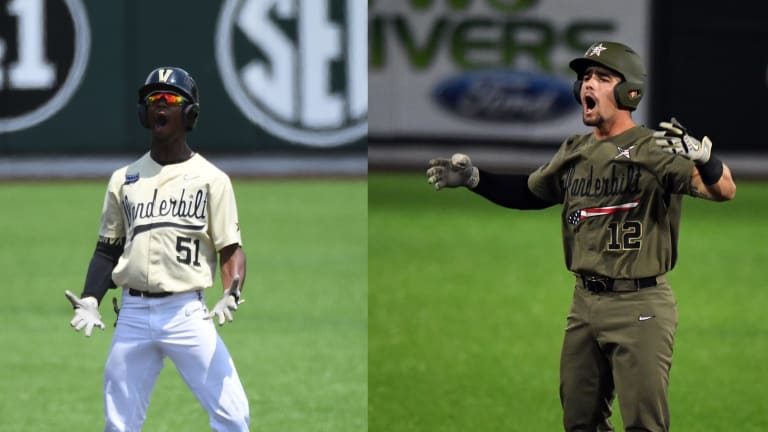 Enrique Bradfield Jr. and Dominic Keegan Continue Tradition of Elite Vandy Prospects
Vanderbilt baseball has emerged as one of the top collegiate baseball programs in the country over the past decade. The success of their program has continued to be showcased on the professional stage, with former players like Dansby Swanson and Walker Buehler starring in the MLB postseason.
Two more that are soon to be added to the list of Vandy players drafted are Dominic Keegan and Enrique Bradfield Jr. When talking with both of these players about what it's like to see former players from their school succeed at the highest level, they had nothing but good things to say.
"It's awesome to see these guys have great success," Bradfield Jr. says. "There's probably no better feeling than that because the amount of work that we put in together is a lot. It's amazing to see our guys get the recognition that they deserve."
"It's inspiring—we definitely look up to all of those guys," Keegan says. "Just to see that they were in our shoes at one point, and wearing those shoes right now, it makes us hopeful to keep working."
Bradfield, a sophomore centerfielder from Hialeah, Florida, showed off his speed his freshman year, both on the bases and in the outfield. The SEC Freshman of the Year and a Freshman All-American, Bradfield Jr. has all of the talent needed to become a top draft pick.
While he will not be eligible for the 2022 draft, he for sure will be taken high in 2023. With a few more seasons remaining in college, he reflects on his team's current abilities and future success at the College World Series next spring.
"The only thing I'm really worried about now is how the team is doing at this moment. We're working everyday to get better, so that's the main focus that we have," he says.
Another top draft prospect is Dominic Keegan, a senior utility player from Methuen, Massachusetts. He can play wherever the coach needs him, from first base last season, to catcher this fall. After being drafted by the New York Yankees in the 19th round of the 2021 MLB Draft, he opted to come back to play his senior season.
As his team looks to make a deep run again into the CWS in 2022, Keegan is working on improving his game before the 2022 draft: "I think just [want] to become more mature, more wise, and better defensively. I just wanted to come back, and compete with these guys everyday."
One of the biggest reasons that Vanderbilt has seen this much success is because of their coach, Tim Corbin. As he enters his 20th season as the head coach, he has led Vandy to two national championships in the last seven years (2015, 2019) and 15 consecutive NCAA Tournament berths. Recently inducted into the American Baseball Coaches Association Hall of Fame, Corbin is one of the greatest to ever coach college baseball, and he isn't done yet.
Vanderbilt has a chance to make it all the way back to the College World Series again in 2022, but they still have a long way to go before then. When talking with Corbin about their goals for the offseason, he talks about every aspect of his team.
"We have to develop a pitching staff. We have to put a group of infielders together that can take care of the baseball. We have new catching and new outfielders, so we are dealing with a lot of new spaces that we really have to grow to become consistent," Corbin said.
Since Vandy's coach has been through everything from developing a player to seeing them get drafted, he knows what it takes to succeed.
"I just want to see them act right. If they play baseball and are part of a World Series, that's great. I just want to see them become good leaders inside the game, run a functional home, and be good to other people around them, more than anything else."
Photo credits: Christopher Hanewinckel/USA TODAY Sports (2)