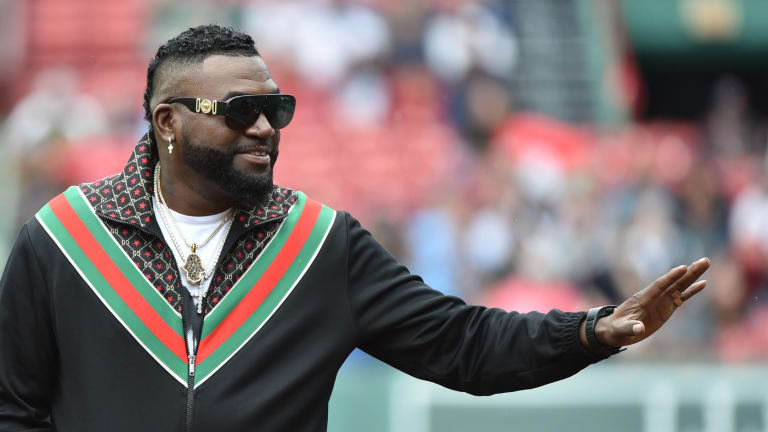 David Ortiz Caps Off Stellar Career with Hall of Fame Nod
Where were you on January 25th, 2022, when David Ortiz was selected as a first-ballot Hall of Famer? Not only did Ortiz leave a great legacy on the field, but he continues to impact the game, even after his retirement in 2016.
David Ortiz, born on November 18, 1975 in the Dominican Republic, is only the fourth Dominican-born player elected to baseball's Hall in Cooperstown, New York. He is one of only three primary Designated Hitters to be selected into the HOF. A three-time World Series champion (2004, 2007, 2013), and a ten-time All-Star, Ortiz's legacy will forever be cemented in Boston. Throughout his two decade career in MLB, Big Papi was also a seven-time Silver Slugger, an ALCS MVP, and the 2013 World Series MVP. He even won the Home Run Derby in 2010!
Ortiz made his major league debut on September 2, 1997, at only 21 years old. He played his first few seasons for Minnesota, but really emerged as an elite and feared hitter when he joined Boston in the 2003 season. He was selected to his first All-Star team in 2004, and also won his first World Series title that same year, helping the Red Sox break the "Curse of the Bambino." Not only did he make his mark on the Red Sox in the lineup every regular season, but he is known for his postseason heroics.
The one time I had the pleasure of watching Ortiz play was on Sunday, May 1, 2016, at Fenway Park when they were playing their rivals, the New York Yankees. The atmosphere was unlike any other, as the decades-long rivalry was renewed, and the Red Sox completed the three game sweep that night.
Ortiz played in his final home game, in the ALDS, on October 10, 2016. While the Red Sox didn't come up on top that day, Ortiz still received a huge ovation for his incredible career. He received one of the highest honors a team could bestow on a player when the team retired his No. 34 only a few months later on June 23, 2017.
When he was reflecting on his career and his feelings after getting the call that he would be elected into the Hall of Fame this year, Ortiz was nothing but grateful: "I feel so thankful and grateful for being able to accomplish what I was able to accomplish. I thank God for the career that I had. I want to thank [the Red Sox fans] very much."
As Ortiz's plaque will be enshrined in Cooperstown this summer, he will become just the fourth Hall of Famer with at least 500 home runs and three World Series Championships (after Babe Ruth, Mickey Mantle, and Reggie Jackson). Big Papi's baseball involvement will continue for many more years, as he not only is a role model, but as he also commentates on the postseason for Fox Sports.
While Ortiz played in some of baseball's most heated rivalries, I think all baseball fans will be celebrating his induction on July 24.
Photo credit: Bob DeChiara/USA TODAY Sports