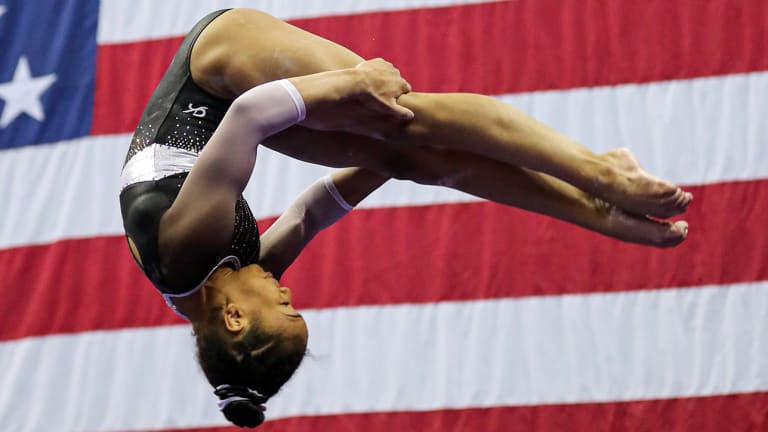 Meet Konnor McClain, the 15-Year-Old Gymnast Now Eligible for 2021 Olympics
Ever since she was little, 15-year old gymnast Konnor McClain has always had a love for gymnastics. McClain's passion for the sport first began when she was just a toddler trying to do flips in her house. She grew up idolizing gymnasts Aly Raisman and Shawn Johnson and first dreamed of making the U.S. Olympic team while watching the London Games in 2012.
McClain is a three-time USA national team member, 2019 U.S. Classic Junior All-Around Champion, and a silver medalist at the 2019 U.S. National Championships. Last year, she upset two Russian gymnasts, Vladislava Urazova and Elena Gerasimova, to win the junior all-around title with a score of 56.167 at the 2019 City of Jesolo meet in Italy. She placed first on vault, third on bars and third on floor for Team USA.
Until recently, McClain had been training with hopes of making the 2024 U.S. Olympic team. She could not make the 2020 team due to her age, but that changed when the Tokyo Olympics were postponed amid the coronavirus pandemic. She will turn 16 in February, making her eligible to compete for a spot on the U.S. Olympic team in 2021. McClain and her coach, Susan Brown, were shocked when they first learned the Olympics were postponed and realized what it meant for her.
"My initial reaction was, 'Wow, we have to cram three years into one year.' It is an awesome opportunity. There is no doubt about it," said Brown. "We are on the path to 2024, but it is just another opportunity to grow and get better."
Even though 2021 is now a possibility for McClain, she continues training with 2024 as her main goal. Brown wants to make sure that McClain doesn't get too far ahead of herself and remains focused on her techniques.
"I feel like 2021 is just another step to making 2024," said McClain. "It would definitely be crazy to be one of the youngest at the Olympics."
McClain has trained with Brown since around the age of three. Brown is a childhood friend of McClain's mother and owns Revolution Gymnastics where the young gymnast trains. Her goals for McClain are for her to ultimately have "a good technical and fundamental background."
Brown has seen her blossom since she was first selected for the national team in 2018.
"Even before she was on the national team, I knew there was something special about her. That dream that she has, [it] has always been inside her. When she made the national team and she was able to train with those other athletes that are at that level, things really began to change for her. She began to realize what she was capable of."
During the pandemic, McClain keeps up a rigorous weekly training schedule on top of her online schooling. On Mondays, Tuesdays and Fridays, she has practice from noon-5:30 p.m. ET and then goes home to do her schoolwork. On Wednesdays, she does school in the morning before practice from 4 p.m.-8:30 p.m. On Thursdays, she trains for a few hours in the morning and gets a massage before she starts school. McClain dedicates six days of the week to training but still finds time for other hobbies like drawing.
Without having any meets to compete in until 2021, she has spent months working on a new skill on beam called an Onodi. The skill is a front aerial mixed together with a back handspring.
Even during the pandemic, McClain hasn't lost sight of her goals.
"I keep getting more motivated and dedicated to the sport after [every new achievement]."