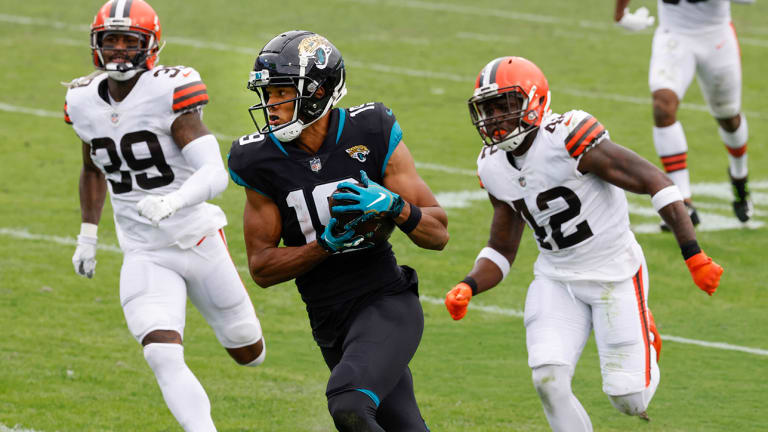 Jaguars WR Collin Johnson Shines in Rookie Season
Jaguars wide receiver Collin Johnson is off a strong start in his rookie season. After playing four years at Texas, his NFL dreams came true when Jacksonville selected him in the fifth round of the 2020 draft. Coming from a family of athletes, it was in his blood to be the best he could be and make it to the next level.
On Nov. 29, Johnson had his breakthrough game when he caught a 46-yard pass from quarterback Mike Glennon and dove into the end zone to score his first NFL touchdown. The Jaguars expect Johnson to continue to develop into a regular target for their signal-callers.
In a Q&A with SI Kids over Zoom, Johnson shared how his journey made him into the person that he is today.
This interview has been edited lightly for clarity.
Anna Laible: What was going through your head when you caught your first NFL touchdown?
Collin Johnson: I was like, "Oh my goodness, it really happened!" Not that you don't expect it, it's just you work so hard and I feel like the hardest one is the first one. Once it happened, I was pretty happy, and they say the next ones come easier after that. Then I got my second touchdown, and then hopefully I'll just keep building off of it.
AL: What was it like getting drafted to the NFL and following in the footsteps of your father who played professional football for 10 seasons?
CJ: It meant a lot to me. Since I was a kid, I wanted to play in the NFL, and sometimes you feel very far away from that goal when you go through the process of high school and college–a lot of ups and downs. Once I got the phone call from the Jaguars, and it officially happened, I was so happy and thankful.
AL: After being drafted, what was it like to have a training camp unlike any other due to COVID-19?
CJ: It was different because I pretty much got a COVID test every day since July. Balancing that with wearing a mask all of the time, except when I am completely socially distanced, like on this interview. I wear a mask in the locker room and all of that. It's very different and took a while to get adjusted to, but football is football.
AL: In 17 receptions this season you have averaged 15.5 yards. How are you training on your off days to keep this consistency up for the remainder of the season?
CJ: I just try to show up in practice every day. The coaches call great plays to put me in positions to make plays for my team. I just trust them and try to catch the ball in practice, and it helps me build confidence so that when the ball comes to me in the game, I'm ready for it.
AL: What goal are you are striving for in your NFL career?
CJ: I just want to be the best that I can be. I don't really know what that looks like fully–whether it's just multiple 1,000-yard seasons or being the go-to guy one day or being a Pro-Bowler and winning Super Bowls. Every day, I am just trying to redefine my best.
AL: How do you plan to honor those who have been impacted by Type 1 diabetes for My Cause My Cleats?
CJ: I just personally opened up because my fiancé, Sara, has Type 1 diabetes, and not too many people knew that. I am opening up some stuff about my personal life to bring attention to Type 1 diabetes and what JDRF [Juvenile Diabetes Research Foundation] is doing to help people with Type 1 diabetes. My first pair of cleats are in honor of my fiance. I feel like I'm spreading awareness to a good cause and it means a lot to me.
AL: Your proposal to Sara went viral on social media during quarantine earlier this year. What was it like planning that special day and filming it for all of your followers during COVID?
CJ: It was so hard because we were in the lockdown in California, and we couldn't do much. I had all of these different plans to propose to her, but they all kind of fell through. I was like, "Man, we just have to go to the beach and keep it simple." I always shoot YouTube videos with my boy Patrick, who helped me shoot them in college, so I flew him out for a week. For the first half of the week, I just had him shooting football videos so that I could get my fiancé comfortable with him being there. All of a sudden, we were just at the beach and I popped the question when she sort of let her guard down and it turned out pretty good!
AL: On your Instagram profile, you have Romans 8:28. Has your faith been a part of who you are today?
CJ: 100% because in life there are ups and downs, but to me just God and my faith is something that is just steady and gets me through hard times. That verse means a lot to me. It just says that everything works together for the good to those who love God and who are called according to his purpose. Every time something good or bad happens, I'm just saying it's all working together for the good for me and that just helps me stay positive.
AL: You are one of seven Longhorns to have more than 2,500 receiving yards. What type of impact did you want to make while you were playing in college?
CJ: I just wanted to help them win games. To be honest, when I got to UT, we were pretty bad, having losing records. I just wanted to leave the university better than I found it. I feel like every year we got better–winning 10 games, winning the Sugar Bowl. I definitely can say that I left the university better than I found it.
AL: What three words would you use to describe your experience at Texas?
CJ: Tradition, fun, and legacy. I use those words because Texas has a lot of tradition with national championships and great players who played there before me. Fun because football is fun and legacy because my dad went to the University of Texas. My brother played on the same football team with me at the University of Texas and my sister is on the track team there now. It's like a whole family legacy.
AL: What would say to young boys out there dreaming of becoming an NFL player one day?
CJ: They could do anything that they put their mind to, but they truly have to work hard each and every day. It happens because of a lot of hard work, even if you don't feel like it, so just believe in yourself and work hard each and every day.