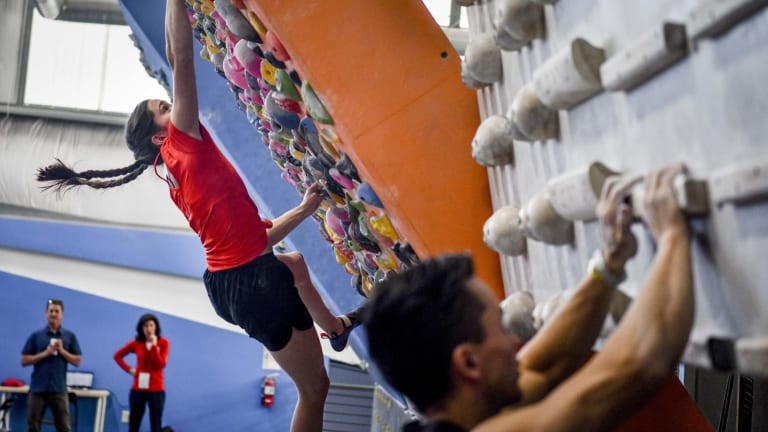 Athletes Climb Toward Olympic Goal at Pan-American Championships
Sixteen-year-old Colin Duffy of the U.S. triumphed at the International Federation of Sports Climbing (IFSC) Pan-American Championships 2020 on Sunday, earning himself a spot on the United States Sport Climbing Team. Duffy will join previous qualifiers Nathaniel Coleman, Brooke Raboutou, and Kyra Condie at the Olympics in Tokyo this summer.
"This sport has taken me all over the world, and it's taught me a lot," said Coleman. "My goal has always been just to make the Olympics. To have that goal realized, it's hard to come to terms with. And now I'm trying to reset my goals."
Fans shouted for the mind-blowing athletes, as they demonstrated unimaginable strength and agility while vying for spots in the first-ever climbing competition in the Olympics. Hundreds of spectators watched these athletes try to work through different problems as fast as possible, over forty feet up in the air. When a challenger completed a difficult task in the climb, or reached the end, the audience burst into cheers and applause.
"The biggest thing for me with climbing is: every time you do it, it's something different," said Condie. "And dealing with a diagnosis of severe scoliosis as a teenager, I didn't let it stop me. I decided it was something I was going to have to deal with no matter what, and it motivated me."
The strongest and fastest climbers from the Americas battled in three competitions: bouldering, speed, and lead, for a combined score over two days – lowest score wins. The Olympic motto is "Citius, Altius, Fortius," which translates to "faster, higher, stronger." Climbing epitomizes that motto.
"My goal for the Olympics," continued Condie, "is to enjoy the experience. It's the first time climbing has ever been included, and I'm one of only 40 people who get to be there, so I want to give it my all."
Speed is an event in which two climbers race right next to each other up a 45 foot wall in a matter of seconds. Zach Galla of the U.S. won this event by beating his opponents in each round.
Lead took center stage at the competition. It is a competition with an extremely high wall that competitors must try to reach the top in less than six minutes, gaining points the further up they go. Colin Duffy and Sean Bailey of the U.S. were the only two challengers to reach the top of the wall.
Bouldering is an event that challenges competitors' thinking, flexibility, and strength. The very difficult-to-work-with holds are placed in awkward positions, as athletes must try to reach both the horizontal and vertical top of the course. Competitors have four minutes to try to work out how to complete these obstacles with no limit on attempts. Three different courses make up the bouldering section.
"I did gymnastics when I was little; it's a lead to climbing," said Raboutou. "And I am really inspired by gymnasts. I hope to watch them all and meet them at the Olympics."
Climbing has steadily been gaining popularity internationally and especially in America. Since the news that the sport would be in the Olympics, indoor climbing facilities have popped up all throughout the country. "The Olympics wasn't even a goal, it was a dream," said Raboutou. "Now I hope that all that training kicks in, and it can all just fall into place."
Photo credit: Harrison Hill/USA TODAY