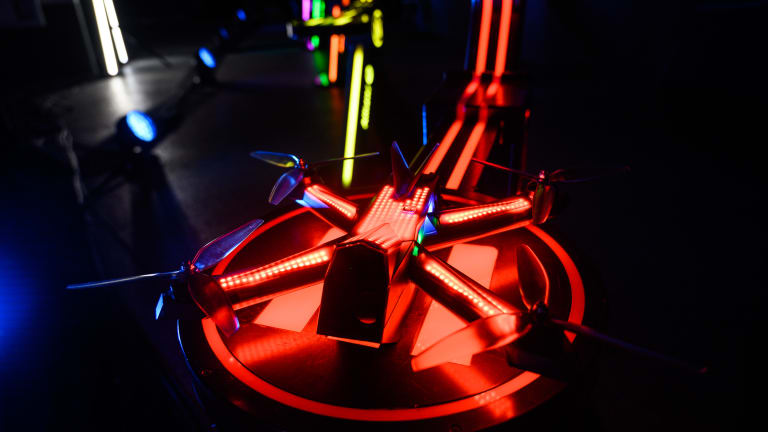 NBA Hall of Famer Chris Bosh's STEM Passions Take Flight in the Drone Racing League
Before his high-flying dunks and iconic dinosaur screams, Chris Bosh was learning the art of coding, computers, and technology. Thanks to his parents, who worked in industries that involved STEM (science, technology, engineering, mathematics), Bosh discovered this passion at a young age.
The Hall of Famer's career in the NBA was cut short due to injury, but that gave him time to get involved in other activities. From becoming a published author to producing songs, Bosh proved that he was more than an athlete.
In October 2020, he was named the Dean of Drone Racing League Academy. Add that to his already stacked resume.
"I wanted to bring some awareness and attention to something great like this," Bosh said.
What is the Drone Racing League? For those unfamiliar, it's a league for the world's best drone pilots. The sport uses first-person-view drones that race around tracks filled with obstacles. Founded in 2015, the rapidly-growing sport is a must-watch for everyone.
With programs, activities and gatherings going digital due to the pandemic, Drone Racing League developed a simulator that allows users to fly drones on Xbox, Playstation and Steam. You can fly through DRL tracks like the pros, race in NFL stadiums, and compete with friends!
Bosh teamed up with two-time DRL champion, Jordan "JET" Temkin to create educational lessons that aim to educate youth on STEM principles and how they relate to drone racing. From crashing, to speed, to how the goggles work, the DRL Academy covers all things drones.
Bosh dominated alongside LeBron James and Dwyane Wade on the Miami Heat. In fact, they were known as the Big Three! But does Temkin rank higher on his all-time favourite teammate list?
"Don't get me in trouble now, don't get me in trouble," Bosh said with a laugh. "Unfortunately, I only got to play with LeBron and Dwyane for four years. If one day, we eclipse that mark, and we're winning to whatever the equivalent to a championship is, then yes!"
Whether it's building drones, coding or discovering new technology, he encourages young people to explore the world of STEM.
"People always say STEM's the future. I believe it's pretty much right now, it's really the present," Bosh said. "Hopefully the academy will continue to grow and will get more kids interested to sign up,"
Speaking of growth, Temkin has witnessed the Drone Racing League flourish first-hand. His journey traces back to 2013 when he discovered them as tools for photography and videography. In 2015, he was invited to join the league. He even won the inaugural season—what a way to kick off your career!
Now, drones are more than a tool for capturing moments. It's turned into an exhilarating sport and a way to teach STEM. Temkin is excited to see the interest continue to spread.
"Drones themselves have come so far in five years," Temkin said. "I don't even want to guess what's going to happen in the next five years."
Photo credit: Courtesy of the Drone Racing League