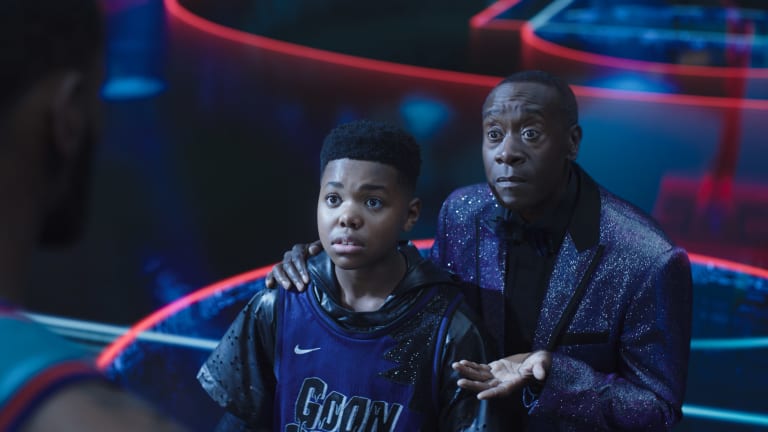 Young Actor Cedric Joe Stars as LeBron James' Son in "Space Jam: A New Legacy"
Get ready to jam: The Looney Tunes gang is back in action! This time, they're going on an adventure with Los Angeles Lakers star LeBron James in Space Jam: A New Legacy.
Directed by Malcolm D. Lee and coproduced by King James himself, this reimagining of the 1996 film has finally arrived. Fans old and young—including myself—are ready to discover the "serververse" and hit the court with the Tunes and the Goons.
The action-packed film blends sports, surprise cameos, and technology that are sure to keep your eyes on the screen. From NBA and WNBA stars like Klay Thompson and Nneka Ogwumike to TNT's Ernie Johnson, there is no shortage of familiar faces to look out for.
One face fans might not immediately recognize, however, is 16-year-old Cedric Joe, who plays Dom James (LeBron's son) and is excited for his film debut. The young star vividly remembers the night he secured the role.
"I found out that I got the call for Space Jam late at night after the opening night of the play I did at Geffen Playhouse," Joe said. "I remember the feeling of a big weight being off my shoulders and being so happy!"
Making his major motion-picture debut in a Space Jam movie? I couldn't name a cooler way to kick off your film career.
While Joe and his character share basketball skills, he had to learn about video game development for the role. To prepare for his part, Joe visited game warehouses and learned the creative processes. It's a regular practice in the world of acting that allows actors to understand their assignments.
"Me and [Dom] didn't have a lot in common as far as being a video game developer," Joe said. "That was something I had to get myself ready for mentally,"
Spending time on set with LeBron James means picking up a few hoop-related tips and tricks. While off-camera, the cast was often shooting around and playing H.O.R.S.E.
With the chemistry he's developed with his costar, Joe feels ready to see some NBA minutes with the Lakers: "You know, they may give me a little 10-day contract. To the owner: maybe we can work that out."
From the opportunity to star in an iconic sequel to working with pros such as Don Cheadle, Joe describes it all as a "blessing." However, this didn't come without years of hard work. For those who want to get into acting, he has some words of advice.
"In the business, you're gonna get a lot more noes than yeses. Just think about the bigger picture and stay humble," Joe said.
Check out Cedric Joe in Space Jam: A New Legacy, out in theaters on July 16. You don't want to miss it!
Photo credit: Warner Bros. Pictures