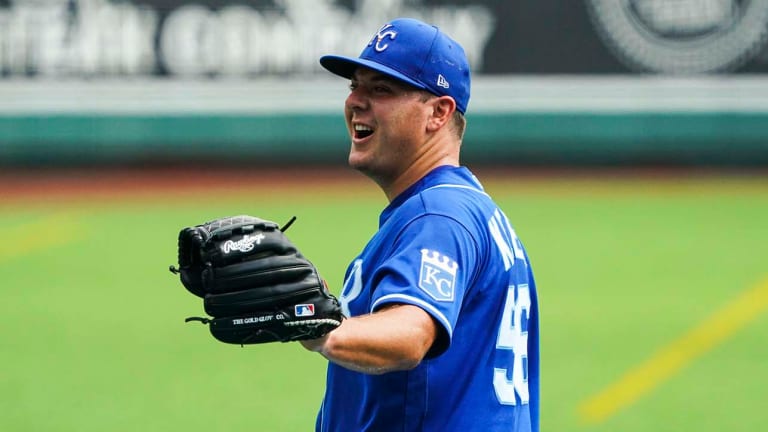 After His Best Season Yet, Brad Keller Looks to Repeat His Success in 2021
If Brad Keller's baseball career were a pitch, it would be a curveball.
However, the 25-year-old starting pitcher for the Royals has proved that he won't let the ups and downs of baseball–or testing positive for COVID-19–strike him out.
Last week the Royals named Keller as the club's 2020 Pitcher of the Year. As he prepares for spring training in Arizona, he hopes the upcoming season isn't delayed by the ongoing COVID-19 pandemic.
"I hope we start on time and play a whole 162 [games] because I'd love to see where this whole team goes," he says.
MLB suspended last year's spring training in mid-March at the outbreak of the pandemic in the U.S. Keller tried to make the most of the delay by working with his pitching coaches to make mechanical adjustments and improve his consistency on the mound.
He felt great about his arm when he arrived at the league's second camp, Spring Training 2.0., in July. He noticed a little stuffiness in his nose but didn't think it was more than a light cold. The news that he tested positive was a shock to the 6'5", 250-pound pitcher who felt great physically.
The mandatory 14-day quarantine took an extra bite out of Keller's already shortened season.
"I was prepared to go to the field when they called and told me to stay home," he said. "I was mad also because I knew how short the season was and couldn't afford to get a setback like that."
The positive result was a devastating blow to Keller, who wanted to get back on the mound after ending the 2019 season a month early due to arm fatigue.
Confined to his apartment for two weeks, Keller was unable to visit the Royals' training facilities or even go to a gym. He used a kettlebell and resistance bands to work out in his living room, and when it came to pitching, he got creative.
"For throwing, I taped a sock to my wrist, held a ball on the inside, and threw into the sock to keep my arm fresh," he says.
Maybe pitchers everywhere should try the sock trick for a few weeks because Keller returned to the mound for the best season of his career.
In his first game in 2020, Keller struck out seven batters in five scoreless innings against the Cubs on Aug. 16.
After the game, he said he still needed to build his endurance back up to being a "workhorse pitcher" who can stay in a game for at least six or seven innings.
"I could tell I wasn't quite built up all the way to where I wanted to be, but it still felt really good," he says.
Soon Keller was back to feeling 100%, and he completed the season with a 2.47 ERA. Even more impressive, his ERA at home at Kauffman Stadium was only 0.27–the lowest home ERA among all starters in MLB since Wilson Alvarez in 2003.
Among the highlights of his 2020 season, Keller's first MLB shutout, which occurred against the Pirates on Sept. 13, ranks first.
"Even with no fans there that was something special," he says of the empty stadiums during the pandemic.
Always ready to put a positive spin on tough situations, Keller happily pointed out that his family members had cardboard cutouts in the stands.
"It's nice to have them in spirit at least there to watch me," he adds.
Looking back at 2020, Keller calls the extra time he gained during the season's delay and his quarantine "a blessing in disguise" since it allowed him to work on his mechanics.
His strong season is no surprise considering it's the latest chapter of the twists and turns he's encountered in his incredible baseball journey.
Most future MLB players grab the attention of college and professional scouts during middle school or at least by freshman or sophomore year, but Keller entered his senior year of high school with zero interest from the majors or Division I schools.
It wasn't until his senior year that the Flowery Branch, Ga., native played fall ball and caught the eye of Presbyterian College, a Division I school in Clinton, S.C. The college offered him a spot just two days before National Signing Day. Keller accepted the offer and turned his focus to enjoying his senior year with his best friends before heading to college.
But two games that spring changed his fate.
The right-handed pitcher faced two elite players from his region during his last season. By pitching against Loganville Senior High School's Clint Frazier, who was rightfully predicted to be a first-round draft pick, plenty of scouts would be attending the game.
"They actually had to bring in a whole other bleacher because he brought in so many scouts," Keller says.
He didn't think about the scouts because they weren't there to see him. He just focused on winning the game against the top team in his region.
Keller struck out Frazier in his first two at-bats, and the scouts noticed. Keller, who is very humble when he talks about his accomplishments, was quick to point out that although he recorded two strikeouts, Frazier's third at-bat resulted in a pop fly that earned a double.
After the game, Keller started to get some interest from major league teams.
The following week Keller pitched to another regional star named Travis Demeritte, who went on to be drafted No. 1 by the Rangers in 2013. Keller held his own against Demeritte and that's when the future Royals star began getting more MLB questionnaires in the mail.
"It was kind of a crazy ride," he says. "I'm thankful for being able to face Clint and Travis in my region because otherwise who knows where I'd be right now?"
We will never know the answer to that question. What we do know is that Keller was selected in the eighth round of the 2013 draft by the Diamondbacks. He skipped college and went straight to the minors after high school.
The minor leagues proved to be challenging, especially in 2017 when he recorded a 4.68 ERA with Double-A Jackson. The Diamondbacks chose not to protect Keller in the Rule 5 Draft (when teams without a full 40-person roster can select certain players who didn't make the 40-person roster from other clubs).
Kansas City acquired Keller, and his career took off. In 2018, he made his MLB debut on Opening Day with the Royals. The self-described "baby faced" 22-year-old struck out the first batter he faced and was also selected as the club's Pitcher of the Year that season.
The next year didn't last as long as Keller hoped. His 2019 campaign ended a month early due to arm fatigue. He struggled in his last game, pitching 1 1/3 innings against the A's and giving up five hits and three runs. Starting pitchers always aim to reach at least the sixth inning. That year, Keller made 28 starts and pitched 165 1/3 innings, falling short of his goal to log 200 innings.
Coming out of a strong–although short–2020 season, he has turned his attention to the upcoming campaign. In January, Keller signed a one-year, $3.35 million contract with the Royals. He is working on adding a changeup to his arsenal of go-to pitches, which include his slider and his two signature fastballs: a sinker and a four-seamer.
"I am just going to carry over the same delivery I had last year because it felt really good," he says. "I felt like I got most consistency out of. I'm just going to bring it into this season and if anything, make it better."