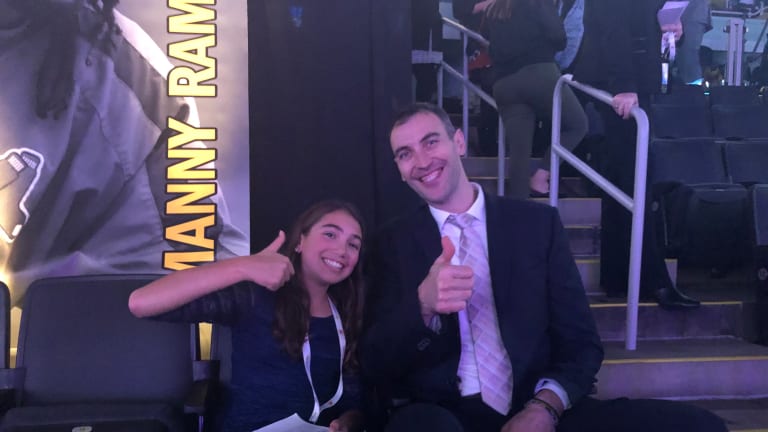 Boston Sports Legends Dish Out Advice at The Tradition
Zdeno Chara, a defenseman for the Bruins and tallest player in NHL history, is unable to fit into Boston's TD Garden's arena seats. He squirms in the black seat, trying to squeeze in his long legs. Chara is baffled at the size of the chairs.
"They didn't design these seats for 6'9" guys like me," he says. Chara is here, trying to sit in the seats, instead of his usual place on the ice, because he's the recipient of the Hockey Legacy Award. The Boston Sports Museum honored Chara and other notable athletes at their annual event, The Tradition.
Chara is the oldest player in the NHL at 42 years old. This is his 14th season as a Boston Bruins' defenseman, and his 13th year as captain. In 2011, he helped lead the team to the Stanley Cup, and another Stanley Cup finals appearance this past season. Chara can speak nine different languages and he is known for his work ethic on the rink and in the gym.
Chara earned his award by establishing a long and successful career, so SI Kids asked him for his advice to young athletes hoping to one day find themselves on a similar stage.
"Spend a lot of time with friends and be outside and enjoy that environment, instead of being inside and playing video games," Chara says. "Play different sports, learn about other sports and have fun. Workout as much as you can, eat well, work well and try to play well."
Chara was in good company. Michelle Kwan, Manny Ramirez and Ben Crenshaw also received individual awards, and SI Kids asked each of them the same question. What is important for young athletes to know?
"Have fun, enjoy the sport you're involved in and have all your friends and family involved," says five-time world champion and two-time Olympic medalist figure skater Michelle Kwan. "Figure skating to me was always good to get out on the ice and have all my worries go away. Before you compete, put it in perspective that this is only a sport and you're out here to have fun to make the most of it."
Manny Ramirez captured two World Series with the Red Sox, but he's also notorious for using performance enhancing drugs. He's learned from that mistake. "In life, bad things will happen to you," Ramirez says. "But those mistakes made me a better person."
To Ramirez, discipline is the most important trait that determines a young athlete's success. "You have to work hard," he says. "When you got power, money, and fame, you may take life for granted. You really don't understand the most valuable thing you have, and that is your family."
Ben Crenshaw was a legendary golfer who won the Masters twice. He coached the 1999 US Ryder Cup Team that staged an amazing comeback on the final day of competition.
Crenshaw's advice for young golfers is to stay calm when playing a tough round. "I had a little bit of a temper when I was young," Crenshaw says. "But you have to suppress that and take some deep breaths because everyone is going to make mistakes. Be happy with the good days and take the bad days in stride. "
The athletes' advice shares a common theme: work hard and have fun. As a young golfer, Crenshaw's tip resonates with me. Success in golf, similar to life, requires a strong mental game and attitude. Next time I hit a bad shot, I'll remember to keep a positive attitude.