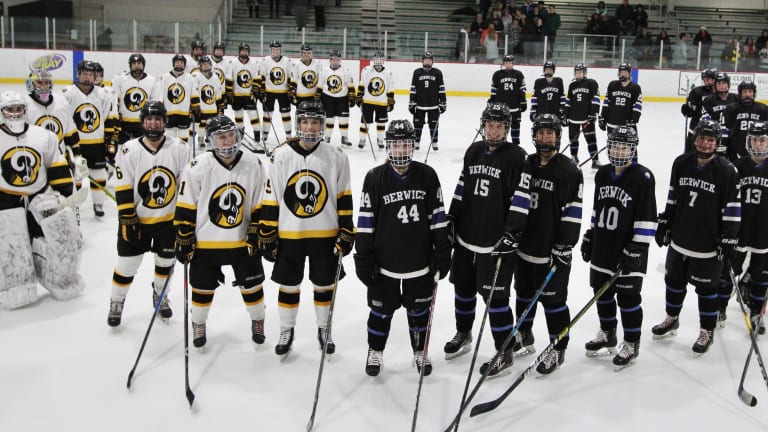 New England High Schoolers Hit the Ice to #StickItToStigma
Less than two weeks ago, a pair of New England high school hockey teams played a game with playoff implications. However, something greater was on the minds of the players that night at the Dover Ice Arena in Dover, N.H., as the two teams skated in support of Stick it to Stigma, a campaign started by an organization called Connor's Climb to raise awareness around issues related to mental health.
The Berwick Academy Bulldogs have partnered with Connor's Climb for the past three years, with both the boys' and girls' teams playing Stick it to Stigma games in 2018 and 2019. Due to scheduling conflicts, 2020 was the first year that the boys' team did not play in a Stick it to Stigma game. However, that didn't stop the team from supporting their female counterparts in an intense Saturday tilt. As junior Spencer Aubin said, "Right when we learned we didn't have a game, we knew we wanted to help."
As for the matchup itself, the Bulldogs played host to Tilton School. The Bulldogs' squad, which is comprised of athletes from eighth through 12th grade, hit the ice for the opening warmups in stunning black jerseys featuring #StickItToStigma on the back nameplate. These jerseys are worn just once a year.
"We have always wanted black jerseys," explained Berwick's assistant coach, Molly Gabarro. "When you have the black socks and black helmets, there is an intimidation factor. But having #StickItToStigma is a reminder that we are all playing for one cause."
Present to cheer on the girls' team was, of course, the entire Berwick Academy boys varsity hockey team, in addition to a large portion of the student body. Together, these fans formed the largest and most energetic home crowd the Bulldogs saw all year long.
"I have always been impressed by how the boys and girls teams create the sense of camaraderie and teamwork every day," said Gabarro. "Women's sports have been trying to gain equality with men's sports and Berwick is setting the tone and is a great example of men's and women's programs working together."
As Annabelle Beaton, one the players, added, "[The boys' presence] was a huge part, because in the past, it was the boys who people wanted to watch. I was really happy how it turned out because they were a huge factor in everyone coming."
The boys' team organized a bake sale and various between-period activities in an effort to raise money. These activities include chuck-a-puck after the first period and "million dollar shot" after the second period. The total money raised by the event exceeded $20,000.
As for the game, in the end, Berwick pulled out the 3-2 win in front of the passionate home crowd. Berwick senior Delaney Kingsland scored, as did freshmen Julia Cabral and Charlotte Wensley. Freshman goalie Bella Pomarico held off various late efforts to score from Tilton, who got goals from Isabella Marzano and Megan Gates.
"At first, we were all really nervous, because we don't get a lot of fans," said Beaton. "But halfway through the first period, we were more relaxed and realized it was more fun than nerve-racking."
After the final whistle, the two teams came together for a photo that signifies unity in support of an important cause.
The president of Connor's Climb is Tara Ball, whose son, Connor, died by suicide in 2011. Ball says that she enjoys seeing schools support Connor's Climb as they continue to spread awareness. She emphasized that some myths regarding mental health are still present, despite the increase in awareness over the past few years.
"The biggest myth is if you talk about suicide, you will cause a greater increase in suicide," she said. "The truth is, if you talk about suicide, you normalize it and give kids who might be experiencing suicidal ideation a chance to talk about how they feel."
Ball and Gabarro both mentioned that they would enjoy seeing other local teams or even the entire league take on a similar pursuit with either Stick it to Stigma games or an event supporting a different organization of the teams' choice.
While next hockey season is a full eight months away, preparation has already begun for next year's event, and both athletes and spectators say they can't wait to see what is in store for the Stick it to Stigma games in 2021.
You can learn more about Connor's Climb, their backstory, and their mission at connorsclimb.org.
If you are in crisis, please call the National Suicide Prevention Lifeline at 1-800-273-TALK (8255), or contact the Crisis Text Line by texting HOME to 741741.
Photo credit: Courtesy of Connor's Climb