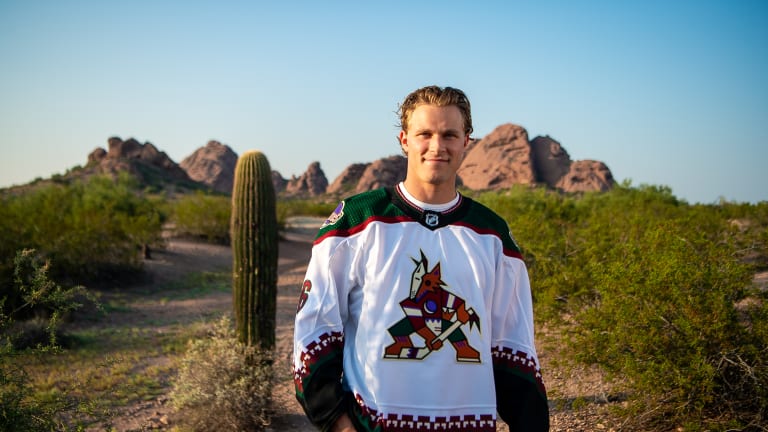 Arizona Coyotes Defenseman Jakob Chychrun Reels in Forwards On the Ice, Fish on the Pond
It's no surprise that Jakob Chychrun's hidden talent is his ability to solve the head-scratcher that is Sudoku. After all, the star defenseman for the Arizona Coyotes displays puzzle-solving skills on the ice: clear vision, focus, and dogged determination.
These qualities have helped Chychrun overcome injuries to become one of the most dependable players for his team. Just in his 6th season, he already ranks in the top 10 in all-time scoring among Coyotes defensemen, and currently leads the team this season in time on ice with over 24 minutes per game.
Jakob is quick to give credit to his father, Jeff Chychrun, a former NHL player who gave his son the opportunity to play whatever sport he wanted to play as a kid.
"I guess it's in my blood," Chychrun said, noting that his grandfather, John, also grew up playing hockey. And while he did try different sports, he recognized early on that hockey was his passion. "That's why I'm here today," he said. "You have to have love and passion to accomplish the dreams you have. And if you're lucky enough to do something you love, it doesn't ever feel like work."
When he's not training for hockey or contributing as one of the Coyotes' most promising and exciting players, Chychrun enjoys other fun pursuits, including bass fishing: "My very first big purchase for myself after I made the NHL was a bass boat and I've spent hundreds of hours on it. It's when I'm at peace with myself. I'm out on the water with my dog, listening to country music."
Chuychrun said that he also loves spending time with his his grandfather and dad on the boat. The three of them fish together, allowing Chychrun to appreciate the connection they have as three generations of men bonded by their common passions. And even though his grandfather doesn't fish as often, he always ends up with the biggest catch.
When he's not playing hockey for a living or fishing recreationally, Chychrun enjoys adding to his collection of shoes and motor vehicles. He particularly likes high tops, from Nikes to Louboutins. "I like the red bottoms. I also like that you can dress them up," he said. As far as wheels, Chychrun doesn't discriminate. He loves both cars and trucks and hopes to build up his collection of both some day.
The 23-year-old offensive defenseman is grateful for the blessings he has. He says he still sometimes can't believe he gets to play a sport he loves for work and live in sunny Arizona. Cychrun considers himself very lucky, and he attributes all the good things he's gotten to the support of those he loves, who have been with him on his journey. Asked what his favorite emoji is, Chychrun doesn't hesitate. "I use the heart emojis a lot," he said. "I send them to family and friends."
Photos courtesy of the Arizona Coyotes