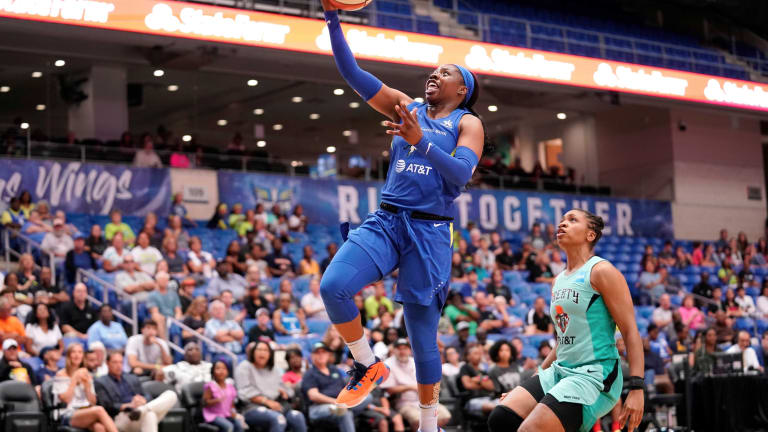 Arike Ogunbowale Honors Idol Kobe Bryant On and Off the Court
On March 30, 2018, Arike Ogunbowale put up a shot that shocked the college basketball world. With a buzzer beater, she sent home a favoured UConn team that featured Kia Nurse and Napheesa Collier. In the stands were Kobe Bryant and his family. Moments after celebrating on the court, she received a tweet from the Black Mamba himself. The video of her reaction spread rapidly on social media:
Like for many of us, Ogunbowale's favourite player was Kobe Bryant. The mentality he displayed on the court challenged us to be better. His legacy spreads beyond basketball. From winning an Oscar Award for his short film Dear Basketball to his business ventures, Bryant was unstoppable.
Nike's Mamba Week coincided with August 24th to commemorate the two iconic numbers Bryant wore during his career (8 and 24). Fans all across the globe celebrated Byant and his daughter Gigi's lives. Each day highlighted a value, such as passion, focus, honesty, fearless, or optimism. Athletes, including Devin Booker, Sabrina Ionescu, Naomi Osaka, and many others shared their perspective on the Mamba Mentality through videos. Ogunbowale was one of the athletes who honored Bryant that week.
Before facing the Sparks on what would've been Bryant's 42nd birthday, she sported the Black Mamba Jersey, which features a snakeskin-like texture, and both of Bryant's numbers. In hand were her favourite kicks from the Undefeated x Nike Kobe 5 Protro "What If?" Pack: the Unlucky 13. These products were all a part of Nike's release for the week.
Ogunbowale now wears the number 24 for the Dallas Wings—but she actually had the number before Bryant. When she joined her first AAU team, two numbers were left: 24 and 25.
"I just say it was fate, it was meant to happen," Ogunbowale said.
While shooting an episode of Bryant's show, Detailed, he invited Ogunbowale to chat with him. The first impression of her role model has stuck with her. When she arrived at the filming location, she texted Bryant, expecting to be called in. Instead, Bryant climbed down three flights of stairs and walked up with Ogunbowale.
"He was such a good guy," Ogunbowale recalls. "It doesn't matter, if he's a legend, Hall of Famer, or an idol. He was a regular person and that's how he treated people."
Now she emulates Bryant on and off the court: She recently started a successful clothing line. Items range from tees and sweatshirts to prints, and fans have been obsessing over it.
Bryant was known for sporting an orange WNBA hoodie and advocating for women's basketball. He was always seen with Gigi courtside at games, teaching her plays and techniques. During Mamba Week and beyond, Ogunbowale's goal is to continue his mission and use her platform to encourage young athletes.
Despite a lack of team success, Ogunbowale had a memorable year for the Wings, as she led the league in points with 22.8 per game. The former Fighting Irish star was also named All-WNBA by the Associated Press.
She demonstrates the Mamba Mentality wherever she goes. Another topic Bryant was passionate about was racial justice. The WNBA players have shown their full support by protesting and speaking about their experiences. Ogunbowale wants to continue the conversation in the offseason.
"Stuff dies down and you don't see a lot of posts about certain things anymore," Ogunbowale said. "Whenever I can tweet something so that it stays fresh in people's minds—because you don't want all this work and all this talk about it to go to waste,"
She's a force to be reckoned with on and off the court, just like one of the world's greatest, Kobe Bryant.
Photo Credit: Milwaukee Journal Sentinel/Imagn Content Services, LLC