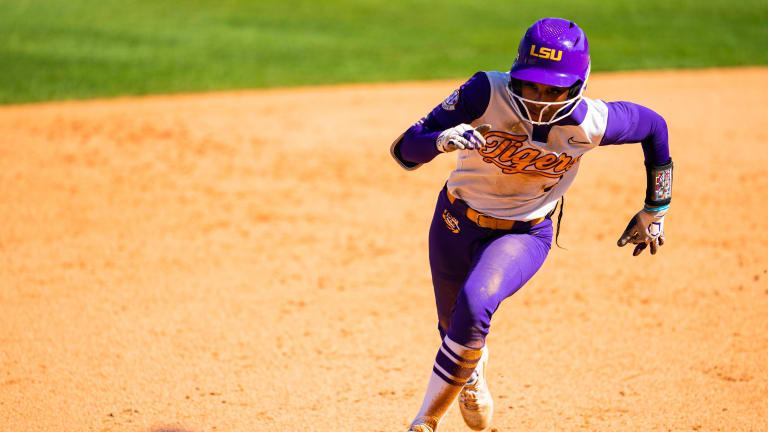 Air Aliyah: LSU Center Fielder Leads Team to Postseason
When LSU center fielder Aliyah Andrews was in midair, she wasn't thinking about hundreds of thousands of people that would be watching her highlight reel hours later. She was focused on robbing her opponent and helping her pitcher win the game. Little did she know that this catch and others like it would help her get taken in a pro draft just months later.
Andrews grew up playing softball and watching her older sister, A.J., excel on LSU's softball team from 2012–2015. As the younger sister, Aliyah was able to see how A.J. liked LSU—on the softball field and beyond. While she didn't choose LSU just because of her sister, it did influence her decision. Aliyah has been able to pave her own path.
"Whenever I would come watch her play and visit Baton Rouge, I would see how the fans treated her and how the community was," Andrews said. "They really just loved her as a person, more than just a player. I was like, I want to be a part of that."
Andrews has no doubt proven herself in Baton Rouge and made her own name. As a fifth year senior, some of her career accolades include being an All-America, an All-SEC team member, and a 2020 Senior Class Award Top 30. She has batted .360 for her career with 144 stolen bases. Andrews was drafted ninth into the Athletes Unlimited pro league. Also, she is one of the most talented slap hitters in softball, hitting her first ever over-the-fence slap-hit home run this season.
She has made SportCenter's Top 10 plays multiple times this year with her out-of-this-world diving catches in the outfield. While it looks impossible, she spends hours practicing to prepare for these moments.
"We have gone to our gymnastics facility, and dove in the foam pit and dove on mats so that it wouldn't hurt so bad, and we could just do it repetitively," she said. "Then we do little drills where we will start on our knees and then dive in different directions."
These national highlights helped her get drafted. On May 10th, her dreams became a reality when she was selected in the Athletes Unlimited first ever college draft.
"Well, being drafted was probably like the coolest moment that I've had in softball," Andrews said." It was really cool just because I had all of my teammates around with me and they were so excited for me. Being even considered for something like that was just so cool to me. I just see myself playing as long as my body allows me to—as long as God allows me to. Any way that I can play, I am just going to try and play."
While her collegiate softball career is almost over, she has a good chance of going out on top. This LSU team has been resilient, as it has had the hardest strength of schedule in the country in 2021. The Tigers are the No. 7 team in the country, and qualified to the Super Regionals that start on Thursday after beating McNeese St. (10–2) and beating in-state rival Louisiana in two out of three games. They are one of 16 teams left, and will play No. 10 Florida State for a spot at the Women's College World Series in Oklahoma City. Their tough schedule has helped prepare them for the moments under the lights as they are chasing history, looking for their first ever National Championship.
"Our strength of schedule will definitely help going forward in the postseason just because I feel like we have seen the best of the best pitchers and the best of the best hitters," Andrews said. "For us, it's just important to play LSU softball, and not let these games get too big. Just play how we play and be ourselves and everything will come together."
Regardless of what the future holds for the talented outfielder, Andrews has and will continue to be an amazing role model for the next generation of softball players. She will always be talked about as one of the great center fielders to walk on Tiger Field, but she has her hopes of what she wants to be remembered for too.
"When people watch me, I just want them to remember me as someone that plays hard and someone that loves the game."
Photo credit: Courtesy of LSU Athletics