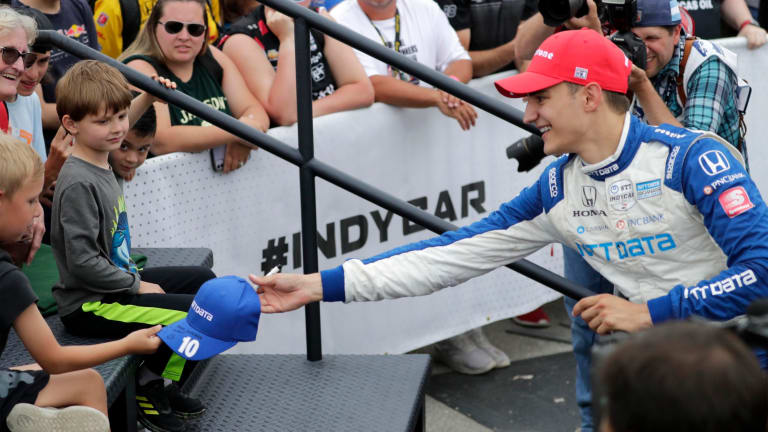 Alex Palou's Journey from Go-Kart Racer to IndyCar No. 1
Growing up in Spain, IndyCar racer Alex Palou took a chance on auto racing, a sport no one in his family had even tried. Now, in his first full season, he sits atop the NTT IndyCar series leaderboard standings halfway through the 2021 season.
Alex Palou spent his entire childhood in Spain, where he was only able to watch the top races in the United States on TV. He got into racing when he was five years old, since he lived right near a go-kart track that his parents drove by on his way to school every day.
"One day, I asked my parents to go there and try a go-kart just for fun," Palou said. "We started as a hobby just for fun, after school and some weekends. Then it started getting serious and now, we are here."
From that point on, it was hard to get him off the racetrack, except on the days when it was raining. Palou hated practicing on a wet track, since it made it harder to drive. But, his dad took him out on those dreary days, because he knew that one day, it would make him a better driver.
Before he started racing professionally in the U.S. in 2020, Palou actually opened up his own coffee shop in Spain, Coffee and Greens, three-and-a-half years ago, for fun. It was something he and his girlfriend launched together and he has now become a coffee lover. He still prefers drinking regular black coffee or an occasional iced caramel latte.
Palou came over to America last year for his rookie season, but found himself having to return home to Spain shortly after when the world shut down because of COVID.
"It was quite hard when COVID started," Palou said. "I flew back to my family in Spain, because I didn't have a house in the U.S. yet, so I couldn't stay here. It was really hard because it hit really hard in Spain, and we were in a complete lock down, so I couldn't even go out for a run. My family was something that helped me through it."
This season brought hope back to the young driver as he was able to come back to the United States to compete earlier this year. He started the season off with a big win in his first race as a Chip Ganassi Racing driver. One thing Palou has improved upon off the racetrack has been his ability to communicate with drivers and teams from other countries. As a native Spanish speaker, after he learned English, he taught himself how to speak Italian to help him when he raced in Italy.
He has continued to impress fans and sponsors, finishing as the runner up in the Indy 500, and currently in first place in the IndyCar standings. Palou's plan for the second half is to work on winning a few more races to help him end up on top at the end of the season.
"The goal is to win the championship, and in order to win the championship, we have to win more races," Palou said."We just want to be up there, fighting for every race, and win one or two more races by the end of the season…. It's not going to be easy for sure, because we are fighting with some big guys, but it's going to be super fun."
Photo credit: Gary C. Klein/USA TODAY NETWORK-Wisconsin/Imagn