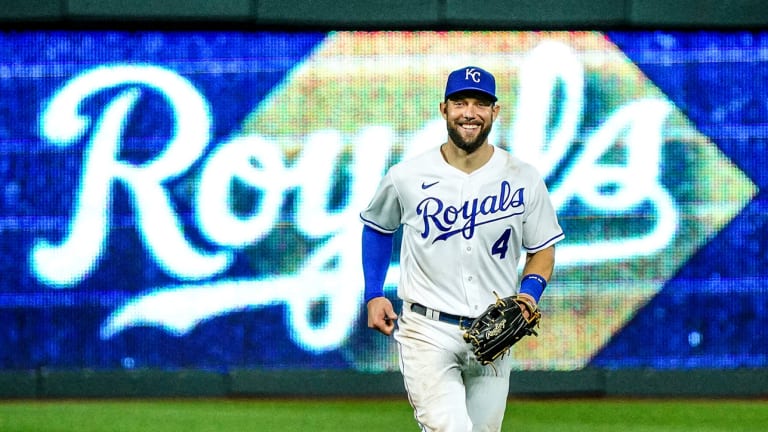 Alex Gordon Focuses on His Next Chapter After Retiring From Royals
After 14 years with the Kansas City Royals, Alex Gordon played the final game of his professional career on Sunday.
During the second inning, Gordon gave up his spot in left field to his good friend and fellow outfielder Whit Merrifield. The two embraced in the outfield before Gordon hugged the rest of his teammates and exited the field to a standing ovation from the Royals and Tigers' dugouts.
The 36-year-old's future will now include learning golf so he can challenge his former teammates, cheating on his strict diet, and most importantly, spending time with his wife and three children.
From late March until early October, Gordon was away from his wife and three young children while traveling. He wants to spend more time with his kids, especially now that his two older sons, ages 10 and seven, are starting to play sports.
"At the end of the day, I'm missing my kids in their activities more than I'm going to miss [baseball]," he said. "It's kind of bittersweet because this is hard for me to do. This is what I've done my whole life. But at the same time, I'm excited to be around my family, be around my kids and just catch up on things I've missed my whole life."
Merrifield said that although he is happy that Gordon will get more time with his family, it's hard to see him go.
"I think of all of us, in our selfish ways, are all sad today," Merrifield said. "I think I've cried at least five times already today because you've got a buddy that is a part of your family that is moving on."
Merrifield and Gordon have grown close while sharing the outfield and having lockers next to each other's. Merrifield said what is most impressive about Gordon is his dedication. Even when there were only a few days remaining in his professional career, Gordon didn't stray from his healthy diet, training or game prep. The team couldn't even persuade him to try a slice of birthday cake at a recent dinner.
"It's just incredible to see the consistency, the dedication and the sacrifice he makes day in and day out to do what he does and be the player he is," Merrifield said.
Gordon grew up in Lincoln, Neb., cheering for the MLB team closest to his hometown–the Royals. As a kid, he told one of his elementary school teachers that he would make it to the big leagues. In college, he became a standout player at the University of Nebraska. His childhood dream became reality when the Royals selected him as the second overall pick in the 2005 MLB draft
"Being fortunate and lucky enough to get drafted by the team you grew up watching was pretty ideal," Gordon said.
As part of the Royals' Opening Day starting lineup in 2007, expectations were high. Even though he struck out in his first at bat, he still remembers it with a smile. When he stepped up to the plate with the bases loaded, Red Sox pitcher Curt Schilling was staring him down from the mound. Although Schilling's splitter sent Gordon back to the dugout, Royals fans showed him some love.
"I got a standing ovation coming out, and got a standing ovation going in," Gordon said. "I was like, 'Hey, this, this is going to be pretty easy if I keep doing this.'"
But the next few years weren't so easy.
Gordon had a rough time covering third base in the pros. A hip surgery in 2009 and a broken wrist bone in 2010 made it worse.
The Royals demoted Gordon to the Omaha Storm Chasers in 2010 to help him find a better position. It was there that Gordon discovered he thrived in left field.
Later that year he returned to the Royals and developed into a highly touted outfielder who would go on to become a seven-time Gold Glove winner, three-time Defensive Player of the Year and a Platinum Glove winner. Gordon also played an important role in the Royals' back-to-back World Series trips that resulted in their 2015 championship.
Looking back on his career, Gordon said he didn't give up when he hit slumps because his parents taught him to work hard, not complain and stay positive no matter what happens.
"I would have loved the journey if it was just all ups. That would have been great," Gordon said with a smile. "But unfortunately, baseball's not like that. It's a game of failure."
Royals general manager Dayton Moore said when he found out about the retirement, he felt grateful that Gordon dedicated his entire professional career to the team.
"On the field, off the field, his work ethic and his commitment truly has reached legendary status here in this organization," Moore said.
Fans weren't able to say goodbye from the stands on Sunday. However, Moore said there will be an "Alex Gordon Day" at Kauffman Stadium in the future. And of course, fans should expect clips of Gordon featured on the ballpark's screens during many games to come.
"As long as we're alive, we will be able to watch those diving catches, fearlessness into the wall, into the stands, the game-winning hits the walks. I mean everything that he's done to help create history and his legacy here with the Royals," he said.
Some fans and teammates have even called for a statue to honor Gordon. When asked what pose he's want, Gordon joked he should be lying flat on the ground after slamming into Kauffman Stadium's left field wall. Many Royals fans remember Gordon's catch in Game 4 of the 2014 American League Championship Series when he slammed into the wall at full force while running to make the catch. Lying flat on his back, Gordon extended his glove in the air to show that not even the chain-link fence could stop him.
"I think that'd be kind of funny just to have me laying on the ground, knocked out or something from hitting the wall," he said. "I think that would be a good statue."
Although it was said in jest, Gordon really just wants fans to remember that he didn't let any other obstacles get in the way of catching a ball.
"Hopefully when people think about me, they think of me as someone that just left it all on the line," he said.
Teammate Greg Holland said that pose being memorialized in stone would be the perfect way to sum up Gordon's time on the field.
"The guy literally jumped in the stands catching balls, he knocked himself out on the fence," Holland said. "I think that in itself tells you a lot about who he is as a player and as a competitor."
Another teammate saddened by Gordon's departure is Bubba Starling. He remembers being in junior high when he saw Gordon's debut with the Royals. As a fan of the outfielder since then, Starling said he was a bit starstruck the first time he played center field next to Gordon.
Now Starling is facing the realization that the man he has idolized for years will no longer be sharing the field.
"It's just not going to be the same when No. 4 is not in the clubhouse," Starling said. "He's like that big brother, to me at least, so it's gonna be tough."
Gordon is feeling the pain, too. Normally stoic, he choked up a bit when talking about his teammates and the way he hopes they remember him.
"When I started playing, I just wanted everyone to see me as a hard worker, someone who played the game the right way and someone who was a good teammate," he said. "Hopefully I'm leaving my legacy like that."
Even though Gordon is hanging up his cleats, the locals will continue to see him around.
"Kansas City is my hometown," he said. "This is where I live. This is where my family goes to school, plays sports and does all that. So, you know, I'm going to be around. So hopefully in some capacity I'll be involved with the Royals."
Gordon also plans on finally having a slice of pizza and some of that cake. He's earned it.