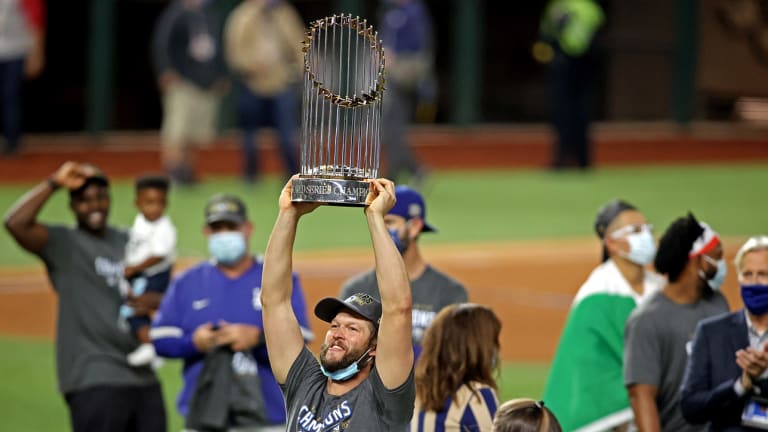 2020 MLB Season: Looking Back on the Unusual Year That Almost Didn't Happen
"World Series Champions!" Those three words are what all players, coaches, and fans dream of saying about their team each year. After a grueling 162-game season, the feeling of being crowned champs is indescribable. However, this year was different.
It started off as a normal spring training in Florida and Arizona until the coronavirus pandemic hit the U.S in mid-March. MLB initially delayed Opening Day by two weeks, but the season's status quickly became unknown as the virus spread. Players were forced to find creative ways to train at home. By the time baseball started again, it was July. The league shortened its regular season from 162 games to only 60, and players were given the choice to opt-out of the season. Stars like David Price, Lorenzo Cain and Ryan Zimmerman sat out the season as a precaution to protect their families.
Games looked and sounded different, too. Fans were replaced by cardboard cutouts, and players noticed the unusual feeling of playing in an empty stadium. No fans cheering, no families present to support them, and most of all, no normalcy. Teams used piped-in crowd noise to attempt to mimic the same atmosphere that live fans bring to the ballpark.
This season was one for the record books, and it got off to a rocky start. Within the first few weeks, there were two major COVID-19 outbreaks. Just days after the season began, the Miami Marlins quickly had 17 positive cases of the virus. The team didn't play for a week and held limited practice sessions. The St. Louis Cardinals experienced a similar situation after only playing five games. The Cardinals eventually had 16 members test positive for COVID-19, and they were forced to play 53 games in a 44-day stretch to finish its season.
MLB tightened its protocols on requiring all team personnel to wear masks during games, except for players on the field. Teams banned players from leaving their hotels on road trips, allowing MLB to end its regular season with a limited number of cases over the last two months.
Once the postseason arrived, MLB expanded it to 16 teams and added a best-of-three Wild Card Series played at the higher seed's home ballpark. The Division Series, League Championship Series and World Series were played in neutral "bubble" sites in Arlington, Houston, Los Angeles, and San Diego. Players, coaches, staff and media members were confined to their hotel rooms and the ballpark, unable to participate in any outside activities.
MLB allowed a limited number of fans at the NLCS between the Atlanta Braves and Los Angeles Dodgers, as well as the World Series between the Dodgers and Tampa Bay Rays. One of the most unusual games in Fall Classic history came in Game 4. Down 7–6 in the ninth inning, Tampa Bay's Brett Phillips hit a two-out, walk-off single to stun the Dodgers and even the series at 2–2.
The World Series saw new records shattered like Clayton Kershaw passing Justin Verlander for the most all-time postseason strikeouts (207) in Game 5. Rays phenom Randy Arozarena owned the postseason with had a record-setting 29 hits and 10 home runs.
Los Angeles went on to defeat the Rays in six games to end their 32-year title drought and cap off a season unlike any other. However, the Dodgers' victory was overshadowed by third baseman Justin Turner being pulled in the eighth inning of Game 6 for testing positive for COVID-19. He later came out on the field to celebrate with his team, creating controversy on baseball's final night. The bizarre ending seemed fitting for the unusual season.