In the Fast Lane with Erica Enders
The back-to-back NHRA Pro Stock champion gives us a behind-the-scenes look at a high-octane weekend race
"Where are the eyelashes?!" That was the most-asked question after Erica Enders finished the first test session in her brand new Dodge Dart earlier this year. Fans weren't inquiring about her own lashes, though. They were asking about the signature black lashes that had been painted above the headlights on her old race car for two seasons. "My email went crazy when they weren't on the Dart," Enders recalls. She made certain they were on her car before the start of the National Hot Rod Association Mello Yello Drag Racing season. "I race in a man's world," Enders says. "Being the only woman in Pro Stock, I want my car to be a little girly. The lashes are fun, and the fans love them."

Although racing is male-dominated, Enders has zoomed to the top of the Pro Stock circuit. In 2014, she became the first woman to win the NHRA Pro Stock world championship, then won the title again in 2015. "I'm sure there were people who thought I'd be a flash in the pan when I started," Enders says. "I proved that I belong here." The 32-year-old has racked up the most NHRA national event victories by a female driver (19), while her nine wins last year are the most in a single season for a woman in any Pro Stock class. She's done all of this by covering a quarter of a mile — yes, each race is that short — at up to 215 miles per hour.


​Her career seemed to take off just as fast. Enders was named the 1995 Junior Dragster Driver of the Year and had 37 total wins in eight years of youth racing. She and her sister, Courtney, a former driver, even provided the inspiration for Disney's 2003 film Right On Track.

Since turning pro in '04 at age 21, though, Enders has endured her fair share of struggles. In '06, she lost her car's sponsor. (Her father, Gregg, a former driver, financed her racing for the next five years.) In '13, tension with her crew chief led her to search for a new team. By that time, Enders was thinking about walking away from the sport her father had introduced her to. "I was just about over the sport in 2013. I thought, I have a [marketing] degree. I can make a living doing something else," Enders says. "But would I be happy?"

Enders, however, has never been a quitter. Not even when she tore her right rotator cuff twice as a junior in high school and was told she had to stop playing volleyball. "I trained myself to play lefthanded," she remembers. "I was determined to play." Enders made the all-district team as a senior after making the switch.

And the big switch she made in 2013 — when she joined Richard Freeman's Elite Motorsports — has helped her win the last two Pro Stock championships.

Enders, who is currently eyeing a third title, let SI KIDS ride along with her (not literally, though!) at the Carquest Auto Parts NHRA Nationals in Phoenix in February.



Inside an NHRA Pro Stock Race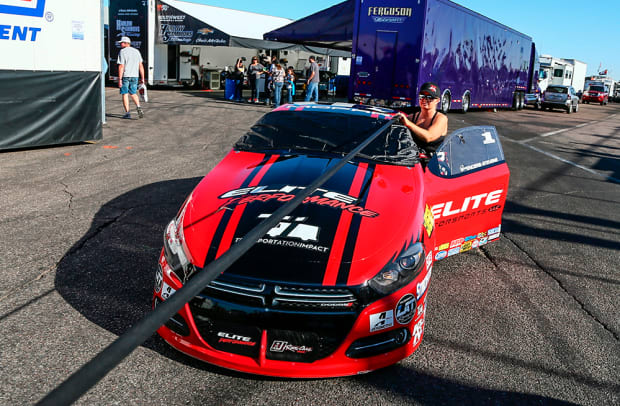 ​

Photo: David E. Klutho