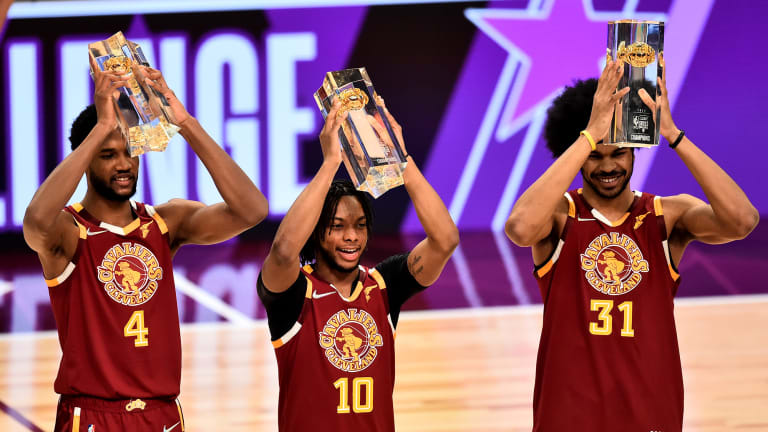 NBA All-Star Weekend Is a Once-in-a-Lifetime Experience
Seeing the stars come out has to be seen to be believed.
Did you watch the 2022 NBA All-Star Game?
As a kid growing up having a passion for watching sports, finally having the experience of attending an NBA All-Star game was nothing short of awesome. While I was in the city of Cleveland, where it was held, I saw an All-Star shirt or someone wearing branded merchandise nearly everywhere I went.
Teams and players are chosen by a fan vote, with the captains being the highest voted players per conference—this year led us to Team Durant and Team LeBron. There was energy and action every minute of the weekend as events included a Rising Stars game, featuring the league's best young players, a three-point shootout, a slam-dunk contest, and a skills competition.
Typically, when you go to a basketball game, fans of the two teams that are playing are there. For All-Star Weekend, you may see fans of all 30 teams at the arena, everything from Celtics fans to Knicks fans. I saw different jerseys everywhere, and I began to get a sense of what being at an All-Star game felt like.
Since the festivities and the game were in Cleveland, where the Cavaliers play their home games, it was a very special moment for the team's first-time All-Stars. Both center Jarrett Allen and guard Darius Garland are having breakout seasons for Cleveland. Currently, the team is 35-23 and maintains the 5th seed in the Eastern Conference, even with expectations of being a bottom feeder before the season. Due to both of their campaigns, they secured spots as reserves in the game. In addition, Evan Mobley, Garland and Allen participated in the skills competition on Saturday evening, as Team Cavs.
On Saturday night, when I attended the Skills Challenge, Cavaliers fans went wild when they heard the names Allen, Mobley, and Garland called for the contest. Not only did they just compete in the challenge, they were victorious. The moment they won, the crowd absolutely exploded, which was a testament of how having a loud crowd on your side pays massive dividends. When Mobley nailed a half-court shot after having only nine seconds to win the contest, smiles from him and the other two players showed how ecstatic they were to be playing in their own arena, and showing the rest of basketball fans how talented they are. Once I saw the shot near the net, I got up from my seat and was momentarily stunned… but not surprised, as he was my preseason pick for offensive rookie of the year.
As a fan who enjoys making predictions for sports events, I predicted Team Cavs to win the Skills Contest. Seven hours later, they were victorious.
The action in my section was just as heated as on the courts, truly all-star on and off … with fans such as league commissioner Adam Silver, Alex Rodriguez, Machine Gun Kelly, and Adele, making this the greatest live sports experience of my life.