Wednesday Afterschool Special: Fight Night
Yordano Ventura gets the Crying Jordan treatment
Well, the rest of the league knows now not to pitch to Manny Machado inside after he punched Royals starter Yordano Ventura for plunking him Tuesday night. Ventura would take more than one L on the night, getting the full Crying Jordan treatment and losing to the Orioles 9-1:
Notorious Basebrawls
​
Notorious Basebrawls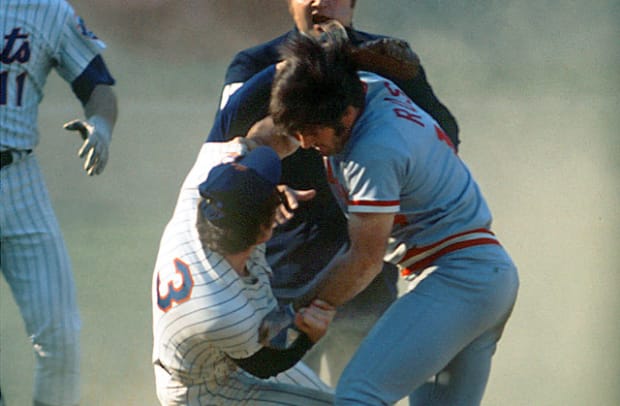 Dempsey, USMNT right the ship with dominating display over Costa Rica
So much for the Ticos being a stingy defensive team. Clint Dempsey and the U.S. ran rampant over Costa Rica Tuesday night with Dempsey recording a goal and an "assist" (see below) in the Americans' 4-0 victory.
The U.S. needed to win this game to avoid being the first team knocked out of the Copa America Centenario and they put on a spectacle, the highlight of which remains this beautifully taken chance from Jermaine Jones for the second goal:
The Americans now sit second in Group A, below Colombia, with only a game against Paraguay remaining.
The King v. the Zen Master?
With Game 3 of the NBA Finals looming tonight, Phil Jackson had some high praise for LeBron James, saying he can drag the Cavs out of this 0–2 hole much like Michael Jordan led the '93 Bulls back against the New York Knicks in the Eastern Conference Finals.
LeBron didn't take too kindly to Jackson's advice:
:
Auburn robs Oklahoma of walk-off homer, gets walk-off grand slam force Game 3
With the game tied at 7 in the sixth inning of the Women's College World Series, anxious fans on both sides watched as Auburn leftfielder Tiffany Howard rose up and robbed Oklahoma of a two-run homer at the wall:
Auburn's night would only get better, as senior Emily Carosone sent the first pitch she saw into the stands for a walk-off grand slam in the bottom of the eighth, tying the series up at one game apiece:
Stick to basketball, Chuck
This isn't the first time he's tried to take his talents off the hardwood:
Today's Peanuts
(Photo credit: Patrick McDermott/Getty Images)