Monday Afterschool Special: Thunder and Lightning
First the Thunder...
It finally happened last night: The Tampa Bay Lightning and Oklahoma City Thunder both won big conference finals games. But like a storm, I'm going to give you the Thunder first. Oklahoma City absolutely blew out the defending champion Golden State Warriors, winning 133–105 and leading by 41 points at one point.
Russell Westbrook lead the way with 30 points, 12 assists, and eight rebounds. In the process, OKC set or tied several franchise records, including most points in a postseason quarter (45 in the third), most points in a postseason first half (72), and points in a playoff game (tied at 133).
The one play everyone wants to talk about from the game, however, is this foul from Draymond Green:
You can't do that — and now Green may be suspended for Game Four, which would be a huge loss for the Warriors and make the Thunder's upset all that more possible.
...then the Lightning
Playing Game 5 on the road, the Tampa Bay Lightning scored in the first minute of overtime to beat the Penguins 4–3 and take a 3–2 series lead:
The goal, which Jason Garrison banked of Tyler Johnson's back, came just four minutes after Nikita Kucherov scored late in the third to tie the game. Marc-Andre Fleury started his first game in goal since March for the Penguins, after missing time with a concussion. And after stopping just 15 of 19 shots against him at even strength, Pittsburgh must now choose whether to go back to Matt Murray with their backs against the wall.
Lightning strikes!
Lightning Strikes at Sporting Events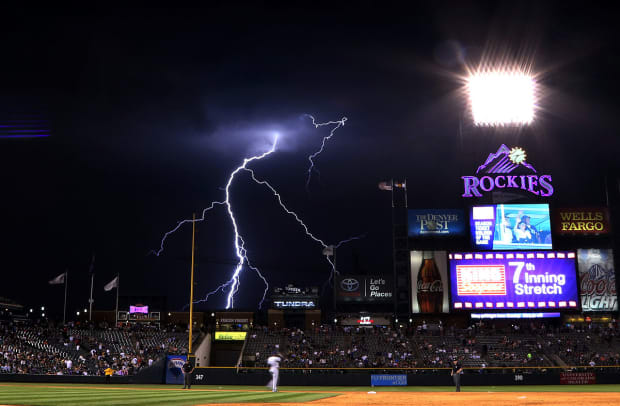 Walk-off walk
He's just daring the pitcher to throw a strike here.
Today's golf highlight
A sneaky steal of home
Today's Peanuts
Photo credit: Gregory Shamus/NHLI/Getty Images (Coburn); Noah Graham/NBAE/Getty Images (Durant)