Monday Afterschool Special: Jersey Sale
Chris Sale prefers the present
Chicago White Sox pitcher Chris Sale is not a fan of throwbacks. He was suspended five games for destroying the old school uniforms that Chicago was scheduled to wear on Saturday night. Sale will lose $250,000, all because he thought these jerseys were too hot:
On the bright side, Tweeters had a field day making fun of Sale's meltdown:
MLB Throwback Uniforms
MLB Throwback Uniforms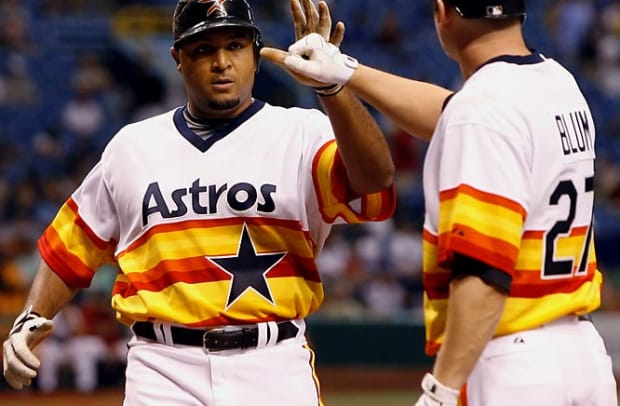 Piazza, Griffey Jr. inducted into Hall of Fame
Ken Griffey Jr. and Mike Piazza — two players with vastly different career paths — formally joined the Baseball Hall of Fame on Sunday. Griffey Jr., a 13-time All-Star with one of the prettiest swings ever, became the first No. 1 overall pick elected to the Hall. Piazza became the lowest-drafted player ever to reach Cooperstown (62nd round) thanks to his career as one of the best offensive catchers in baseball.
Piazza is best remembered for his home run following the September 11, 2001 attacks. Griffey Jr. is remembered for his 630 home runs and charisma, which he hasn't lost:
Froome wins Tour de France
Chris Froome became the first Brit to win the Tour de France three times on Sunday, then celebrated with his teammates:
Bad weekend for big men
DeAndre Jordan still can't shoot:
And Andre Drummond's on the wrong side of two posters:
Kendra Harrison breaks world record after being snubbed from Rio
Today's Peanuts