Friday Afterschool Special: Victory Chants
Before we get to Friday's Afterschool Special, a programming note: Like most of you, Sports Illustrated Kids will be celebrating the 4th of July on Monday. So we won't be back with another Afterschool Special until Tuesday. Enjoy the holiday — and happy birthday, America!
​Chanticleers win College World Series
Coastal Carolina defeated Arizona in Game 3 of the College World Series, 4-3, to capture the school's first championship in any sport. In the Chanticleers' first CWS appearance, they won seven elimination games and beat the likes of six-time national champion LSU and No. 1 Florida. Game 3 was won in the sixth inning, which began scoreless until Arizona infielder Cody Ramer misplayed a groundball and made a wild throw to third base, allowing two runs to score. The next batter, designated hitter G.K. Young, did this:
Recent College World Series Heroes
Ramer's home run put the game out of reach and delivered the Chants their first title. Here are some other players who came up big when it mattered most:
Recent College World Series Heroes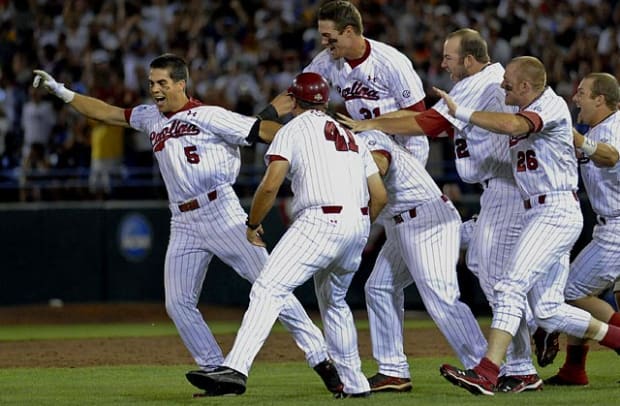 Portugal escapes again in penalty shootout
Portugal continued its streak of last-minute wins yesterday, beating Poland 5-3 in penalties to advance to the semifinal of Euro 2016. Cristiano Ronaldo's team has yet to win a game inside of 90 minutes in this tournament, and will face either Gareth Bales and Wales or Eden Hazard and Belgium in the semifinals.
Portugal's quarterfinal win was sealed when Portugal's Rui Patricio dove low to save Jakub Blaszczykowski's penalty attempt. Here it is:
Fail of the day goes to this guy
Butterfingers!
In honor of the hot-dog eating contest...
Today's Peanuts

Photo: Peter Aiken/Getty Images