As Arena seeks solutions, Morris, Feilhaber stand out in USA's win vs. Jamaica
The USA beat Jamaica to close its camp, but what did Bruce Arena really learn about his player pool that he can take into March's World Cup qualifiers?
For the sake of Bruce Arena and his U.S. national team, here's hoping the past three weeks of training were more challenging than Friday evening's friendly against Jamaica. Games that conclude January camps almost always are sluggish or choppy. The MLS-heavy squads are in pre-pre-season form and typically, precision doesn't kick in before fitness. So in the end, they hope for a test and the opportunity to try out new players or tactics under duress.
The Reggae Boyz, who'd been together for only a few days and were devoid of almost their entire 'A' team at Chattanooga's Finley Stadium, offered neither a test nor the chance to experiment under duress. The Americans dominated the ball against low pressure, faced very little adversity and should have won by more than the 1-0 final score. Had Jordan Morris been more clinical in the first half, they would have. But after missing a couple inviting chances, the reigning MLS Cup champ and Rookie of the Year buried the game-winner in the 59th minute, thus saving Arena from going goalless in his first two games in charge.
The U.S. players now will head back to their clubs, which are just kicking off training camp, while Arena and his staff will try to distill the past month down to a few elements that might help come the matches in March. Those games—World Cup qualifiers against Honduras and Panama—will definitely pose a challenge. And they're close to must-win.
So now that Jamaica is beaten and camp has ended, here are three thoughts on what Arena might or might not have learned in Tennessee.
A goal to whet the appetite
Last Sunday, the Americans and Serbia played to a 0-0 stalemate during which the U.S. didn't display much accuracy or creativity in the attacking third. Heading into Friday's friendly, Arena stressed to his team the importance of finding its footing in the attack. And in the first half in Chattanooga, despite having nearly all of the ball, the U.S. failed to do so.
Perhaps it was the new 4-1-3-2 formation that featured only two holdover starters. Maybe it was the slick artificial turf. Or it might have been just typical January/February sloppiness. Whatever the culprit, Arena couldn't have been pleased that his team was shut out for three straight halves. Jamaica retreated and was backed into the penalty area as the U.S. passed and moved, and Dax McCarty nearly opened the scoring with a sixth-minute header. Sebastian Lletget hit several dangerous crosses from the left flank, and then Chris Pontius hit a low, accurate ball from the right that wrong-footed Morris and bounced away. Three minutes later, in the 38th, Morris ran onto a ball and had a clear look at Jamaica's Andre Blake, but the shot struck the Philadelphia Union goalkeeper.
In-need U.S. men's national team re-enters Bruce's unchanged arena
As good as Morris was for Seattle throughout the season and as well as he overcame a slow start to be a key contributor, he hadn't scored for the U.S. since his debut in the spring of 2015 against Mexico. Finally, after nearly on hour on Friday, he ended his own scoreless streak—as well as the USA's under Arena—with a goal that should please the manager on multiple levels.
Not only was Morris's ability to fight through a slow start impressive, but the build-up was spectacular. It started with Jorge Villafaña finding McCarty in midfield, and the new Chicago Fire acquisition looked up and spied Benny Feilhaber, the playmaker in the 4-2-3-1, in a pocket of space in front the back four. Feilhaber's backward flick of the ball to Morris was the sort of move that only one other player in the current U.S. pool, Clint Dempsey, might pull off. Morris immediately slipped it back to Feilhaber and then settled the return pass for a hard, right-footed shot that found its way through.
Creativity, speed and improvisation are required to break down a mustered, well-organized defense, and the USA has never been blessed with players who could summon those skills on demand. Feilhaber can, and in his first U.S. start in five years, he showed something special. Morris, meanwhile, announced his intention to challenge Jozy Altidore and Bobby Wood for minutes up front in 2017.
U.S. manager Bruce Arena through the years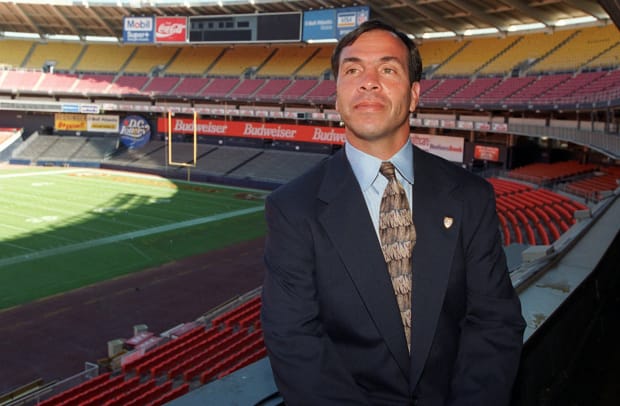 Overlooked players make their point
The fact that Feilhaber hadn't started in so long, and hadn't been called into camp at all in three years, was a frequent top of conversation during the latter half of Klinsmann's reign. Arena's arrival gave the playmaker's international career new life, and it appears he has taken advantage. And Feilhaber wasn't the only one.
Even as Villafaña helped the Portland Timbers to the 2015 championship and played regularly for Santos Laguna, the left back couldn't get a look at a position of need for the U.S. But Arena called Villafaña up even though he lost his starting job in Mexico, and in so doing may have found a left back who can play in March. Again, Jamaica offered little in the attack, which gave Villafaña plenty of freedom to roam up the left flank. But there was never a sense that he was vulnerable to the counter, and his crossing and combination play with Lletget in the first half was outstanding. If Villafaña continues on this trajectory, he may emerge either as a steady backup for Fabian Johnson or someone who can allow the latter to move to midfield. Villafaña is one of the major finds of this January camp, and Arena must hope the Californian finds a way to get more minutes at Santos or elsewhere.
The U.S. national team and the uncomfortable question of commitment
The other is Lletget, who's had two very good seasons with the LA Galaxy but still never got a call from Klinsmann. A strong performance against Serbia was followed up by another good outing Friday. Lletget is skillful, hard-working and was dangerous crossing the ball from the left during the first half. He also nearly scored on a well-worked corner kick. In the second half, Lletget shifted inside to play in front of Michael Bradley. It is there the 24-year-old might feature again against Honduras. He missed only two passes outside the offensive third all evening.
McCarty also did more than enough to warrant more national-team time. There never was much doubt beyond Klinsmann and his staff that the former New York Red Bulls captain was capable.
Questions remain in back
Chemistry among the back four is vital, and Arena was never going to establish his qualifying lineup this month thanks to the absence of key players like Johnson, John Brooks, Geoff Cameron (who is injured), Matt Besler, Omar Gonzalez and DeAndre Yedlin, among others. It was always going to be about who might emerge as additional options.
USMNT's Geoff Cameron supports President Trump's 'temporary pause on immigration'
D.C. United center back Steve Birnbaum, who's stock rose under Klinsmann, did well, and U.S. debutant Walker Zimmerman didn't put a foot wrong on Friday. Their one-on-one defending and distribution were good, but they never were forced into difficult choices or numbers-down situations. The Graham Zusi experiment at right back continued, and the first-half moment when he was badly beaten by a much faster Cory Burke exposed the Sporting Kansas City midfielder's primary limitation. The moment should be one Zusi can learn from, but Arena will have to consider other options in March.
The goalie position remains up in the air as well. Luis Robles and David Bingham split time on Friday, but both likely remain behind Nick Rimando on the depth chart.
Even if Birnbaum starts next month, he'll be playing alongside someone new. As will Villafaña, if he gets the chance. And that leaves Arena where he always knew he would be—with only a few precious days to get a new back line and his winless team ready for a critical World Cup qualifier.
January camp was helpful and it put certain players in frame, but March represents an entirely different proposition.