Argentina's Copa final failure pushes Messi toward international retirement
Sunday was supposed to be Lionel Messi's banner day. But a stout Chilean defense and missed penalty kick have altered Messi's career path forever.
EAST RUTHERFORD, N.J. — As two teammates walked toward the goal to console Lucas Biglia, whose penalty kick was saved by the Chilean goalkeeper, Lionel Messi stepped away, turned to the benches and pulled his blue-and-white striped jersey over his face. He did his best to disappear in a sold-out stadium filled with over 80,000 fans, to escape the spotlight shining on this Copa América Centenario final and to hide from the inevitable outcome.
Chile needed to convert only one more penalty to claim the crown and send Messi and Argentina to their third defeat in a major international final in three years. The five-time world player of the year spun back toward the center circle at MetLife Stadium, fell to his knees and let his forehead sink into the grass as La Roja's Francisco Silva did the honors. Argentina's 23-year title drought would continue, and the weight of that wait finally seemed to crush the strong, elusive player that almost no defender can catch.
Chile wins Copa America on PKs; cruel deja vu for Messi, Argentina
There were many minutes alone in the dugout as players, security staff, confetti-cannon handlers, photographers, dignitaries and select fans made their way onto the field.
Messi clearly was in tears as he finally rose to accept another silver medal. He removed it before leaving the stage and in the locker room afterward, apparently decided that the disappointment had become too much to bear.
He'd lost the 2014 World Cup final to Germany in extra time. He lost the 2015 Copa América final to Chile on penalty kicks after a scoreless draw. And on Sunday night, granted another chance in this special centennial tournament to do for country what he's done so often for his club, it happened again. Except he made his penalty last summer—this time he missed, hooking his effort well over the crossbar and into the stands behind the south goal.
"It's incredible, the fact that we can't win it," Messi told reporters after emerging. "It happened to us again, and by penalty kicks. It's the third consecutive final. We tried. We tried and it wasn't for us. It's difficult in this moment to do any sort of analysis. In the locker room, I thought that the national team is not for me. It's what I feel right now. It's a great sadness that it happened to me again, the fact that I missed a penalty kick that was very important. It's for the good of everybody. It's not enough to just get to the final and not win."
He stopped again and reiterated, "I was thinking in the locker room that this is it for me in terms of the national team. It has been four finals [including the 2007 Copa América]. It's not for me. I tried to find [a title]. It's what I wanted most. Unfortunately, I didn't get it, but I think that's it."
The player who loves to play, who has almost no interest in being a celebrity, a symbol, a spokesperson or anything other than a footballer, who sulks when removed from a game his side is winning by multiple goals—was devastated to a point where he pondered quitting. Those who wondered whether the Centenario meant something have their answer.
Said forward Sergio Agüero, the Manchester City star who's Messi's best friend on the national team, "I don't know what the rest of the players think, but what I saw today in the dressing room I have never seen before."
Toxic psyche clouds Argentina as team hits mental breaking point
It had to be the heat of that devastating moment. Messi just turned 29 on Friday and remains at the height of his peerless powers. He led Barcelona to the Club World Cup, La Liga and Copa del Rey titles last season and tallied 41 goals in all competitions. In last Friday's semifinal thumping of the U.S., he became Argentina's all-time leading scorer. Chile coach Juan Antonio Pizzi, an Argentine, called Messi "the best player in history" both before Sunday's match and after.
Asked about whether Messi's legacy in Argentina would be tarnished by his final failures, Pizzi said, "Beside having an admiration for Messi, I really guide myself by the numbers … Messi's numbers cannot be equaled … It's impossible for a football player to achieve the things that Messi has achieved."
Pizzi, 48, admitted that many from his generation inevitably compare Messi to Diego Maradona, who led Argentina to the 1986 World Cup championship. Maradona, of course, never equaled Messi's club exploits and certainly has had more significant failings on a personal level. But he delivered for his country and remains an icon and a fixture there, while Messi's relationship with Argentina always has been a bit less certain. He left for Barcelona at age 13 and has lived there since, perhaps making him feel like he has to prove his patriotic bona fides.
He told Sports Illustrated in May, "Despite the distance from my birth country, we have always lived in a very Argentine way in Barcelona, drinking maté tea and eating my favorite Milanesa breaded meat cutlets and dulce de leche pancakes for dessert. Eventually I learned to speak Catalan, but my Spanish still has an Argentine accent. My partner, Antonella Roccuzzo, is also from Rosario. Sometimes people have questioned my Argentine-ness, especially when the national team hasn't done well, but I love my country deeply and would like to move back someday."
GALLERY: Classic photos of Lionel Messi
Best photos of Lionel Messi throughout the years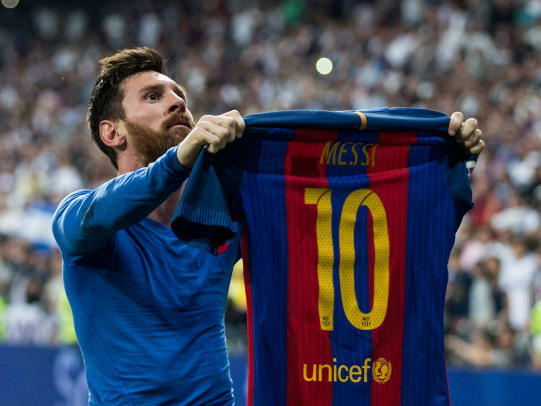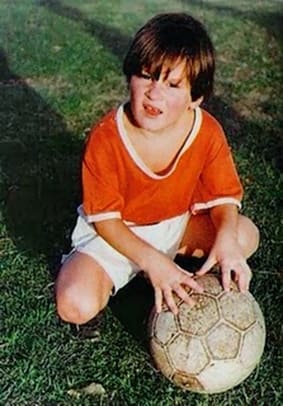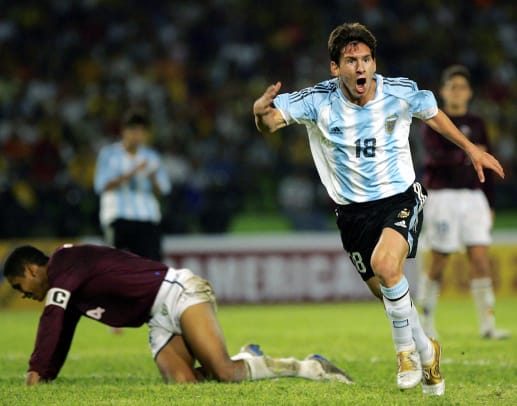 Meantime, the best way to permanently ingratiate himself into the hearts of his countrymen was to end a drought that extends back to the 1993 Copa América and has lasted through seven lost finals. The pressure was personal, and it increased with each missed opportunity. Sunday seemed to be the last best chance. La Albiceleste were in fantastic form, winning their first five Copa games by an 18-2 margin.
"We arrive in amazing form," Messi said before the final.
But Chile had stifled him last year in Santiago, and they did it again in the Meadowlands. Argentina was unable to capitalize when Chile defender Marcelo Díaz was ejected following his second yellow card in the 28th minute (Messi drew both fouls). It was then reduced to 10 men as well when Marcos Rojo was sent off in the 43rd. Argentina forward Gonzalo Higuaín, who missed clear chances in each of the past two finals, botched a 21st-minute breakaway and in the 100th, Agüero nearly scored on a looping header that goalie Claudio Bravo tipped over the crossbar.
Argentina took 18 shots to Chile's four. It's not hard to imagine how Messi has come to the conclusion that it's just not meant to be. There have been 450 minutes of action across the four finals he's played with Argentina, and he and his team have been shut out. There have been no goals, no trophies and no relief from the burden.
"This is the worst locker room I've ever been in, worse than after the final in the World Cup in Brazil and the other Copa América," Agüero said, adding that other players were contemplating international retirement as well.
Argentina, the No. 1-ranked team in the world, doesn't have another game scheduled until it resumes World Cup qualifying in early September. There's plenty of time for some of that misery to fade. There also will be a chance to address the political, financial and organization issues at the Asociación del Fútbol Argentino, which go much deeper than the delayed flights Messi complained about last week.
FIFA assumed temporary control of the national governing body on Friday after president Luis Segura was charged with fraud. La Albiceleste hasn't been entirely insulated from the chaos, and there's little doubt it's contributed to Messi's frustration. Nevetheless, it remains almost impossible to imagine that he won't take the field in Russia in 2018.
Goalie Sergio Romero said Sunday that he thought his captain "spoke in the heat of the moment."
Coach Gerardo Martino, perhaps with knowledge of Messi's feelings, said in the postgame press conference, "Really its not easy to explain. because there are situations that you can explain football-wise and there are other situations that can be explained if you are talking about our luck … They know that football presents these kinds of situations and they've got to carry forward because … they represent the national team and they feel pride wearing this jersey and it's there that they find the will to really hope again."
It's tough to tell whether Messi loves his country more than it loves him, and there was a hint of martyrdom in his words on Sunday. He can't bear the thought of disappointing his compatriots again, so it's better to step away. He won't bring them joy by doing so either, of course, so for now his intentional future remains uncertain.
What's definitive is that soccer brought him to tears here in New Jersey, and for perhaps the first time in his life, he imagined stepping away from the game he adores.