Alex Morgan weighed in on her teammate Hope Solo's suspension from U.S. Soccer following her controversial comments about Sweden during the Olympics, calling the situation a "bummer" but saying she disagreed with Solo's stance.
"It's a bummer that happened to one of my teammates, but at the same time I don't agree with the things she said at the Olympics," Morgan said, according to Alicia Rose DelGallo of the Orlando Sentinel.
Solo was banned from U.S. soccer for six months and her contract with the U.S. women's national team was terminated in response to her calling Sweden's players "cowards" after the U.S. lost to them in the quarterfinals.
• USWNT player representative blasts Hope Solo ban, will appeal
"The comments by Hope Solo after the match against Sweden during the 2016 Olympics were unacceptable and do not meet the standard of conduct we require from our national team players," U.S. Soccer president Sunil Gulati said in a press release. "Beyond the athletic arena, and beyond the results, the Olympics celebrate and represent the ideals of fair play and respect. We expect all of our representatives to honor those principles, with no exceptions."
GALLERY: THE MOST HIGH-PROFILE SUSPENSIONS IN U.S. SPORTS HISTORY
The Most High-Profile Suspensions in American Sports History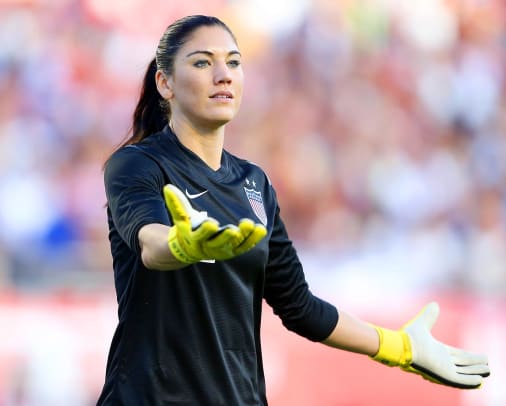 Solo will appeal the suspension. She released a statement on Wednesday saying she was "saddened" by the federation's decision to suspend her.
She will still play for her NWSL club team, the Seattle Reign.