After World Cup snub, USA's Crystal Dunn braced for major Olympic role
A USWNT World Cup snub in 2015, Crystal Dunn is a key part of the 2016 Olympic squad and a rare minority to crack the senior team.
For six weeks, from the Olympics opening ceremonies to the Paralympics closing, men and women represent their country with one common goal in mind: Gold. Subscribe now for Sports Illustrated's in-depth coverage.
She was the last cut. And so, by the thinnest of margins, Crystal Dunn missed out. She missed being on the field last July when the U.S. women won the World Cup final before a domestic TV audience of 27 million, a record for a soccer game. She missed the chance to bathe in national glory, to have her own SI cover, to be honored in a New York City ticker-tape parade. At age 23, with a history of struggling with confidence, Dunn faced what felt like an existential crisis.
"I could have fallen off the face of the earth and sunk into a shell," Dunn says at a pre-Olympic camp in Chicago. "It's hard to love this sport when you feel like it's crushed your soul and broken your heart into a million pieces. But you have to find the positive in every situation. It's those disappointments that make you realize there are going to be some great moments ahead."
One of those moments came on the day of that World Cup final. Dunn, along with teammates from the NWSL's Washington Spirit, was watching on TV at a packed sports bar in the nation's capital. As the U.S. blew away Japan with four early goals in a 5–2 victory, Dunn felt profoundly mixed emotions—Wow, this is incredible! And I could have been there! But then, after the trophy ceremony, striker Abby Wambach began thanking her teammates on the Fox Sports broadcast, mentioning "the players that didn't make the last cut, like Crystal Dunn."
Dunn had by then left the bar, but her Twitter mentions started blowing up and she quickly caught on.
"At that moment," says Dunn, "I stopped feeling sorry for myself."
• U.S. OLYMPIC ROSTER: Rapinoe (ACL) makes the cut for Rio
What she did after that became one of the most impressive feats in NWSL history. Moving to a more attacking role with the Spirit in 2015, she scored a league-high 15 goals and won the MVP award.
Watch: Dunn scores, Solo earns 100th clean sheet in USA win
She worked to improve the tactical deficiencies that kept her off the World Cup team as a fullback and earned her way back onto the roster late last year as a dynamic midfielder and forward. When the U.S. starts its campaign on Aug. 3 to become the first reigning Women's World Cup champion to win Olympic gold, Dunn—with nine international goals and four assists in '16—will be one of the team's most dangerous threats.
"She's got such quickness and athleticism, and her ability to separate is special," says U.S. coach Jill Ellis. "When [opponents] are very structured defensively, you need players who can suddenly elude that first defender and create an advantage. She can get to balls and play a cross, and her service is really good eight times out of 10. Now the linchpin for her is her confidence."
Three years after making her U.S. debut, Dunn looks back and shakes her head.
"I was so on edge," she says. "For two years, you'd lose me for 10 minutes if I gave the ball away. You can't be that way. Mistakes are going to happen. What's changed my game is knowing that I'm going to try things that may not work, and I need to be O.K. with that."
But when those things work? Look out. The 5' 1" Dunn displays a swashbuckling verve in the box, using sharp cuts and sudden acceleration to make defenders look as if they're moving at half-speed. What's more, no American player is more versatile: She has played every position for the U.S. except defensive midfielder, center back and goalkeeper.
"I keep telling [goalkeeper] Hope Solo I'm coming for her!" jokes the constantly smiling Dunn, who actually did play center back for Ellis at the 2010 Under-20 World Cup. (At North Carolina, where Dunn was the '12 national player of the year, she also became the first woman to win both the ACC's offensive and defensive player of the year awards.)
For all of Dunn's two-way abilities, however, teammates marvel most at how she rebounded from her World Cup setback.
"She used it in the most positive way possible," says U.S. defender Julie Johnston, Dunn's closest friend on the team. "She pushed herself further than she probably thought she could go."
When Crystal Dunn was 2 years old, a fortuitous thing happened for her soccer career. Her parents, Vincent and Rhonda—lifelong New Yorkers—decided to move their family from Queens to Rockville Centre, a quiet Long Island suburb. The reasons were simple enough, Vincent says: better schools and a safer environment in which to raise Crystal and her older brother, Henry (who would go on to play baseball for two years in the Cleveland Indians' organization).
"We had no idea that Rockville Centre was a women's soccer powerhouse," says Vincent, who's now a partner at a Manhattan law firm. "If we'd stayed in Queens, there's a very good chance she never would have touched a soccer ball."
Newly relocated, Crystal started playing at age 4—"everyone was doing it," she says, "so I thought I might as well"—and hasn't stopped since. She was faster than anyone else, and she scored so many goals that coaches would sometimes pull her, lest they appear to be running up the score. Vincent remembers one time, even before his daughter's South Side High team won three of four state titles, that a parent said of 10-year-old Crystal: "When she goes to the Olympics in 2020, don't forget to send me some tickets!" "I ran into [that woman] at the supermarket three months ago," says Vincent, smiling, "and I reminded her."
Megan Rapinoe: On her injury, Olympics, future in broadcasting
As Dunn has risen to the top of the NWSL over the past three years, she has become friends with another D.C.-area resident, Briana Scurry, the retired goalkeeper who won the World Cup with the U.S. in 1999. Now the Spirit's honorary captain, Scurry watched with fist-pumping enthusiasm last season as Dunn tore up the league.
"She was amazing," says Scurry, 44. "And if you watch training sessions, you see how she interacts with teammates: She has a pure joy and a contagious personality."
Scurry says she also feels a kinship with Dunn because both are rare women of color capped by the U.S. The only non-white starter on the 1999 Cup team, Scurry says she never would have expected that a lack of diversity would persist in 2016. And while this U.S. Olympic team does have a few minority players—Dunn, Mallory Pugh, Christen Press—Scurry wonders why group-stage opponent France, for example, has a lot more than the Americans do. Like Dunn, Scurry started playing soccer only when her family moved to the suburbs of her city (Minneapolis), and here she points to the two biggest obstacles to diversity in the U.S. soccer community: accessibility and cost.
• Check out the jerseys the U.S. women will be wearing in Rio
"There needs to be more exposure to soccer in inner-city areas; those kids need to know soccer is an option for them," Scurry says. Further, she points to absurd travel-team expenses as a hindrance. "I have friends who pay $3,000 a year for their kid to play—and she's 13. That's ridiculous. Coaches need to get paid, but there's no way my parents could have afforded that kind of money."
Doug Andreassen, the Seattle-based chair of U.S. Soccer's diversity task force, is blunt about the pay-to-play system (average cost: $3,000 per year) that dominates the higher levels of youth soccer.
"It really is working just for the white kids," he says. "For people of color in any city in America, it's not working."
Soccer, the most democratic and accessible sport outside the U.S., remains a largely white, suburban sport when it comes to the organized ranks stateside. While the Dunns were able to pay for Crystal's travel-team expenses, Vincent says, "The amount of money people spend on soccer [does not fit within] the disposable income that a lot of African-Americans have."
GALLERY: Meet the USWNT 18 headed to Rio
Meet the USWNT for the Rio Olympics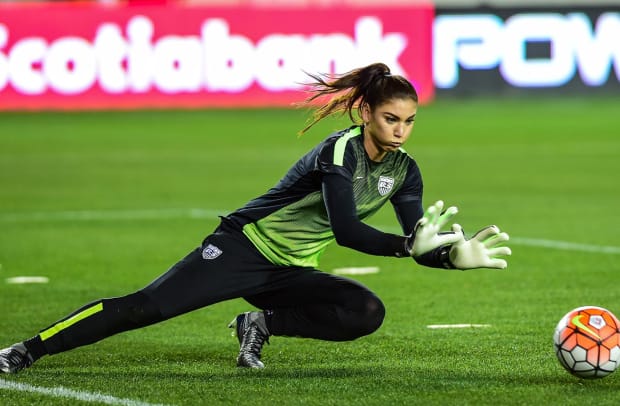 Meanwhile, grassroot groups are trying to address the issue. Andreassen has praised the work of former San Antonio mayor Ed Garza, whose Urban Soccer Leadership Academy is organizing teams at low cost for young players, largely Latino and black, from low-income families. Dunn, Scurry and several members of the current national team have worked for the U.S. Soccer Foundation, a nonprofit organization that is "providing a quality soccer program at no charge to kids ages six to 12 in low-income communities," explains president and CEO Ed Foster-Simeon. The foundation's Soccer for Success program, Foster-Simeon says, has grown from serving 8,000 kids five years ago to 32,000 this year, with a three-year goal of tripling that number. The foundation doesn't cover pay-to-play or higher-level training, though, and while scholarships can help in those areas, they aren't enough.
Ellis sees progress but wants to make clear: It takes time.
Alex Morgan: 'Slim to no chances' of new USWNT CBA before Olympics
"If you were to look at a lot of our youth national teams, you'd see more diversity than ever before, and that's wonderful, because this is a sport for everybody," Ellis says, "but it does take longer to [impact the senior squad] because we're such a seasoned team." Still, Ellis echoes others' frustrations with the existing pay-to-play system. "It's so darn expensive that it does restrict a lot of people," she says. "Then you're just targeting certain economic groups, and that's problematic."
For Dunn, the notion of inspiring young minority girls who are hoping to play on the national team is a complex one. She embraces that role, of course: In February, on Twitter, she thanked a student who wrote a report about her for Black History Month. ("So happy I have inspired you in any way.") Yet she doesn't want her race to be the only characteristic that defines her.
"It's such a hard question: Do I think about the color of my skin?" she says. "Yes, occasionally. But it's not like when I step on the field, I feel I have to do this for all the black girls out there. I've always been taught to represent yourself and your family and friends. I just try to be the best role model, whether my fans are black girls or white girls."
Dunn is doing just fine with that role model thing these days. Earlier this month she came home to soccer-mad Rockville Centre, where she was feted in recognition of her inclusion on the Olympic team roster. In some ways, one could see the parade as signifying that she'd come full circle after missing out on the World Cup. But to Dunn the trip back was also the start of a new—and potentially golden—soccer journey.