Tolls of Greatness: After Olympic success, stars react differently to pressure, scrutiny
Great Olympic success can also bring a dark side—a load of obligations and intense criticism outside away from the competition, forcing Olympic stars to constantly be at their best.
For the stars of the Olympics—the athletes who are the most feted, celebrated and scrutinized in their home countries—the demands of the Games don't begin and end on the fields of play or arenas of competition. With the demands and access of social media, sponsorship responsibilities and a news cycle that runs 24/7, athletes must always be on, must always be leery and must keep to their training imperatives in the face of firestorms around them. This is harder for the athletes who enjoy the most success and most fame. Here are some snapshots of how athletes have faced the challenge of the Olympics away from their sports.
Internet trolls
Gabby Douglas was the darling of the London Games, but even then, people made a great fuss over her hair. This time around, the blogosphere lit up with comments criticizing the fact that Douglas had refused to hold her hand over her heart when the national anthem played as the U.S. women received their team gold medals.
Did anyone question the patriotism of Ryan Crouser and Joe Kovacs when they left their hands at their sides after going one-two in the shot put final on Thursday? No. And they shouldn't have. Both men devoted their lives to representing their country at the Olympics. So did Douglas, who has been nothing but complimentary toward her teammates in Rio. She could have rested on her laurels and spoils after London, but she came back to help the U.S. team knowing that you can't possibly do any better than all-around gold (she didn't even compete in the individual all-around competition in Rio).
Douglas also took heat for the reality show that followed her around during her training leading up to the Games—an opportunity that not many athletes would dare pass up. The fact that Douglas earned it through her achievements seemed lost on people who found it easy to criticize her. Sometimes, even without public appearances during the Games, the ordeal of absorbing anonymous blows from the blogosphere can be tiring and disheartening. It can be especially weary when it turns against a 20-year-old such as Douglas.
Simone Biles and Aly Raisman send Marta Karolyi out on golden note at Rio Olympics
Burden of expectations
Simone Biles had perhaps the greatest Olympic Games in history for a female gymnast, winning four gold medals and a bronze. Hours after winning gold in the vault competition, she visited the Sports Illustrated Rio offices to pose for a cover shoot with swimmers Michael Phelps and Katie Ledecky. Biles didn't get back to the Olympic village until 9 p.m. that night.
The next day, she took bronze after a near fall on the balance beam. The rest of her routine was strong enough to lift Biles onto the podium, but when she reached the mixed zone, the first question Biles faced was: "So, Simone, what went wrong out there?" The second was: "How disappointing is it to know the drive for five [gold medals] is over?"
Biles gave a fair reply: "I didn't lose a gold medal; I won a bronze medal." Yet for those who had already seen her win three golds, the bronze seemed more like defeat than victory.
Simone Biles is flipping awesome: World's best gymnast dominates Rio Olympics
Public embarrassment (Non-Ryan Lochte division)
Japanese gymnastics legend Kohei Uchimura often speaks in very respectful tones about matters of decorum and behavior, and how those imperatives and his experience as a boy in his parents' gym helped mold him into a responsible young man.
But the week before he won his second straight Olympic all-around title, Uchimura was busy apologizing for the excessive $5,000 cell phone bill he managed to rack up while playing Pokemon Go during his stay in Brazil (Uchimura's carrier later lowered the bill to roughly 3,000 yen or $30 per day). Uchimura apologized for his error in judgment, saying "I was very lucky," to get the bill reduced. His teammate Kenzo Shirai noted that Uchimura "looked dead at the team meal that day."
The spector of drugs
Swimmer Yulia Efimova and the other Russian athletes spent a lot of time defending their presence in Rio or avoiding the topic of doping altogether. Efimova, who has twice tested positive for performance enhancing drugs, was booed repeatedly by the crowds at the pool and managed to avoid interview after interview in the Olympic mixed zones.
After winning a silver medal in the 100-meter breaststroke, Efimova said, "I don't even know how I made it to the final. The last few weeks have been very hard, and I can't remember the last time I had four hours of sleep. I wasn't in my best form."
Lilly King wins gold in 100m breaststroke, calls out Russia's Yulia Efimova
The national voice
Joseph Schooling won Singapore's first Olympic gold medal when he captured the 100-meter butterfly last week, 0.75 seconds ahead of tri-silver medalists Michael Phelps, Chad le Clos and Laszlo Cseh. Afterward, Schooling received a $1 million bonus from his Olympic committee and a national parade when he returned home.
Then came the criticism. Singapore is a safe, prosperous country that relies heavily on tourism, so some pundits in Singapore wondered why Schooling didn't stay behind in Rio, holding press conferences and making appearances to publicize the country and increase its profile as a tourist destination.
Media and sponsor obligations
Ironically, while Douglas was criticized for not giving proper respect to the U.S. anthem, Jamaican sprint legend Usain Bolt actually interrupted a trackside interview after one of his races in London to pause for the "Star Spangled Banner." After each round of racing, Bolt faced a gauntlet of reporters set up by the exit of track who just wanted a few minutes of his time. When you are Usain Bolt, those minutes can add up quite fast, as he described to SI's Tim Layden: "You run your race. Then you do all the [rights holding] TV. You have to do every one of them. Then the other TV and radio. Then you come around the corner and it's like, 'Oh no, print!' And you have to do all the print. So by the time you finish all that, the race was like two hours ago and then you have doping and a big press conference."
For a well-compensated megastar, those demands are part of the training cycle. "I get tired, man," Bolt says. "I train six days a week and then I want to take a rest on Sunday. But all spring I can't do that. I have to do sponsor shoots. That takes all day. I'd rather be chilling on the couch."
Gone but not forgotten: Farewell to Olympic greats Michael Phelps and Usain Bolt
​
Citizen of the sports
For wrestler Jordan Burroughs, the 2012 Olympic gold medalist and three-time world champion, the responsibilities of being a champion became a heavier load than he ever imagined. At 28, Burroughs positioned himself to become one of the greatest wrestlers in history and was already eyeing the Tokyo Games four years down the road as a venue to cement his legacy. He took it upon himself to be a citizen of the sport, promoting its virtues and the healthy lifestyle necessary to do it at the highest levels. It wasn't an act. Those who know Burroughs would say that as much as anyone in the sport, he walked the walk. After he lost two matches on Friday, leaving him without a medal in Rio, Burroughs issued one of the most heartfelt and tearful mea culpas in memory.
"I'm sorry guys. Tough day. I had a lot of expectations coming here. I wanted to win. I was capable of winning. Sometimes things don't go according to plan. I'm a man of faith and something good will come out of this. It's difficult. I lost a lot of things today, but my integrity and my character remain and I'm hoping that I can go back and re-evaluate my career, my abilities, what I did wrong today.
"The preparation going into this took a lot out of me. So many expectations, things I wanted to do, to hear, the records I wanted to set, precedents I wanted to be a part of didn't happen. I just feel a lot of disappointment, embarrassment, disgrace, but I let myself down most. … Now, I just face it. I face the fans, the criticism, the backlash, the trolls. I've always made my goals public. It's hard thinking about being an Olympian and having your failures in public.
"I feel like I let my family down. I missed a lot of milestones in my life to pursue this sport. I didn't see my son walk for the first time. I've left my wife at home with two kids in Nebraska to go to training camps and tournaments in foreign countries. And she did that joyfully. She knew on days like these I always perform. So now I feel like I let her down. I let my family down. This was supposed to be my year. It was supposed to be my performance that cemented me as a legend in the sport, and it almost retracted my position in the sport. It hurts me. It hurts a lot, man."
Best Photos from the 2016 Rio Olympic Games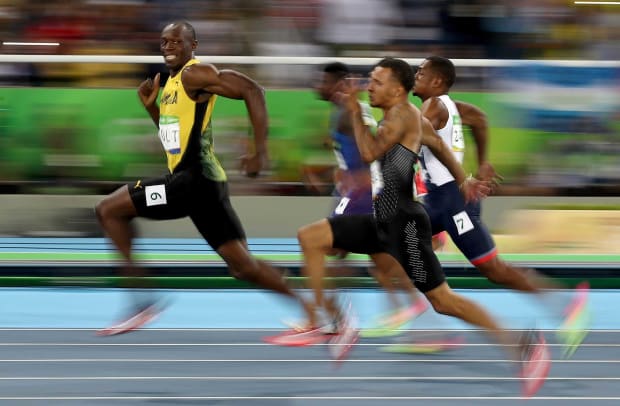 Compare the thoughtful comments of Burroughs to the complaints of U.S. soccer goalie Hope Solo, who referred to her Swedish opponents as "cowards" for playing a defensive style that dragged a tight game into penalty kicks with the Swedes ultimately prevailing.
Compare the responsibility Burroughs felt to the tone-deaf indifference of Ryan Lochte, who seemed to pour kerosene on his own smoldering mess away from the pool.
Both Solo and Lochte, great athletes with stellar résumés, forgot that the price of fame includes public accountability. For a gentleman such as Burroughs, no apologies are needed.