How one adjustment helped USA Gymnastics become a power and led to Rio gold
The seeds of the U.S. women's gymnastics team's dominant win in Rio were planted with one shift in 1999, when USA Gymnastics moved to a semi-centralized system.
RIO DE JANEIRO — There was no suspense. No worrying. No need for anybody to pull a Kerri Strug and perform athletic miracles on an injured ankle. As Simone Biles, the best gymnast in the world, started her floor routine to finish the team competition on Tuesday, she could have stopped halfway through and ordered a pizza, and the Americans still would have won the gold medal.
Instead, Biles earned a 15.8 score, the highest of any gymnast on the floor, and the U.S. won the women's gymnastics team gold by more than eight points, an astounding number.
The women's gymnastics team is at least as dominant as America's men's and women's basketball teams. And the Final Five—coach Martha Karolyi's last Olympics team—combined Michael Phelps's dominance with the giddiness of a child on vacation. There are no hints of jealousy or acrimony. Gabby Douglas, who won the individual all-around gold four years ago, was reduced to only one of the four events here Tuesday. But she was beaming afterward, and she said she prefers the team competition to individual ones, because she is "with my girls."
Those girls—Douglas, Biles, Aly Raisman, Laurie Hernandez and Madison Kocian—just obliterated the rest of the field. There was a much bigger gap between the U.S. and silver medalist Russia (8.209 points) than between Russia and eighth-place Brazil (4.601).
How did this happen? How did the U.S. women's gymnastics program become perhaps the biggest juggernaut in the Olympics?
It began in 1999, at a kitchen table in Texas.
The world championships had just wrapped up in Tianjin, China. The U.S. women had finished sixth in the team event. Bob Colarossi, the president and chief executive of USA Gymnastics, visited coaches Martha and Bela Karolyi at their house in Huntsville, Texas, and they hatched a plan.
U.S. gymnasts cement status as Olympic juggernaut with dominant Rio win
At the time, American girls with Olympic aspirations would search the country for a coach. Then they would move to that coach's town and commit themselves to their dream. If they got good enough, they would make the Olympic team, then they would all try to become a team between the Olympic trials and the Olympics.
There were two problems with this. One was that the girls were often lonely and unhappy. The other was that they weren't winning.
Together, Colarossi and the Karolyis established a semi-centralized program. The idea: Gymnasts would stay home with a local coach most of the year. And sporadically, they would visit the Karolyis and learn from them. Effectively, gymnasts were teammates before they made the team.
• Rio Olympics medal tracker: Gold, silver, bronze totals for every country
"By having the more regular camps down with the Karolyis, we created more of a bonding in the USA spirit," Colarossi said Tuesday. "As the team succeeded, they would succeed. By the nature of how it was set up, it was individualistic."
Like so many great ideas, the semi-centralized system seems obvious in retrospect. But it wasn't obvious at the time. And the true genius of it is that when the gymnasts see the Karolyis, they take their coaches with them.
"It's huge, because what they're doing is educating the coaches," said Aimee Boorman, Biles's coach. "I go back to my gym, and everything I've learned at camp with Simone, I can instill it into my program."
Serena Williams's loss takes glamour out of Olympic tennis tournament
So for five days a month, the Final Five (and others who hoped to be among them) have been traveling to Huntsville with their coaches. There, the private coaches train their gymnasts, but Martha Karolyi advises the coaches on how to do it. Then the private coaches and gymnasts go home and work on everything they discussed with Karolyi.
The benefits are numerous. Private coaches are better now. Gymnasts are happier and more likely to score well, and they feel like a team year-round. Boorman says, "They're like a family. They really are. They get excited going to camp and being there, being around each other."
Boorman says Biles is "a freak." This was obvious Tuesday, even to a casual observer; Biles is simply on a higher level than everybody else. So maybe she would be a star in any system. But this one suits her particularly well. She has a laid-back personality, which works well at Boorman's gym. But she also gets to learn from Karolyi, and as Boorman says, "Martha can squeeze the last two percent out of an athlete. Something a coach can't get out of them, she can get out of them."
Best Photos from the 2016 Rio Olympics | Aug. 9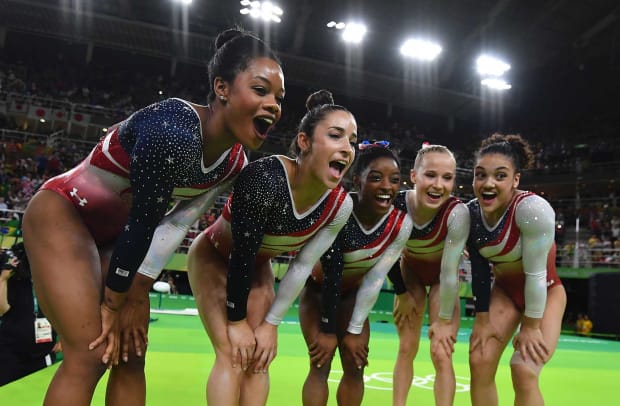 Together, Karolyi and the other coaches design routines that work for each gymnast.
"It's an arduous process," Boorman says. "'We like this skill—put it in a routine.' 'We don't like this skill, it's not going to score well—take it out for this athlete.' It's obviously not cookie-cutter. All these kids are doing completely different skills because it's what works for that athlete."
The system has revolutionized American gymnastics. Americans sometimes think of women's gymnastics as one of their sports, like basketball or swimming, but historically, the American women have not won as much as you might think. Mary Lou Retton won gold in Los Angels in 1984, but the Soviet Union and the Eastern Bloc boycotted those Games. Romania won the team gold that year. Before the semi-centralized system, the only U.S. team gold came in 1996.
Culture Carrier: Even as alternate, O'Reilly aiding USWNT however she can
Other countries seem to guess at what will score well in competition, or they ask gymnasts to take chances on difficult maneuvers so they can score big. The U.S. team has a low-risk plan that everybody can execute.
Tuesday's rout was so impressive that even if Biles had missed the Olympics, the U.S. might have won gold. And it was the culmination of a process that has steadily raised the level of gymnastics throughout the U.S.
In 2000, a year after the system was instituted, the Americans won the team bronze. In 2004 and 2008, they won silver. In 2012 and now 2016: gold.
Karolyi is retiring. But American gymnastics should keep rolling without her.