Team USA debate: Stephen Curry as alpha, LeBron James's role and more
With the Olympics right around the corner, Sports Illustrated's Andrew Sharp and Jeremy Woo ask pressing Team USA questions. 
The Olympics are less than three months away, and that means it's time to start talking Team USA basketball. Who will make the final roster? Who's the alpha dog? Will Kobe be there? To get the discussion started, Sports Illustrated's Andrew Sharp and Jeremy Woo went back and forth with 10 Olympic questions.
1. Let's start with point guards. Chris Paul has already said he's not playing. John Wall's getting surgery. Steph Curry is a definite maybe after the past month. So... who is playing point for the United States of America? Will Damian Lillard ever get selected? How many guards must we go through before Patrick Beverley is starting and/or causing an international incident in Brazil?
Jeremy Woo: Before Beverly gets his Winter Soldier on and fractures our country's relationship with the Chinese, here's how this is going down. There's a healthy precedent for Team USA trotting out two-point guard lineups, and Coach K typically brings three nominal points per competition. Curry's in if he wants to be. Russell Westbrook needs no explanation. Kyrie Irving was one of the best players at the World Cup and successfully shared a backcourt with Steph. There are your three point guards.
What if the MVP rests his ankles for the summer? Well, it would be dope if Baby Dame Dolla snuck onto the team. He's the NBA player most likely to be one of Dell Curry's secret, illegitimate children. He'd be an awesome bench scorer for this group. But logically thinking, that's the only way he gets on the roster. He's a better playmaker than Kyrie, but Kyrie has the illuminati working in his favor, given the Duke ties and the fact that Nike would love to sell a million pairs of his sweet new signature sneakers in red, white and blue. Without delving too far into conspiracy territory, every player on the 2012 gold medal team wore the swoosh. It'll need to be a no-Curry summer for Lillard to have a chance.
• MORE NBA: The Case for Ingram at No. 1 | Warriors eager for rest
​
2. On the above note, assuming Curry makes the trip... who is the alpha dog of this team? Consider LeBron in one corner, with Steph, Draymond, Westbrook and Kevin Durant all possible fixtures. There are a lot of leaders from a lot of different teams in one locker room. What gives here? Does LeBron still lead the U.S. pecking order, or is this the start of a new era?
Andrew Sharp: No idea! It's one of the most entertaining subplots with any Dream Team. In 2008, Kobe was the clear alpha dog. In 2010, it was Durant coming of age at the World Championships. In 2012, it was LeBron and Carmelo, with Kobe firmly entrenched in the Crazy Uncle role. The most recent team was fun because everyone was young, but it was defined as much by the players on hand as it was all the stars who weren't there: Durant, LeBron, etc. This year could go a lot of different directions, and honestly, it probably depends on the NBA Finals.
If the Cavs win, LeBron is clearly at the top of the pecking order. But if the Warriors finish a 73-win season with back-to-back titles, it won't matter how great LeBron is. Team USA has to belong to Steph and Draymond, right?
3. Speaking of which: Is Draymond Green the starting center?
Woo: Historically, the U.S. likes to start a true shot-blocking presence, from Dwight Howard to Tyson Chandler to Anthony Davis. This year, it's a very different conversation for a few reasons. 1) Draymond unlocks so many different options on both sides of the floor that he's sure to be on the plane to Brazil. 2) With Davis out, DeAndre Jordan, Andre Drummond and an aging Howard are the defensive-minded options. How do we feel about that? 3) There are two main reasons why Team USA bothers to take so many true big men in a three-point heavy era, and both of them are named Gasol.
Well, there's a looming scenario in which Spain, the champions of Europe, won't be allowed to participate in these Olympics (The short of it: It's complicated). And if there's no Spain to worry about, there may not be another team with the size to really punish the U.S. for bringing one, maybe two true bigs. And whether or not Draymond starts at center, the guy we all want to see in Rio is… DeMarcus Amir "Boogie" Cousins.
Cousins was an insanely productive reserve for the 2014 World Championship team. He's probably the biggest load to handle on the block on the entire planet. Based on talent, they have to take him. But based on risk—and keep in mind, the U.S. tends to have a pretty freaking huge margin for error in these things—Boogie's still so mercurial, on a team sure to be full of large egos, that they have to at least consider their options. Expect a lot of LeBron, KD and Carmelo at power forward, regardless. Maybe LeBron plays some center, too—it's working for the Cavs right now. But I think it's entirely possible they eschew taking extra centers (sorry, Mason Plumlee) now that the small-ball era is fully en vogue. Man, was Rasheed Wallace born 15 years too early.
The Russell Westbrook experience remains a roller coaster
​​4. Technically, the entire Warriors death lineup could play for the United States this summer. In the spirit of knockout punches and unconventional fives, what's the United States's secret-weapon, fourth-quarter look?
Sharp: I'm glad you mentioned the death lineup, because I was thinking about that last night during the Blazers game. We really could just send the Warriors to the Olympics, right? Swap out Bogut for a solid American big man off the bench, swap Barbosa for someone like Ish Smith, and that's your Dream Team. The Warriors could handle this. Mareese Speights is ready.
As for the real death lineup, though... The nuclear lineup... This is the answer:
Durant and LeBron and Kawhi and Steph and Klay.
Pray for the rest of the world.
5. What's your two-guard depth chart between: Jimmy Butler, Klay Thompson, Russell Westbrook, James Harden, and DeMar Derozan?
Woo: 1) Westbrook, who will play more on the ball but can match up physically with twos. He'll probably have to distribute more than ever. He should be up for that. 2) Harden, who's been involved heavily with the team, can function as an extra ball-handler and be hidden on defense. 3) Thompson. You can never have too many shooters and his two-way ability makes him a great fit in any lineup. 4) Butler. He would be a first-time international participant confined to a simpler role he could dominate. He's just a bit analogous to some of the guys ahead of him in the pecking order. 5) DeRozan, who's last because I've watched way too many Raptors playoff games.
​6. We touched on Lillard as a possible snub. Who else among the fringe guys would be justifiably hurt by missing the cut?
Sharp: It's hard to think about other snubs because I'm already so upset about the inevitable Lillard snub. You're right, his shoe deal with Adidas will probably be the tiebreaker that sends Kyrie to Brazil over him, and I hate it. Kyrie's shoes are great, but not that great.
Free Candace Parker, free Damian Lillard. We deserve to see him wreak havoc on some helpless Lithuanians.
7. At the last Olympics, Team USA was all over Instagram before it was even that popular. Look at Carmelo with the gymnastics team. Look at Chris Paul with the Queen of England. Look at Carmelo's sleep mask. My question is, who's most likely to be the most entertaining social media presence on this year's team?
Woo: I think the smart money has to be on LeBron, because he's already so creative, occasionally delves into the weird, and knows exactly what he's doing for his image with every move. Dad LeBron runs the Cavs already. Now imagine him with a star-studded cast of characters. Maybe he'll hang out with Brazilian soccer stars at the beach. Maybe he'll take a selfie with Christ the Redeemer. Maybe he'll figure out how to make Kawhi smile. Or maybe not.
Classic Photos of Stephen Curry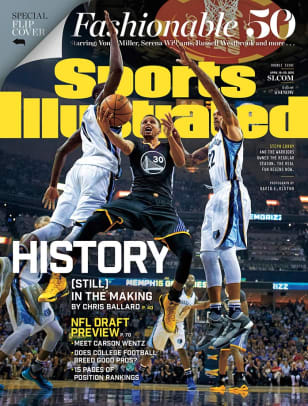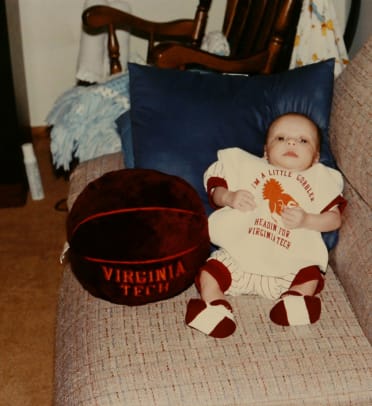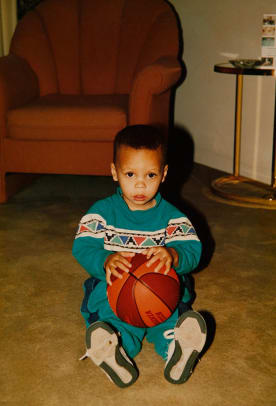 ​8. Imagine every player in the current eligibility pool was secretly administered poison which puts them all in a coma until September. You're running the team. The phone is in your hand. Who are you calling in to go win the Olympics? Who makes up your USA Basketball Suicide Squad?
Sharp: Is this what the movie Suicide Squad was about? And if not, why not?
To answer your question...
Stan Van Gundy is our suicide squad coach.
Guards: Kemba Walker, Kyle Lowry, Isaiah Thomas.
Wings: J.R. Smith, J.J. Redick, Kyle Korver, Tony Allen.
Forwards: Jae Crowder, Jared Sullinger, and Frank Kaminsky thrown in just for fun.
Center: Zach Randolph is playing undersized center, and Rasheed Wallace comes out of retirement to back him up.
This team would be so ugly. This team makes me want to tattoo the pledge of allegiance on my chest.
9. Does this team need Kobe?
Woo: Not really. But the one way in which he might help? Leadership. This is not to say that'll be an issue of any kind with this team in these Olympics, but Kobe's the only guy who every player in that locker room is 100% guaranteed to respect. He's seen it all. It never hurts to have someone around to help the other players understand the magnitude of the moment, a gold medal here cementing a decade of sustained United States dominance. If there's any way they lose, it'll be due to complacency—an issue they've yet to really have in the Krzyzewski era. Kobe would be the perfect antidote to that, if you can stomach him eating up a spot and stealing the show in limited minutes.
10. Beside the time-honored tradition of blind patriotism, why should people be rooting for Team USA? This is an unstoppable juggernaut of highly paid superstars that could conceivably go through an entire tournament without ever trailing. What's the marketing pitch?
Sharp: I have three reasons. First of all, it's cool to watch some of the biggest stars in the world get thrown into the Olympic Village, eating with swimmers and gymnasts, and loving it. Watching the Dream Team get swept up in the Olympic experience is a reminder of how much fun the Olympics are in general.
Second, alpha dog questions aside, it's always fun to watch this team become a real team. These are the best players on the planet, each with their egos, and brands, and marketing entourages. But on Team USA, we get to watch them goof around and play pranks on each other, take touristy Instagrams, and generally act like regular teammates for six weeks.
Finally ... Let's take one more look at the nuclear lineup. Team USA might score 150 points-a-game. Of course I'll watch.