Road to Rio ends here: Biggest storylines to watch at 2016 Olympics
Tuning into Olympic sports for the first time since the London Games? Here's a quick rundown of what to watch for in Rio.
RIO DE JANEIRO – Flags from around the world are planted in the sand of Copacabana Beach alongside sandcastles with messages welcoming tourists to Rio de Janeiro. The Olympics have arrived and the world's greatest athletes are making their way to the biggest sporting event in the world.
SI predicted that the U.S. will top the Olympic medal table again, but this time we'll see a great medal haul by young stars like Simone Biles in gymnastics and Katie Ledecky in swimming. There will be many firsts, several world records and plenty of jaw-dropping moments.
However the leadup to these Games has been less than great, with Zika virus, crime, doping scandals and political unrest in Rio marring the landscape. While the Olympics unites the world in sport, these will surely impact storylines both inside and outside the competitions.
Here are 20 storylines and athletes to watch during the Rio Games.
Michael Phelps's swan song
Phelps already has a record 22 medals (18 gold, two silver and two bronze) from his four previous Olympics, but he's back for one last time. Things haven't been easy for the 31-year-old since London; he was charged with a DUI in Sept. 2014 and handed a six-month suspension by USA Swimming. But as chronicled last year by SI's Tim Layden, Phelps went to rehabilitation, which helped him turn over a new leaf, and he's now in a good place emotionally and mentally. To top it off, his fiancée gave birth to his son Boomer in May. In Rio, Phelps will race the men's 100- and 200-meter butterfly and the 200-meter individual medley as well as the relays—one last chance to enjoy an Olympic great.
Michael Phelps enjoying final laps of his indelible swimming career
​
Katie Ledecky ready to take center stage
Ledecky's name entered U.S. households when she stunned the world in London by winning the 800m freestyle at just 15 years old, but she's bound to become a full-fledged star in Rio. Since 2012, she has won nine world championship gold medals and set 19 world records. Ledecky will race the 200, 400 and 800m freestyles and swim in the 4x100 and 4x200 relays. It will be a huge upset if she doesn't win gold in her three individual events, so Americans, get ready for a huge medal haul.
Rainbows, Unicorns and a Shark: Link between Katie Ledecky, Missy Franklin
Usain Bolt's final Olympic showcase
The world's fastest man heads to his final Olympics set to complete the 100, 200 and 4x100-meter gold treble one more time. The Jamaican star still holds the world records for the 100 and 200 meters (9.58 and 19.19 respectively), and while he's slowed a tad in recent years, it hasn't been enough for him to lose at global championships. Despite a slow start to the season in 2015, Bolt left the world championships in Beijing with gold medals in the same three races. Bolt, who plans to retire after the 2017 world championships, could end his Olympic career with nine Olympic finals and nine gold medals.
Big Finish: Usain Bolt chasing three more golds in his final Olympics
The wait for Simone Biles's shining moment is over
Gabby Douglas had her golden moment in London, but the world has been waiting for Simone Biles since 2013. The 19-year-old is already one of the most decorated U.S. gymnasts, having won three world all-around titles, three world championship gold medals on the floor exercise, two more golds on the balance beam and two team titles in 2014 and '15. If you got lost in all the goodness, that is 10 gold medals before even competing at the Olympics.
As a team, the U.S. women look unstoppable, led by Douglas and Aly Raisman who became the first two female gymnasts to compete in back-to-back Summer Games since Dominique Dawes and Amy Chow in 1996 and 2000.
At the Gym with Simone Biles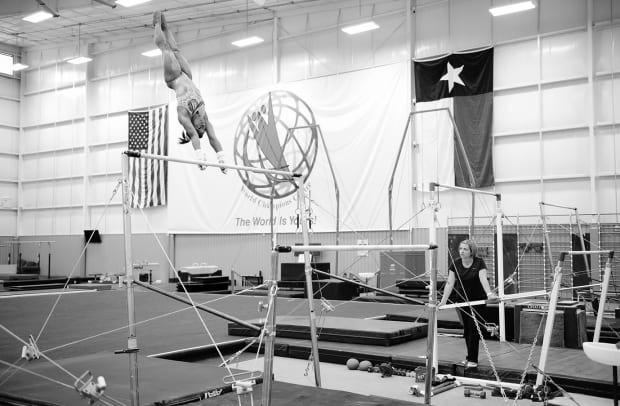 ​
Caster Semenya and the science debate
Semenya, the 2009 world champion and '12 Olympic champion in the 800 meters, has returned to incredible form since the Court of Arbitration for Sport suspended the female hyperandrogenism policy, which deemed naturally high levels of testosterone a competitive advantage. She has lowered her personal best in the 800 to 1:55.33—the 12th-fastest woman of all time—yet that time came in a race where she slowed down and crossed the finish line full of energy. Semenya will also run the 400 meters and possibly beat the United States' Allyson Felix, who enters as one of America's most recognizable and liked faces in track and field. The conversation will not end when the medal is around Semenya's neck.
USWNT still hungry after World Cup victory
A reigning World Cup champion has never won a gold medal at the Olympics, but the U.S. women's national team looks to end that streak. The field will be packed with many familiar faces as seven of the 18 Olympians from 2012 return and 14 of last year's World Cup champions are making the trip to Rio. This will be Hope Solo's fourth Olympics—she served as an alternate in 20'04 before starting in the goal in Beijing in '08 and London in '12.
After World Cup snub, USA's Crystal Dunn braced for major Olympic role
Neymar, Brazil ready to end golden drought
As a country, Brazil lives and breathes soccer, but the Brazilian men haven't won a gold medal at the Olympics since 1900 and pressure is on F.C. Barcelona star Neymar to deliver. Brazil is coming off a brutal 7–1 drubbing in the semifinal of the World Cup that they hosted in 2014. No excuses before a home crowd again.
Another Olympic men's soccer failure will be 'taking a 7-1' all over again for Brazil
Ibtihaj Muhammad makes history even without winning a medal
U.S. fencer Ibtihaj Muhammad has been one of the most publicized athletes ahead of the Summer Games and rightfully so. She will be the first American athlete to compete in the Olympics while wearing a hijab, a headscarf worn by some Muslim women. She has used her time in the spotlight to inform people about practicing Islam in America while also making recommendations as to how to handle Islamophobia in the United States.
One more gold for the Williams sisters
Serena Williams, who has already solidified her place in tennis history, could pass Steffi Graf's record of 21 Grand Slam titles at the U.S. Open later this month. But first, she has unfinished business at the Olympics as he aims to defend her 2012 singles and doubles titles. Serena has won gold with her sister Venus at the 2000, '08 and '12 Olympics.
Threat Meter: Who poses the biggest challenge to Team USA at Rio Olympics?
USA Basketball won't stop winning
No LeBron James or Stephen Curry? No problem. The first few exhibition games of the summer have proven that even if USA Basketball does not send its best team, they can still dominate against the world. The team will be headed by Golden State's Kevin Durant, who led Team USA in scoring at the 2012 Olympics in London. Carmelo Anthony looks to become the first player to win three Olympic gold medals. This will also mark coach Mike Krzyzewski's final Olympics after being at the helm for gold medals in '08 and '12.
A longer winning streak is on the line for the USA women as they chase their sixth gold medal. The team features nine Olympic gold medalists with Seimone Augustus and Sylvia Fowles playing in their third Games. Newcomers Elena Delle Donne, Brittney Griner and Breanna Stewart will likely make the biggest impact as Geno Auriemma still remains unbeaten as the USA coach.
Refugee athletes out to inspire
The International Olympic Committee has assembled a team of 10 refugees to compete at the Summer Games under the Olympic flag. The team is comprised of an Ethiopian marathoner, two Syrian swimmers, two judokas from the Democratic Republic of the Congo and five South Sudanese runners. The IOC has opened its doors and the hope is that countries from around the world will be inclined to do the same for more displaced people.
The Longest Run: Olympics about more than winning for Refugee team
Jordan Burroughs still not done
Burroughs is a heavy favorite to become the first American wrestler to defend his Olympic gold since John Smith's 1988 and '92 double. The 74-kilogram (163 pounds) champion boasts a 24–1 overall record in world and Olympic competition.
Gray turns to gold
Adeline Gray could become the first American woman to medal in women's wrestling, which was added as an Olympic sport in 2004. Gray was an alternate at the 2012 Olympics but has since won two world championship gold medals in the women's freestyle 75 kg. She's riding a 37-match winning streak into Rio thanks to a signature leg lace move that opponents have yet to figure out.
Olympic medal predictions: Picking gold, silver, bronze in all 306 events
The unstoppable Claressa Shields
At just 17 years old, the Flint, Mich. native became the first American woman to win Olympic boxing gold at the London Olympics. Since it will be just the second Olympics to include women's boxing, she could also become the first woman to repeat as a gold medalist. Among the most dominant women in sports, she is the two-time world champion and has a 74–1 amateur record.
Brazil vs. USA women's rivalry to heat up in volleyball
The United States women's indoor volleyball team has earned silver medals at the 1984, 2008 and '12 Olympics, but they've never won gold. USA has gone 41–6 overall with four gold medals in five tournaments in 2015 but are still trying to figure out how to beat the Brazilian national team.
On the sand, Kerri Walsh-Jennings looks to continue her Olympic legacy by winning a fourth gold medal, this year paired with April Ross at the Summer Games for the first time. Larissa and Talita of Brazil stand in her way as they try to win before their home crowd at Copacabana beach.
Fiji's medal hopes rest on rugby team
Fiji has never medaled at the Olympics and they've competed in 15 of them since 1956. With the addition of rugby for the first time in 92 years, it is their best chance of doing so and it could be gold. The women could beat the men to the punch as their final takes place three days before. The men have won the last two Sevens World Series.
From archery to wrestling, previewing every Olympic sport
Gwen Jorgensen out to avenge London race
The former Ernst and Young accountant went undefeated from May 2014 to April '16 while winning 14 International Triathlon Union races and capturing two world titles. She looks to avenge her 38th-place finish in London, due to a flat tire. She is the favorite in Rio after having won the test event last summer but she's lost twice in 2016—something her rivals have been looking to expose at the world world's biggest stage.
Chris Froome's winning summer is far from over
After yet another dominating Tour de France victory, Froome will tackle the Olympic road race and time trial. The road race consists of a 237.5km course containing 11 climbs, which could benefit the three-time Tour de France Champion. In the time trial, he looks to improve upon his bronze medal from London. Compatriot Bradley Wiggins was able to pull off the Tour and gold medal double in London.
Kim Rhode targets history
Rhode will shoot for a chance to enter history as the first American woman to earn an Olympic medal at six Summer Games. She has been one of the most impressive Olympic athletes of the last 20 years as she won gold in the double shot in Atlanta '96; bronze in the double trap in Sydney '00 and then gold in Athens '04. The IOC dropped the double shot after Sydney and so she re-focused on skeet to win silver in Beijing and then gold in London.
Get ready to feel old
The U.S. Olympic team features two athletes that were born in 2000... Take a moment to let that sink in. Table tennis player Kanak Jha, who was born on June 19, 2000, may not be much of a factor for a medal, but gymnast Laurie Hernandez, who was born on June 9, 2000, will be as a member of the U.S. women's gymnastics team favored to win gold