Stanley Cup Final: Penguins have total confidence in rookie trio
Penguins coach Mike Sullivan's familiarity with rookies Matt Murray, Bryan Rust and Conor Sheary in paying off in the Stanley Cup Final.
Your teams on the go or at home. Personalize SI with our new App. Install on iOS (iOS or Android)
Pittsburgh Penguins coach Mike Sullivan has defended his decision to allow Bryan Rust to return to action just minutes after the rookie forward sustained a suspected head injury during the third period of the Stanley Cup Final opener.
Rust spent less than seven minutes in the quiet room after being flattened by San Jose's Patrick Marleau. He returned to skate one shift before adjourning to the dressing room.
"The coaches aren't really involved in that," Sullivan said at the team's press briefing on Tuesday. "We rely on the medical staff to take the necessary steps with our players. That's what they did. They go through the necessary steps that they need to take with our player. I know that our medical staff does a terrific job as far as taking the right precautionary measures.
Sharks' Patrick Marleau dodges NHL suspension for head shot
"Our philosophy has always been the health of our athletes is first and foremost," he said. "Our guys take that very seriously. I think they do a terrific job. So we trust them, that they're going to do the right things for us, protect our athletes in the necessary way. We take their advice as far as how we utilize them."
There was no update on Rust's health, or his availability for Game 2 on Wednesday night at Consol Energy Center (8 p.m. ET; NBCSN, CBC, TVAS).
"He's still being evaluated," Sullivan said.
Sullivan would not comment on the NHL's decision to not fine or suspend Marleau, who was assessed a two-minute minor for an illegal hit to the head. "We're just going to play hockey," he said. "The league does their job, we're going to do our job. We're just going to play."
The SI Extra Newsletter Get the best of Sports Illustrated delivered right to your inbox
Subscribe
The coach was more than happy to open up when the topic turned to the play of Rust and Conor Sheary (photo above). The rookie wingers staked the Pens to a 2–0 first-period lead on the way to a 3–2 victory over the Sharks in Game 1.
Game 7 hero Bryan Rust paving his own way with his brother's support
"It doesn't surprise me that these guys score big goals," Sullivan said. "They're good players. That's why they're here. They play hard. They play the game the right way. I think they both bring a tremendous amount of speed to our team.
"All of the young guys that have come up I think have done a really good job becoming part of this group and helping this team become a team."
Both players were promoted to the Pens shortly after Sullivan moved up to replace Mike Johnston as the team's head coach in December. He said his experience with them in the AHL helped ease their transition to the NHL.
Greatest NHL Playoff Performances by Rookies
Greatest NHL Playoff Rookie Performances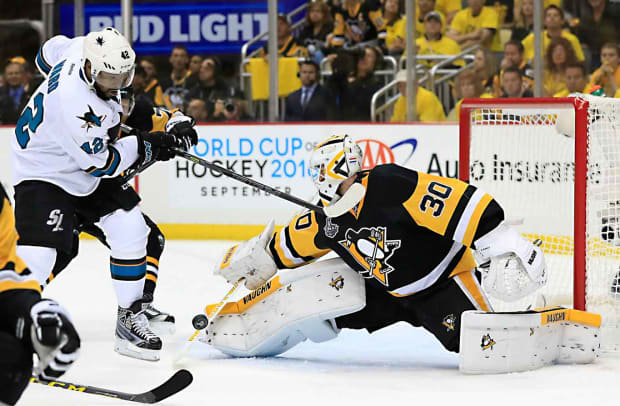 "I think the fact that I had the opportunity to coach these guys in Wilkes-Barre, see what they were able to accomplish in the 20-something games that I was down there with them, certainly gave me a clearer indication of how I could utilize them and put them in positions to be successful," he said. "So when they did get the opportunity to play in the NHL, I could cast them in the right roles ... and utilize those guys in the most optimum way."
Stanley Cup Final: New-look Phil Kessel thrives on his biggest stage
Sullivan also had kind words for another Wilkes-Barre grad, goaltender Matt Murray.
"We think Matt gives us the timely saves we need to give the team a chance to win. He did that for us [in Game 1]. He's done that for us throughout the course of the post-season. He's a big reason why I think this team is still playing to this point.
"I think our players have a lot of confidence in him," Sullivan said. "I think our players have a lot of confidence in all our goalies for that matter. We're a fortunate team that we have the guys that we have back there that we can call on to make those kinds of saves for us."