Wayne Gretzky's Oilers: dynasties defy expectations
A look back at the Edmonton Oilers in the 1981 playoffs reveals how NHL dynasties like Chicago's come and go unpredictably. 
Get all of SI.com's NHL content as soon as it's published. Download the new Sports Illustrated app (iOS or Android) and personalize your experience by following your favorite teams and SI writers.
If you want to be recognized as a dynasty in hockey, you have to, of course, win during the course of a period of years, and at some point you must go back-to-back.
That's why in a year like this so many eyes are naturally on the Chicago Blackhawks, whose three Stanley Cups in six years constitute the closest we've come in this century to the runs that teams like the Canadiens, Oilers and Islanders had in the last one.
The Blackhawks' dominance is even more impressive than it at first seems, when you consider that going dynastic used to be a fairly regular occurrence.
The Canadiens closed out the 1970s with a run of four straight Cups, then the Isles picked up with four in a row of their own starting in 1980, after which the Oilers took four of five and five of seven from 1984 to 1990. You might even say dynasties were the norm, as endemic to late 20th century hockey as they had been to Imperial China.
The Great Wait: After 11 seasons Alex Ovechkin may finally win Cup
After the Oilers won their first two Cups, it felt like a fait accompli that they'd win another in 1986, as they were that much of a juggernaut. But then the Flames upset them thanks in no small part to Oilers defenseman Steve Smith's infamous own goal in Game 7 of their division final series. The surprising Canadiens doused the Flames in the Cup final and unnatural order ruled for an off-season before Edmonton reestablished the status quo during the next campaign, and on we went.
But what's fascinating about a dynasty, or a potential dynasty in the making, or even a dynasty that is over or never fully came to be in the usual definition, is how it plays with our sense of expectation.
We watch these Blackhawks, and we assume they will do something to further abet their march on history. If they don't get there, they will have come close, and it will take something touching on the epic—or the fluky—to bounce this most determined collective from this greatest of postseason tournaments.
That's what it felt like for the young Edmonton Oilers 35 years ago when they took on the storied Canadiens in the first round of the playoffs. The series was heralded as a laughable mismatch fit to get the Molson lager spritzing out of your nose.
Hockey literature often lags behind, say, baseball lit, and boxing lit, too, but if you want to read one of the best sports books you've likely never heard of, run down a copy of Peter Gzowksi's The Game of Our Lives, an insider's account of that Oilers season, a tale of nascent brilliance.
Wayne Gretzky, as we see, was regarded as a sort of fluke himself, a player who couldn't maintain the level of achievement he had already reached as a 20-year-old in his second year in the NHL.
GALLERY: Rare Photos of Wayne Gretzky
Rare Photos of Wayne Gretzky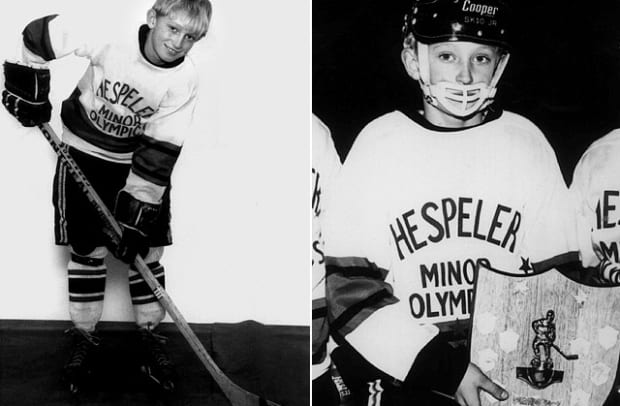 He was too small, too much went right for him during that sophomore NHL season, success would go to his head. Despite leading the league with 164 points and 109 assists, he narrowly edged St. Louis goalie Mike Liut in the Hart Trophy voting after destroying the league's single-season scoring record of 152. There was no reason to expect that his teammates would be anything more than serviceable or slightly above average in the future.
Mark Messier's game was all over the place, the left winger a no-show on many nights. Only a fool played defense like Paul Coffey, which is to say, like he was always trying to play offense. The Oilers had no franchise goalies to speak of, such that they entrusted their hopes with Andy Moog, a guy who had played in only seven NHL games, at the start of the '81 playoffs. Jari Kurri was consistent, but hey, Europeans were soft, so went the old saw.
And so the thinking was that the Oilers, as the fourteenth seed, would be crushed by the Canadiens who held the third. This was when the playoff system was beyond wacky, doing away with conferences so that the best team played the worst in the opening round and so forth. Never mind if you had to jet back and forth across the continent to do it.
Why Alex Ovechkin is NHL's best all-time goal scorer
Those Canadiens had changed much from the team that won the Cup in '79. Goalie Ken Dryden was gone, for starters, but Guy Lafleur was still there, ditto Bob Gainey, Larry Robinson, Steve Shutt. Also present were the expectations—let's call them lingering expectations—that come once you go dynastic, even if your run is over. (Maybe it's over for the 2015-16 Blackhawks. You won't know until it is, and then when you look back after time passes—more on time in a moment—you'll see the reasons that ought to have tipped you off in the first place.)
Everyone, most of the Oilers included, figured Edmonton-Montreal would be a lamb-to-the-slaughter type of deal. But as you read Gzowski's account of that season, you begin to understand the genius of Gretzky in ways that synch up with what the league was seeing on a nightly basis, without fail.
It's just that Gretzky's genius, which was pretty much fully formed, required a burgeoning mental acuity on the part of the viewer to see what was really going on. And as one did so—or does so now, looking back—one starts to understand that it was the Canadiens who were going to have a devil of a time in that opening round.
Gzowski points to Gretzky's mastery of time, something the Great One shares with the likes of Mozart, Shakespeare, and Lennon and McCartney in their early days—artists for whom there existed an internal pause button that allows them to discover extra intervals so that any given second becomes seemingly stretched and not strictly defined.
"There is an unhurried grace to everything Gretzky does on the ice," Gzowski writes. "Winding up for a slapshot, he will stop for an almost imperceptible moment at the top of his arc, like a golfer with a rhythmic swing. Often the difference between what Wayne does with the puck and what a less accomplished player would have done with it is simply a pause, as if, as time pauses, he is enjoying an extra handful of milliseconds."
Oh. That's all. This would be the greatest weapon an athlete has ever had, and it's also what someone like Chopin had when banging away at the keyboard in a piano concerto, then using a sliver of a moment of silence to speak like the loudest crescendo ever to hit human eardrums.
Gzowski goes on to discuss experiments conducted by leading neurologists, jazz, ballet dancers, and the violinist Isaac Stern to further elucidate Gretzkyian matters, which brings us to another that certainly didn't help those Canadiens: Montreal's goalie, the solid-but-not-spectacular Richard Sévigny, remarked that the mighty Lafleur would stick Gretzky in his back pocket. You know where this is going.
Assist by the Great One: How Wayne Gretzky redefined scoring in the NHL
Watch any old Oilers game and you will see that Gretzky is an absolute freak of competitive extremes. Like, winning seemed to mean more to him than it did to even Michael Jordan. He never took a shift off. Never. The score could be 10–3 Oilers, and he wanted to make it 11–3. Quickly. A cynic, watching Gretzky's rapacity of devotion, might cite a form of mania, were clear thinking not evident in everything Gretzky did. Forward thinking. Purpose. It is one thing to have genius. It is another to have genius outfitted with a will to match.
The Oilers took the first game against the Canadiens at Montreal's Forum, 6–3, with Gretzky notching five assists. What do you know, a record. They took the second game, 3–1, with Gretzky slumping to a mere two helpers. Then it was on to Edmonton, where Gretzky tallied a hat trick, plus a final assist, in a 6–2 victory. The Canadiens and the lingering expectations of their continued dynasty had been swept away as Gretzky tallied 11 points in the three games. After one he skated past Sévigny and, yep, patted his backside, right where his back pocket would be.
Does that not get you going?
We look back on this now and think, O.K., the Oilers were up and coming, the Canadiens were well past their prime, but no one saw it that way then. It was shocking. Some people called it the biggest upset in the history of the league. Almost as shocking was when the Oilers pushed the Islanders to six games in the next round, given that those were the defending Cup champion Islanders in their prime, one of the best, most complete squads ever assembled in North American sport and one that was en route to three more championships. But the time for the Oilers hadn't fully come, although it had fully arrived for Gretzky, who had been working it over like some sorcerer of the temporal.
What time is it now for the Blackhawks? Or is some other team launching a multi-year run of its own? No clue now. Those clues only tend to come later, when the past and the present become stitched up, and we look towards what is next.