Snap Judgments: Rams' current QBs played a big role in trade for No. 1 pick
Musings, observations and the occasional insight on the blockbuster trade that sent the first overall pick in the looming 2016 NFL draft from Tennessee to Los Angeles.
Musings, observations and the occasional insight on the blockbuster trade that sent the first overall pick in the looming 2016 NFL draft from Tennessee to Los Angeles ...
• The deal that changes the landscape of this year's draft was finalized Wednesday night. But the Rams, trying to be the good new neighbor in Los Angeles, made sure the news didn't leak out in deference to Kobe Bryant, who was playing the final game of his illustrious NBA career with the Lakers.
"We wanted to hold off. We didn't want it breaking during Kobe's last game," said a Rams source. "But it wasn't too late when it got done."
There was no dramatic crystallizing moment in the trade negotiations, but the talks that will deliver a new franchise quarterback to Los Angeles didn't truly intensify until Wednesday, roughly two-plus weeks after the Rams at No. 15 first broached the idea of a swap with the Titans at No. 1.
If there was any sense of urgency driving the timing of the deal, it was that Tennessee wanted to start a much deeper dive on the potential prospects who might be available to them at No. 15, while the Rams wanted two full weeks to make absolutely sure they had turned over every rock in deciding between North Dakota State's Carson Wentz and Cal's Jared Goff—the two top-rated quarterbacks.
The Rams are reportedly infatuated with Wentz and his game, but there is no certainty at this point that Goff is out of contention. If I'm betting on it, I'd give Wentz to L.A., but the Rams maintain that there's work left to do in the scouting process and that no final call has been made.
KING: How the deal went down | BURKE: Team needs | Position rankings
NFL Mock Draft: The ripple effect of the Rams' No. 1 pick
• The Rams obviously shipped a boatload of draft capital to Tennessee in the trade, but strangely enough, they might be able to thank Nick Foles—their 2015 Week 1 starting quarterback—for being able to swing a deal for the Titans' pick. Rams sources say the trade with Tennessee doesn't get made if they didn't own an extra second-round pick this year, the one they got in the Sam Bradford-for-Foles deal from March 2015. The Eagles' pick was the 43rd overall selection. And it was packaged to Tennessee along with the No. 45 pick the Rams already owned.
The Rams took a stab at an answer at quarterback last year by dealing for Foles, and it clearly did not work out. But in getting that second-rounder back from Philly, they viewed the extra pick as something of an insurance policy should they find themselves back in search of a franchise quarterback in 2016.
So there you go, Rams fans. You may have had to suffer through the failed Foles experiment last season, but you might have Nick to thank if the Rams' next franchise quarterback really is their long-sought savior.
• The Rams somehow landed the league's Defensive Rookie of the Year in defensive tackle Aaron Donald at No. 13 in 2014 and followed that up by drafting the eventual Offensive Rookie of the Year in running back Todd Gurley at No. 10 last season. They didn't feel anywhere near as confident that they could continue that kind of streak this year with the 15th pick, and that was more motivation to make a deal with Tennessee.
The Rams thought Donald fell that far because of being slightly undersized for his position, and Gurley obviously was limited by his ongoing recovery from a knee injury and the fact that he plays running back in an era where few are even valued at a first-round level.
But the Rams didn't see any undervalued bargains looming at No. 15 this year and thought it likely that no one remotely near the caliber of Donald or Gurley would be available. It also speaks to Los Angeles's realization that Memphis quarterback Paxton Lynch was not the answer to its quarterback issues at No. 15, as so many of us mock draft-types had projected.
Carson Wentz or Jared Goff: Who will be picked first in NFL draft?
• The Titans are obviously the kings of this year's draft, with six of the top 76 picks in their pocket: a first-rounder at No. 15, three second-rounders at 33, 43 and 45, and two third-rounders at 64 and 76. They can do whatever they want and turn that stockpile into a virtual Herschel Walker-like bonanza with some deft on-the-clock maneuvering. It's a potential gold mine for new Titans general manager Jon Robinson in his roster-building efforts.
But the Rams feel somewhat comforted by the fact that they expect to get a compensatory third-round pick next year for the loss of 2016 free agent Janoris Jenkins, who signed with the Giants in March. That would leave Los Angeles with no first-rounder next year but one pick each in the second, third, four and fifth rounds, giving them at least a decent seat at the draft table in 2017.
This trade won't completely kill the Rams in next year's draft if they wind up owning four picks in the opening five rounds. And if their quarterback choice works out in the long run, allowing them to compete with the likes of Seattle, Arizona and San Francisco in the rugged NFC West, the Rams will deem their gamble well worth the sizable expenditure.
• This trade feeds the theory that the Rams wanted to draft a first-round quarterback in order to make a big splash as they return to the Los Angeles market for the first time since the 1994 season. But that kind of misses the big picture.
First and foremost, the Rams need to get their quarterback position finally fixed and stop trying to band-aid the one spot that can't be band-aided in the NFL. And if doing so adds to the excitement and general tidings of goodwill that the franchise has engendered since January's relocation announcement, all the better. This massive deal was about more than just recapturing their home market and selling a fresh young superstar face to the fans.
"It had nothing to do with it and that part of it was never discussed," a Rams source said. "If the trade works out, it's a nice bonus. But we needed a quarterback no matter where we were."
Complete 2016 NFL draft team needs
• So when will Wentz or Goff be expected to take over the starting quarterback job? And will the Rams be trying to hold on to incumbent starter Case Keenum, or will quarterback-needy Denver now come after him, either via a trade or by signing the restricted free-agent to a deal that would cost the Broncos their No. 31 pick in the first round?
The Rams gave Keenum a first-round tender in March, wisely deciding that they couldn't afford to lose their potential 2016 starter for the last pick of the second round if the Broncos came calling. Denver coach Gary Kubiak had Keenum in Houston and is believed to be enamored with him as a potential starter.
First things first: The Rams have no advantage to gain by naming a still undrafted rookie quarterback as their starter this season. That removes some of their leverage in any potential Keenum deal and unnecessarily complicates the rookie seasons of either Wentz or Goff, both of whom could probably benefit from something of a redshirt rookie season, if draft observers are to be believed.
Whomever the Rams draft, look for the team to maintain that there's no timetable for him to play, and that they will let his development dictate when he gets put on the field. They'll pick him this year, see how he does, and then play him when his chances for success are best.
At least that's the plan going in. But as we all know, plans at quarterback have a way of rapidly changing in the NFL.
GALLERY: Trading up for the No. 1 pick through the years
Trading Up for No. 1 Overall NFL Draft Picks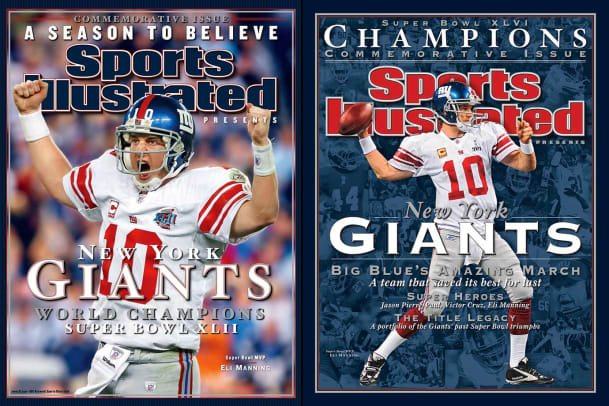 • As for Keenum, the Broncos' anticipated pursuit of him makes a lot of sense on several levels. If Denver happens to believe he's better than any young quarterback option it might secure at No. 31—say, Lynch or Michigan State's Connor Cook, for example—then maybe it signs Keenum to an offer sheet, potentially putting the Rams back into the first round.
More likely, trade talks between the Rams and Broncos will ensue, with Los Angeles trying to recoup some of the draft capital it just surrendered in exchange for Keenum, but nothing at the first round level. In that scenario, such a deal will either force the Rams' rookie quarterback into the lineup sooner than anticipated this season, or perhaps require L.A. to make due with either Foles or second-year passer Sean Mannion in the lineup while the rookie develops.