Scouting Tennessee: Run Game Will Help Mariota
New arrivals Derrick Henry and DeMarco Murray add power to the Titans' evolving offensive attack with second-year quarterback Marcus Mariota
1. There is a lot to like about Marcus Mariota. For starters, he's remarkably refined in the pocket given that he rarely had to play from there in Oregon's fast-paced spread offense. Mariota understands nuanced movement here. And he's disciplined in keeping his eyes downfield, both in and out of the pocket. He also has excellent downfield vision. Augmenting these traits is his quick and compact release. Able to get the ball out promptly, Mariota can be more patient at the top of his dropbacks. His throwing motion's only flaw is an oh-so-subtle hitch, which might be why some of his downfield balls lose energy on the back end. Nevertheless, it's an outstanding overall toolkit. A good enough toolkit, in fact, to one day make Mariota—pardon the term—elite.
2. There's also Mariota's mobility to consider. He can obviously run the read-option, but that doesn't mean he will. Or not often, anyway. Titans head coach Mike Mularkey is very traditional in his run designs. Mularkey might give the defense the occasional zone-read look, if for no other reason than to prevent backside defenders from giving chase to the running back. But Mariota hasn't shown a great sense for protecting himself, so putting him on the move is risky. Plus, you have to consider that read-option requires a certain amount of twitch from the running back. It's a stop/start motion with no momentum built in. That doesn't suit DeMarco Murray or Derrick Henry, slow accelerators who rely on build-up power.
• SCOUTING 2016: Andy Benoit's team-by-team analysis
3. Murray and Henry are not ideally suited for today's spread-oriented NFL, which is another reason the old school Mularkey will feature a lot of yesterday's condensed, blunt rushing concepts. The Titans wisely revamped their offensive line in ways that accommodate this. Brutish right tackle Jack Conklin was taken with the eighth overall pick. His arrival moves last year's third-rounder, Jeremiah Poutasi, to guard—a transition that needed to occur regardless, given how Poutasi floundered in 2015. Now it's on to fourth-year pros Chance Warmack and Brian Schwenke to be more consistent. Warmack must sharpen his footwork. Schwenke needs to play with more strength (which he might not possess).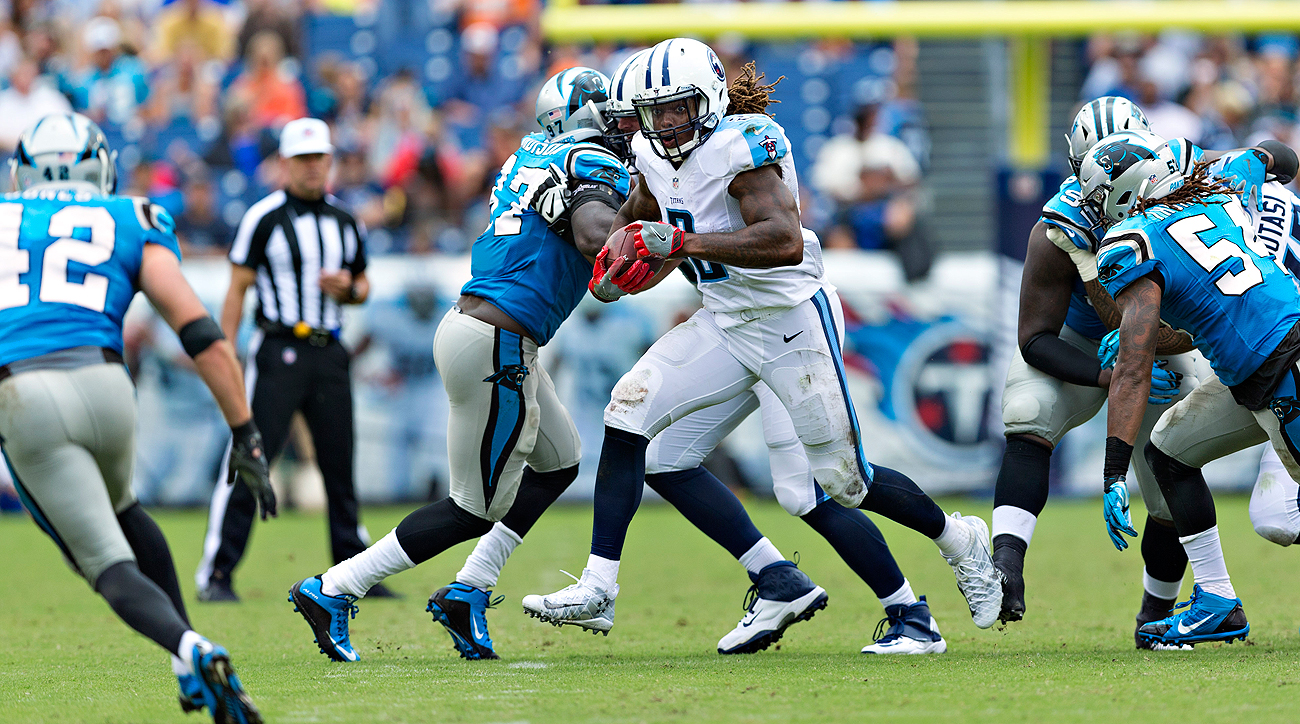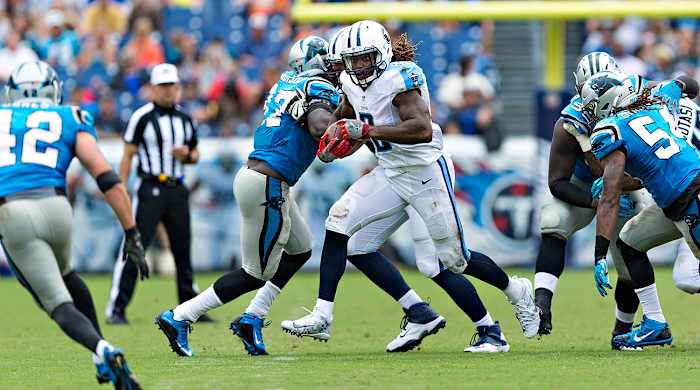 4. Tennessee has a lot of options at wide receiver, though none are sure things. The most intriguing was last year's second-rounder Dorial Green-Beckham. He'd made encouraging strides in the second half of his rookie season. But clearly, something was wrong behind the scenes—something wrong enough for him to be traded straight-up to Philadelphia for a very limited backup offensive lineman (Dennis Kelly). Encouraging strides are still yet to be seen from 2013 second-rounder Justin Hunter, who will probably fall completely out of the rotation now that fifth-round rookie Tajae Sharpe and free agent pickup Rishard Matthews are aboard. Sharpe and Matthews have bigger frames like Hunter. For speed and quickness, the Titans will turn to Harry Douglas (a good drag route runner) and Kendall Wright (a versatile short-area weapon).
5. Some defenses would also consider Delanie Walker part of this wide receivers group. Walker, who last year led all NFL tight ends with 94 receptions, flexes outside and to the slot as much as any tight end in the league. That lends valuable versatility to Tennessee's base two tight end packages.
6. Tennessee's defense was better than it looked on paper last season. With corners Jason McCourty and Perrish Cox back healthy, it's potentially a top-12 unit. It plays with good collective speed in coordinator Dick LeBeau's zone blitz system. Last season, it was felled by backup corners getting overmatched downfield.
• TITANS CAMP REPORT: Emily Kaplan reports from Nashville, where new coach Mike Mularkey is emphasizing an old-school physicality
7. Of course, the way to really prevent corners from getting beat downfield is to have your pass rush get home. In this sense, the second-round selection of Kevin Dodd is significant. Something needed to be done to upgrade at outside linebacker, where Brian Orakpo and Derrick Morgan can both look impressive but don't always produce at a level commensurate with their talent. Expect Dodd's snaps to come at Morgan's expense. The number of those snaps, however, will ultimately hinge on Dodd's versatility. He won't be asked to just line up and turn the corner. LeBeau uses an array of amoeba fronts in nickel and dime packages, often with three or four players roving around and threatening the middle of the O-line. Most of these looks spawn some sort of A-gap blitz.
8. Tennessee's most valuable pass rusher—and best all-around player, in fact—is Jurrell Casey. An almost corpulent 300-pound defensive tackle, Casey's initial burst and short-area change-of-direction is that of a 250-pound edge-bender. LeBeau recognizes this and features Casey's multidimensionality in many of his blitzes.
9. New safety Rashad Johnson, formerly of the Cardinals, is not a stud, but he can be a difference-maker for a defense that too often has been compromised by mistakes at this position. Johnson is an acute pre-snap organizer. That's critical in a scheme with a lot of complex matchup zone principles. The only concern with Johnson is what happens when receivers reach him in middle field running routes at full speed.
10. Something LeBeau did last season was play a "big dime" package on passing downs with three safeties, three corners and one linebacker. This speaks to the changing times. LeBeau has two fast-enough nickel 'backers in Avery Williamson and Wesley Woodyard. And yet, he felt compelled to replace one of them—usually Woodyard—with backup safety Daimion Stafford in obvious pass situations. It was all about taking a fast position and making it faster.
Question? Comment? Let us know at talkback@themmqb.com