And Here Come the Cuts
As rosters are finalized this weekend, here's a look at 10 developments to monitor for various NFL teams and players. Plus an uncanny parallel of injured QBs, the dirt on Dak and two collegians to watch as season opens 
I don't need to tell you that Tuesday presented an absolute worst-case scenario for any NFL team. And the Vikings don't need to hear it either. They know.
But no one's canceling the season because Teddy Bridgewater got hurt, so the obvious question in Minnesota becomes, "What's next?"
Les Snead had to answer that one two years ago in St. Louis, when Sam Bradford tore his ACL in the Rams' third preseason game. As is the case in Minnesota now, the Rams GM was just days away from the final cutdown. Snead was, as the Vikings are today, looking at Shaun Hill as his starting quarterback. And Snead was operating with knowledge that his options were limited otherwise.
"A high percentage of your roster is set at that point, and you're getting ready to play [the fourth preseason] game, and a few spots are on the line," Snead said Wednesday. "And it adds energy to all that. Who's the starting QB? Who's the backup? Do we need to add another QB, or a practice-squad type, or someone with experience? All that energy goes into that."
This week, we'll address where Colin Kaepernick is as a player, whether Dak Prescott's preseason success is sustainable, why Roberto Aguayo is having kicking issues and why Brandon Marshall is a big Josh Norman fan. And we'll also get going with our weekly staple of giving you two college players to watch this weekend (from archrivals Notre Dame and USC).
But we're starting with the news of the week, and how it relates to one of the most hectic weeks on any general manager's calendar. That's why I turned to Snead and the Rams. Their situation in 2014, in timing and investment in the starter—Bradford and Bridgewater are first-rounders—and even the backup, is as similar to Minnesota's as it could be.
Snead says he looks back at that 6-10 season fondly, calling it, "one of the more rewarding seasons I've ever been a part of. Guys came together and competed, and by the end they thought they could beat anyone. … The bottom line is they recognized that they're not calling off the season, they're still keeping score, and there will be no asterisk."
• THE 53RD MAN: Tim Rohan looks at the edgy life of three bubble players as final cuts loom
It was that rewarding, of course, mostly because the most Herculean of football challenges was dropped on the doorstep right before the opener against, yes, the Vikings. (And as luck would have it, the Rams are also playing the Vikings tonight in a final preseason tuneup).
As Snead explains it, the first thing the Rams had to do was discuss how many quarterbacks they'd keep on cutdown day. They had Hill, Austin Davis and rookie Garrett Gilbert on the roster, and were fairly confident they could get Gilbert through waivers to the practice squad. The plan was to add a third quarterback to the 53-man roster.
And the team made a call at that point to veer away from acquiring a "duplicate" of Hill, preferring to find a 20-something with upside over another 30-something who may be reliable but wasn't going to grow into much more. They started by working the trade market. Snead declined to name (or confirm) names, but I was told they made an effort to deal for Kirk Cousins and discussed Jimmy Garoppolo seriously.
The price tag was too high, so it was on to the waiver wire to find a young triggerman with starting experience. There aren't many of those, of course, and one such player they sunk time into studying was Case Keenum. Texans coach Bill O'Brien waived him in the days to follow, the Rams put in a claim, and got him.
Two years later Keenum is likely to start Game 1 of the franchise's rebirth in Los Angeles.
"The nice thing with Case, you could sit down and watch him start football games from the previous season—not preseason—and see what he did well, what he didn't do well," Snead said. "That experience he had, we could use it."
So within a week of learning Bradford's injury was season ending, the Rams decided to keep Hill and Davis, waived Gilbert, signed him to the practice squad, and claimed Keenum. Hill started eight games that year. Davis started eight games. Keenum was released that October and then brought back to St. Louis the next year.
Something similar could happen over the next few days in Minnesota, or maybe the Vikings pull the Garoppolo/Cousins-like deal that the Rams didn't. Regardless, the challenge in front of Vikings coach Mike Zimmer and GM Rick Spielman is clear.
Of course, that kind of circumstance is rare. But every team has a serious dilemma or two that it's dealing with over the next few days. After talking to a bunch of personnel guys monitoring other clubs' rosters, here are 10 situations that you should keep an eye on: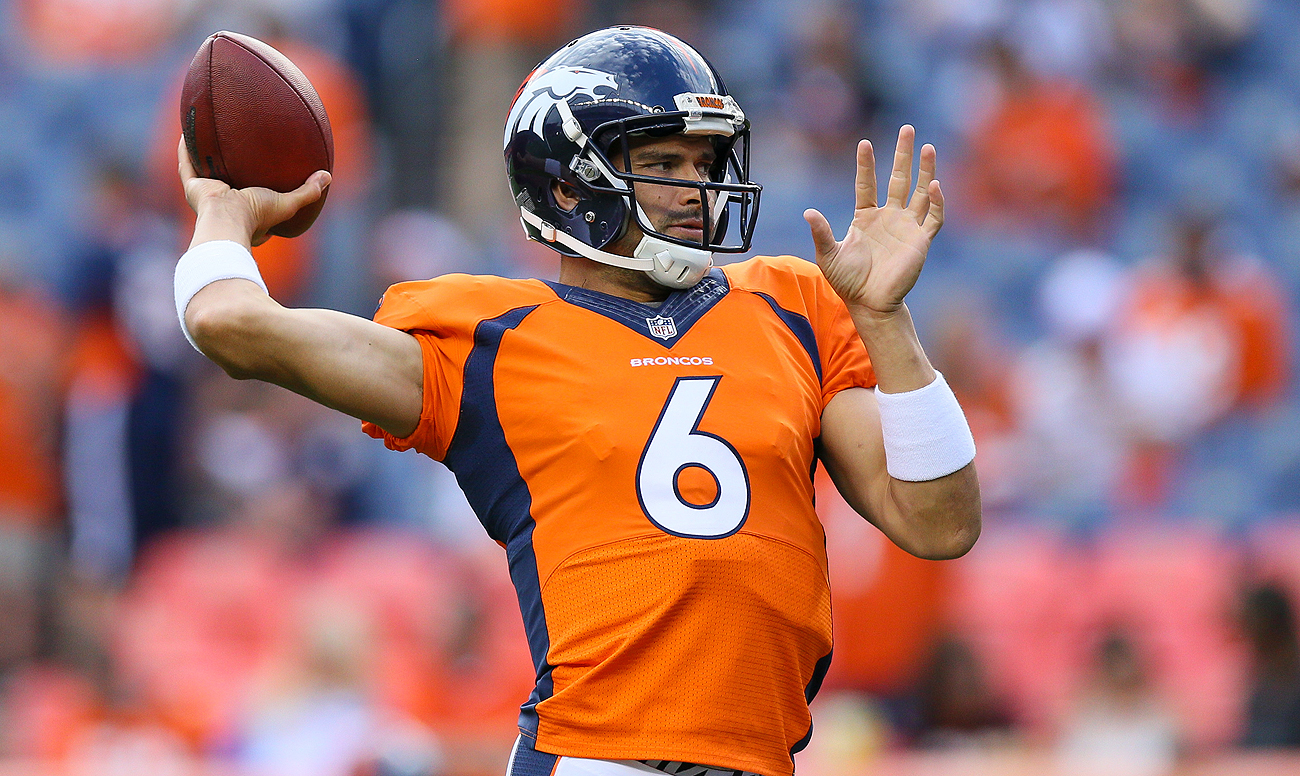 1. Will the Jets keep four quarterbacks?I'm gonna say yes. Ryan Fitzpatrick is the starter, and Bryce Petty has shown enough progress to warrant more development, but isn't ready to play. That means keeping Geno Smith is necessary. Christian Hackenberg needs time to work on his mechanics, but he made the team on draft day.
2. What do the Niners do at QB?I'll assume Blaine Gabbert will be the starter. Beyond that, this is anyone's guess. Sixth-round pick Jeff Driskel has shown promise, but would San Francisco really be OK with him as the primary backup? That means Colin Kaepernick is the logical No. 2 over Christian Ponder, but in a roundabout way (read below), making Ponder the backup is less risky.
3. Who makes the cut at RB for the Cowboys?Ezekiel Elliott is the workhorse. Alfred Morris' strong preseason only backs up what Dallas' coaches have seen all summer. That's two tailbacks who'll likely bring nothing on special teams. Can the Cowboys afford to keep a third? Or could Darren McFadden buy them some help on defense?
4. What's Jon Robinson up to?The new Titans GM already jettisoned a young, high draft pick he inherited (Dorial Green-Beckham), so there's the idea out there that few are safe in Nashville. The team's newfound depth at tailback (DeMarco Murray, Derrick Henry) makes 2014 second-rounder Bishop Sankey a candidate to be next.
5. Landing spots for veteran quarterbacks?Obviously the Vikings are one, but they aren't alone. The Patriots have given off every signal that they're ready to go with Jacoby Brissett as their primary backup for the first four weeks, but will tonight's game color whether they go through with that plan? Is Dallas alright having Jameil Showers as the guy if Dak Prescott goes down?
• THE MMQB MAILBAG: Peter King on who Mike Zimmer called after Teddy Bridgewater's injury. Plus mail on Colin Kaepernick
6. Could the Ravens swap their depth to fill a hole? Baltimore's roster is in a bit of transition, but they have a wealth of promising young interior defensive linemen that other teams have been evaluating. If you have, say, a tight end to spare, the Ravens (since Ben Watson is out for the year) could be in the mood to deal.
7. Will the Lions deal off their newfound depth?Detroit GM Bob Quinn comes from the pro scouting side, so this weekend is a particular area of expertise for him, and he's been able to assemble depth where Detroit hasn't had it before. In particular, at defensive tackle and safety, the Lions are in a position where they'll have to cut experienced players. It's a good bet they try to trade them first.
8. Who is odd man out in Green Bay?The Packers' receiver group didn't look great last year without Jordy Nelson, but it did have depth, and that means other clubs are now looking at who the Packers decide is expendable Nelson healthy again. The emergence of rookie Geronimo Allison complicates things, and opens the possibility that Jeff Janis or Jared Abbrederis could wind up available.
9. Will the Broncos keep Mark Sanchez?The likelihood is $4.5 million is too rich for Denver's blood, and Sanchez has said he's wanted to stay, but his disappointing summer could mean he winds up looking for a fourth employer in as many years. And if he's on the street, that could affect the trade market for quarterbacks.
10. Is Nick Foles available?A month ago Foles didn't look so attractive. Now? Given the normal spate of injuries and bad preseason performances, and Foles' $1.25 million base salary ($2.375 million less than Josh McCown), he could be an interesting fit for someone. The Chiefs have Tyler Bray (whom they've spent four years developing) and Kevin Hogan on the roster. Would they consider flipping Foles for a pick?
* * *
FOUR DOWNS
• What's next for Colin Kaepernick? We already addressed the roster conundrum here, and the political issue has been out there for everyone to dissect and digest, and run into the ground over the past five days. As for Kaepernick the player, perhaps the biggest indictment I've heard of his work over the eight months that Chip Kelly has been there came earlier this week from a rival pro scouting director. Kelly's offense is, of course, predicated on pace. So when this particular evaluator was breaking down the Niners' preseason tape, something obvious stuck out—how Blaine Gabbert and rookie Jeff Driskel were running the offense at one speed, and Kaepernick was running it at another. "When Kap was in the game, it slowed down—significantly," said the director. "I mean, it slowed down by 10 seconds [per play]. And that indicates he's not comfortable getting them to the line, operating the offense the way they want him to do it. And it indicates the time he missed is costing him." To me, the fact that Gabbert is moving the offense faster than Kaepernick isn't all that surprising, given that Gabbert got a ton of work in the spring and Kaepernick got none. But that Driskel is running it faster, to me at least, seems to be a pretty serious reason for concern regarding where Kaepernick is and how capable he'd be to jump in there if Gabbert were to go down. And that's why I'd tell you, at this point, I think the Niners should just cut him. They're paying him $11.9 million over the next four months no matter what. And if he were to get hurt to the point where he couldn't pass a physical next April 1, the Niners would be on the hook for another $14.5 million (his 2017 base). So if they keep him on the roster but decide that they're moving on for good after this year, the logical call would be to do what the Redskins did with Robert Griffin III last year and just deactivate him on a weekly basis, to prevent that injury guarantee from triggering. To me, no one really benefits from that—you can ask the Skins and RG3, if you want confirmation. Look, no one wants to shell out eight figures for a guy who's not on the team. But the reality is that it's the conclusion that makes most sense now.
• STANDING UP BY SITTING DOWN: Robert Klemko on why Kaepernick's upbringing helps explain why he's choosing to protest racial inequality
• Is Dak's preseason flash sustainable? Dak Prescott has proven about as much as a rookie quarterback can through three preseason weeks, having completed 39 of his 50 throws for 454 yards, five touchdowns, zero picks and a 137.8 rating. So this week, I went to the teams that played against him, and those who scouted him in college, to see how much we can actually take from it. The Rams were Dallas's first preseason opponent, and one of their staffers said of Prescott's work thus far, "I think you have to respect it, and especially after being thrown in unexpectedly and playing well against Seattle's ones. … Against us he looked calm and poised. Didn't look too big for him, and they did a good job managing him. Started him with some high percentage throws to build his confidence, and the hidden part is Dallas can work in some designed QB runs for him." A Dolphins coach added this after facing Prescott on Aug. 19: "He's more accurate than I thought he would be; strong arm and a good athlete, good poise for a young guy. They're so good up front, and should be able to run the ball behind Zeke [Elliott] and [Alfred] Morris. Those backs are good, so they can take pressure off him." But when I asked this particular coach how much of it would translate in September, his answer was "very little. Everyone is vanilla right now."
And that brings us to those who evaluated Prescott in college. "He has every intangible you'd want for a QB, but average arm talent," said one area scout assigned to Mississippi State. "He isn't as good as his preseason performances. Teams haven't schemed for him yet. When they do, you'll see his accuracy get exposed. [The Cowboys] will need to focus on quick, short, underneath throws, that'll mask some of the downfield accuracy issues. … They'll run the s--- out of the ball." The scout said he expects a mix of "exotic blitzes and pressures" to be thrown at Prescott, but did allow that over the short term, say a six- or eight-game stretch, Dallas can do enough to help him grow without exposing him. "He's not a bad decision-maker," the scout said, "and he's a relentless worker and competitor." Considering all this, it'd be silly to put the cart before the horse and assume that Dallas has Prescott as its heir apparent based on 50 preseason throws—but it is reasonable to project a scenario where the Cowboys can keep themselves in contention while Romo heals. That is more than they were able to do in 2015.
• Back to the future in Philly. When Jeffrey Lurie gave his football operation a facelift for the third time in four years—after more than a decade of stability—the prevailing thought was the Eagles owner was trying to recreate the relative harmony he had in the building for most of Andy Reid's 14 years in charge. So I asked coach Doug Pederson last week if it feels the same now as it did then (he was there as a player in 1999 and an assistant coach from 2009 to 2012), and his first reaction was to say it's different. Then, after talking his way through it, he conceded to me that there are plenty of traces of the old blueprint in South Philly. "I had this exact same schedule in Green Bay with Mike Holmgren, went to two Super Bowls," Pederson said of the Eagles' new/old setup. "Andy brings it here, 14 years, many NFC Championship Games, Super Bowl run. We did it in Kansas City, playoffs two out of three years. So it works, and the players bought into that. … There are always going to be comparisons because Andy was here for 14 years—I mean, 14 years! Look at these walls, it's all Andy Reid teams, I've got to find space for Doug Pederson teams, and build my legacy. And I think until that time comes, there's always going to be the comparison. I don't mind being compared to Andy Reid. Bottom line, he's had a lot of success in this league, still does." We don't have any actual win/loss results yet, but the setup between EVP of football operations Howie Roseman, VP of player personnel Joe Douglas and Pederson has been structurally sound to this point, and there is a tangible difference in the office. Reid used a spacious area connected to his own office as a conference room/gathering place for staffers to promote communication. Under Chip Kelly, that area was converted into an office for offensive coordinator Pat Shurmur. Pederson switched it back. "I think the organization is in a great spot right now," Pederson said.
• Bucs rookie kicking his problem. Kickers usually aren't taken 59 picks into the draft, and that's why Bucs rookie Roberto Aguayo's shank-happy August drew headlines. He missed two of his first five preseason field-goal attempts, then followed that up with a rough week of practice. That set the stage for a strange circumstance last Friday, where the spotlight for a game night was squarely on a rookie specialist. Aguayo passed the test, hitting field goals from 48 yards, 21 and 27, which didn't surprise those who've worked with him for a very specific reason. "Pressure is no issue for Roberto, no issue at all," said Trevor Moawad, who leads the Moawad Consulting Group and serves as a mental conditioning coach at Florida State, Alabama, Georgia and UCLA. "If he misses, it's a technical issue, not a psychological issue." Moawad worked with Aguayo for four years in Tallahassee, and he has examples of pressure kicks—he cited a 41-yarder in the third quarter of the 2013 national title game that drew the Seminoles to within a score in a comeback win; and a fourth-quarter 53-yarder against Miami the following October that set the stage for a come-from-behind victory. But to Moawad, the results simply confirm what's apparent in the kid—a unique mentality for a player at his position, which helped him follow Graham Gano and Dustin Hopkins at FSU. "It's very rare that you can talk to a kicker like a normal person during a game, and that you can work with them in games to identify issues and then plan for your next one," Moawad explained. "If we missed something early in a game, he'd come off and go to his coaches and myself and the punter, and we would go through it, and fix it, and it wouldn't be a problem anymore." So yes, Moawad is confident that Aguayo will get this corrected. The two have talked a couple times over the past few weeks, but those conversations have centered on Aguayo's little brother, Ricky, an FSU freshman who just won the job of replacing his sibling. And a few years ago, Moawad connected Aguayo with Martin Gramatica, to help him handle the pressure of being a Groza Award winner, which gave the kicker another resource for situations like this. But if what Moawad has seen is an indicator, Aguayo may not need a whole lot of help.
• ROBERTO AGUAYO'S NFL JOURNEY: Before the draft, Jenny Vrentas profiled the FSU kicker and why he was so coveted by NFL teams
* * *
THREE CHECKDOWNS
• What was the compromise for Joey Bosa in San Diego? The Chargers got the offset language and the 85/15 payout structure they wanted. Bosa got roster-bonus language that protects his money if he's put on the active/non-football injury list, a circumstance that cost Dion Jordan cash last year. I could take you through all of that, but rather I'll just let that reinforce the fact this whole thing was absurd. As is the idea that missing camp will kill Bosa's rookie year. The last two offensive rookies of the year (Odell Beckham, Todd Gurley) didn't practice much during their respective first camps, and they did OK.
• The one-year extension that the Patriots did for special-teamer Matthew Slater is an example of the little things they do that reverberate organizationally. It'll only cost them $1.8 million to keep him for another year. But doing it sends the message that: A) people who did things right get rewarded even when the team doesn't have to do anything; and B) special teams matter. Remember, this is a team that spent a fifth-rounder on Slater and a sixth on Nate Ebner, two players who had no clear NFL projection coming out of college outside of being able to cover kicks, and both are on second contracts now. Bill Belichick often recalls his time as Giants special teams coach (1979-84) fondly. And his actions back up his words there.
• With Clay Matthews, Julius Peppers and James Harrison cleared of wrongdoing (and Mike Neal waiting), the NFL got what it wanted out of its Al Jazeera/PED investigation, and that's cooperation. It puts teeth in the league's investigatory wing (commissioned after the Ray Rice disaster), which lacks subpoena power, and serves as a great precedent for those at 345 Park. Meanwhile, it's another blow for the union, which sees the commissioner's Article 46 power bleeding over into the drug policy (you can read my Aug. 18 column for more on that) and the net widening as far as cases the league can summon players for. Again, these are guys who have the clout to actually fight. That they didn't should make any complaining about Goodell's power going forward ring a little hollow.
• VONTAZE BURFICT HAS SOMETHING TO SAY: The Bengals linebacker on poise, playoff collapses and Pittsburgh
* * *
TWO COLLEGE PLAYERS TO WATCH THIS WEEKEND
1. Notre Dame LT Mike McGlinchey (at Texas, Sunday, 7:30 p.m., ABC). Irish coach Brian Kelly has had two starting left tackles in his five years in South Bend, and both—Zack Martin and Ronnie Stanley—wound up becoming first-round picks. So expectations among scouts are high that McGlinchey's star will rise over the course of the next few months. And Notre Dame did have the benefit of seeing him play a full season at right tackle last year, which sets the stage for him to flip sides and replace Stanley. "He's a beast!" said one area scout assigned to the Irish. "I haven't watched film of him yet, but off the practice view alone, he's a first- or second-round pick. He's not as athletic as [Stanley], but he's more physical." As a redshirt junior, and given the respect that NFL people have for how Irish line coach Harry Hiestand develops guys up front, it's not hard to see a scenario where McGlinchey could be a candidate to declare early for the draft this season, and he seems to be a good bet to, at the very least, join the four Irish linemen who've gone in the first three rounds since 2014. Oh, and his bloodlines aren't bad either. The Philly-area native's first cousin is Falcons quarterback Matt Ryan.
2. USC WR Juju Schuster-Smith (vs. Alabama, Saturday, 8 p.m., ABC). JerryWorld's annual season-opening showcase gets a couple bluebloods this time around, but also programs in very different spots. And so, for a Trojans team that's still plenty talented under a first-year coach, this is a great proving ground, and for no one more than the big, true junior Schuster-Smith, who gets to play against a couple future NFL corners in Marlon Humphrey (son of ex-NFL RB Bobby Humphrey) and Minkah Fitzpatrick. One AFC exec referred to Schuster as "pretty" physically, adding that he's a "very good-sized kid with a good catch radius. He plays the game physical, should have a good year." Another scout said that, as he sees it, Schuster is ahead of where 2015 first-round pick Nelson Agholor was going into his final season at USC. The flip side here is there's a rap that he's a little stiff, and his hands aren't outstanding, though he's coming off a broken hand that might've colored some of those opinions. Either way, at 6'2" with the requisite athleticism, he's drawn some comparisons to Cardinals receiver Michael Floyd, which is an indication he won't last long in April if he finishes strong at USC and declares.
• THE COLLEGE COLUMN: Emily Kaplan debuts The MMQB's new weekly column by sitting down with Alabama coach Nick Saban
* * *
EXTRA POINT
Josh Norman's agreement with Fox pushes the precedent Brandon Marshall set in 2014 to another level. Now, not only will there be an active player serving as an in-season analyst for a major network, but also one playing that role on game day.
I asked Marshall about that a few days ago, and his reaction was probably about what you'd expect: "I loved it."
And then, I found out something I didn't know. Marshall told me there were two reasons he sought to escape Chicago after the 2014 season. One has long been assumed to be a deteriorating relationship with quarterback Jay Cutler, something Marshall didn't want to delve into much. The other, he was happy to discuss.
By then, Marshall already had a year under his belt on "Inside the NFL."
"When I sat down with [GM] Ryan Pace and coach John Fox, we met, and I asked, 'What do you guys think about this?' It was a big topic," Marshall said. "And Ryan Pace said, 'Well, we can do that in the offseason.' So I was like, 'Well, what about half the season?' 'No.' 'What about once or twice?' 'No.' 'What about bye week?' 'No, you can do that in the offseason.'
"Right then, I knew I wouldn't be a Bear anymore, because I think that the business of the NFL is growing every single day, and players are being told to stay in a box and just play football, and we're missing out on a lot of opportunities, not only to grow as men and businessmen but to experience different things."
• FOOTBALL LIFESTYLE: Dominic Bonvissuto on fantasy apparel, a shoe company's ode to Johnny Unitas, the Chiefs' post-game style and more
Full disclosure: I've thought Marshall's decision to pursue a broadcast career in this way while he was still playing was brilliant from the start, which is why I wanted to ask him about it.
Ninety-nine percent of players lose the power of name recognition as quickly as The Turk takes them to the coach's office. So if a player knows he'll do TV post-football, it makes all the sense in the world to get started while he can still leverage his name to get a leg up.
"You look at how unhealthy guys are when we walk away from the league or the game is taken away from us, 80 percent of us go broke, have problems, marital issues, because we've been defined by this sport for all of our lives," Marshall continued. "So for me? You'll never have this opportunity again to have a seat at any table in the world. And while we're here, while we're relevant, we should absolutely tap into it.
"One of the reasons I did it is because I wanted to be thought-provoking, and for guys to start saying, 'Wow, we can do this. What am I doing on my day off? Can I be doing an internship or taking a meeting or shadowing somebody?' So when I saw Josh's deal, I cheered for it. 'Yes, that's exactly what I want to see, that's movement, that's progress.'"
Marshall then smiled, "But I think he could've told his coach. I mean, Josh, I don't know what the heck you were thinking, bro. C'mon, man, you gotta talk to your coach! I did that. I talked to Phil Emery and coach [Marc] Trestman and we made the decision together."
And it's with that in mind that Marshall gives Norman this advice: "The number one thing is just protecting the Washington Redskins. That's it. The NFL, it's not [just] sports, it's a media company. This is what it's about. I think he has the perfect personality. I would tell him to be himself, I'd tell him to take it serious, just like he watches film on a Demaryius Thomas or Odell Beckham Jr., he has to watch film on himself and other guys and prepare and take it serious, because it's a great opportunity."
It's pretty easy to see how a similar opportunity worked out for Marshall.
• Question or comment? Email us at talkback@themmqb.com.