Super Bowl 51 Prediction: Pittsburgh over Green Bay
A peek into the crystal ball reveals a February matchup in Houston featuring teams ready to atone for disappointing 2015 finishes. Plus reader mail on Sam Bradford, Colin Kaepernick and road trip perspective
There is an old saying in coaching that you never pick up the next season where you left off the previous one. The point basically is that every season is a new one and what you did eight months ago just doesn't matter.
Two teams would argue with that: Pittsburgh and Green Bay. They are my choices to reach Super Bowl 51 in Houston next February, and each has some memories that are helping with motivation.
On my training camp tour this summer, I sensed an unease in each camp. Aaron Rodgers is still upset with his level of play last year; he told me 2016 was his most important season. When you're as great as Rodgers, and you have lousier stats than Brian Hoyer for a season, that tends to eat at you for a good bit of the offseason. And he's not the only one in the Green Bay locker room who feels like some atonement must be made for how 2015 went down.
• THE MMQB PODCAST WITH PETER KING: Like the Monday Morning Quarterback? Then subscribe to the new podcast from Peter King.
As for the Steelers, I sense a disbelief that the season ended the way it did, with a crushing loss mentally and physically in Denver, coming off a Ravens-Steelers type of vengeful match in Cincinnati the previous week that robbed Pittsburgh of wideout Antonio Brown for the AFC semifinal loss. You can't convince the Pittsburgh offense that if Brown played that day in Colorado, it would not have been the Steelers rather than Broncos facing Carolina in the Super Bowl last February.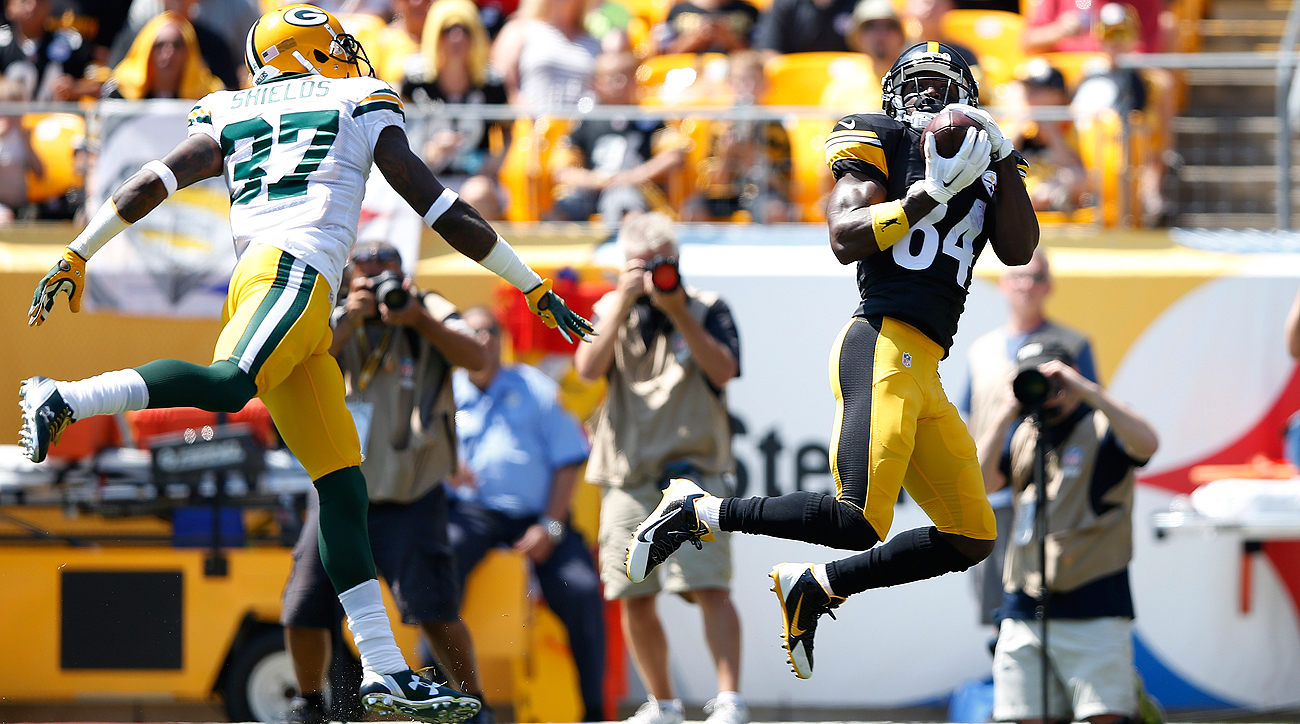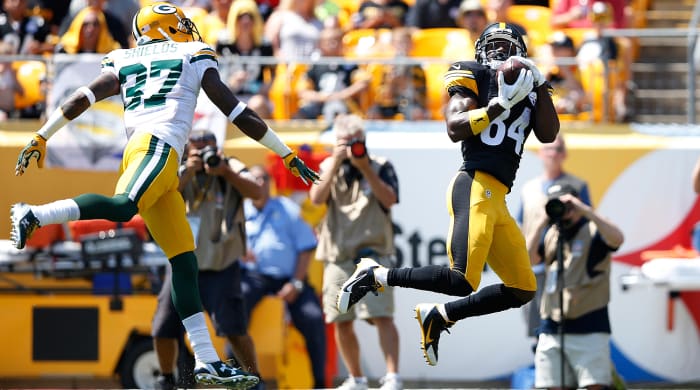 I'll start there, with the Steelers. In Latrobe this summer, there was an emphasis on the small things all over their training camp. In all camps, you see receivers staying after practice to work with the JUGS machine to improve hands. Brown has taken this to another level. He catches 130 passes after each practice from the machine. Then he has an assistant mug him while he is trying to make one-handed catches and catches close to the ground. "If you're not getting better," Brown said that day, "you're getting worse. I'm not the only guy around here who feels that way." I think Ben Roethlisberger is good enough to make up for the full-season loss of Martavis Bryant and the quarter-season loss of Le'Veon Bell to advance to his fourth Super Bowl in 13 years. On defense, year two of coordinator Keith Butler will have the Steelers feeling more comfortable with their post-Dick LeBeau scheme.
For Green Bay, this could be the last chance Clay Matthews and 36-year-old Julius Peppers have to be impact players together on a playoff team. GM Ted Thompson is a ruthless sort, and wouldn't feel guilty if he had to cut one or the other for age or performance after the season. It's only a matter of time before Peppers gets that tap on his shoulder. I love versatile defensive tackle Mike Daniels. The Packers will have to be good with some unproven players at inside linebacker (fourth-round rookie Blake Martinez needs to prove much as a nearly every-down player), which is why Peppers, even at his age, is so important.
• RON RIVERA ON SB 50, CAM CRITICS AND SUSTAINING SUCCESS: The Panthers coach talked with Albert Breer on the eve of the season
On offense, getting back Jordy Nelson promises to cure so many ills. Nelson takes the pressure off Randall Cobb to produce beyond the way he should as a complementary receiver. And with Eddie Lacy back in reasonable shape, it's going to set the stage for Rodgers to have his full array of weapons and to be able to be Aaron Rodgers again.
I thought about several other Super Bowl possibilities on my camp trip this summer. I almost went for the shocker and put Oakland as the AFC representative; I was sorely tempted because of the explosive offense and a defense that has a genius talent in Khalil Mack. I also was tempted by Arizona and Minnesota in the NFC and Denver in the AFC. But the quarterback situations in January for all three gave me pause.
New England's a tempting pick, because of intense motivation and a manageable schedule, as well as the fact the Patriots are still really good. Carolina I could see returning out of a weak NFC South, and Seattle could make another run with my MVP pick, Russell Wilson. (More picks from everyone at The MMQB coming on Friday.) But give me the Steelers in Houston 22 weeks from now, 30-23 over Green Bay. I call it a legacy-builder for Roethlisberger and a way for a coach who gets far too little credit, Mike Tomlin, to ascend to the perch of the great coaches, where he belongs.
Now for your email...
* * *
ONE OF THE BEST EMAILS I HAVE EVER USED IN THIS COLUMN
I'm an Air Force vet and served my country right out of high school. I'm a Cowboy fan and am programmed to hate the 49ers for the rest of my life. I can't help to feel bad for this whole Colin Kaepernick fiasco. Luckily, Kaep listened to good ol' Nate Boyer and actually put his money where his mouth is. The problem I have with most Americans and vets is that they don't even know what being a Patriot is. Most wouldn't pick up a gun to defend our country. We do things for selfish reasons. No one should be speaking negatively about Kaep unless he is a true patriot. A lot of us join the military for selfish reasons. I was a 17-year-old punk who knew nothing about our country. All I knew was that I had no plan after high school and college didn't sound appealing to me. Now I'm a 36-year-old man and would like to think I have a better understanding of this world. At the end of the day, we do live in the greatest country in the world. We just seem to have so many people who would rather spew venom. It's always something negative to talk about or report. I do not agree with Colin, but I can respect his decision. What he is doing is not hurting me or anyone I love. He is not hurting America.
—Hilario Gonzalez
What a great email. I have thought so many times, Hilario, that we raise our children to speak up for what they believe. And I have thought so many times that we condemn the great athletes we watch and follow when they are robots and refuse to take a stand on the issues of the day. I applaud you, Hilario, for your service to the country and for applauding Kaepernick. And I applaud Kaepernick for doing what he feels strongly about.
• INSIDE THE TRADE THAT COULD RESHAPE THE 2016 SEASON: Two GMs recount all the action that led to Sam Bradford going from Philly to Minnesota
KAEPERNICK HAS ALREADY TAKEN ACTION
What do you think of folks (like Nate Boyer that you mention in MMQB this week) saying that Kaepernick needs to take action himself in order to make his gesture regarding the flag meaningful? I completely disagree. Kaep has already put a target on his back (with plenty of folks taking aim), and risked potential sponsorships and his professional career. He's already done plenty in starting this conversation at a time when most celebrities just give us soundbites for fear of offending.
—Bryan Barreras
But if Kaepernick simply speaks without following it with community action, how much has he done? I hope we see him out in San Francisco and in other places, and I hope we see him supporting the causes that could bring enlightenment to the plight of some African-Americans.
• CHARLES WOODSON'S NEW JOB: Jenny Vrentas tagged along as the retired NFL defensive back transitioned into ESPN analyst
THANKS EVAN
What a great article by Evan King on his training camp trip with The MMQB staff. One of the many things I enjoy about the MMQB is the variety of viewpoints—Evan's is quite an extreme one for a football site—because it adds to the rich tapestry of views expressed. His point about Peter's interests beyond football ring true to any keen reader of his MMQB column, and the other contributions to the site in general. "A starved cat in a bison stampede" will join my vocabulary too. I'm fairly green with envy at what sounds like a fantastic experience. Thanks Evan.
—Mat Lines, London
What was great about having Evan along for the ride for two weeks was his sense of perspective. We were all excited about the trip and the new season, and we spent hours between tour stops talking about story ideas … but there's a country out there too, a country with half the population that wouldn't know Tom Brady if he knocked at their front door. And that's okay. What Evan did is accentuate the fact that he loved the fact that those in the van were ridiculously into the job we've chosen … but also that the greater world out there looks at football as a game and not much else. Valuable perspective for us all.
• THE BEST NFL T-SHIRTS: The MMQB's Football Lifestyle column debuts with a roundup of the top men's and women's T-shirt options for all 32 teams
VIKINGS KEPT SEASON ALIVE
I agree with your conclusions on the Sam Bradford trade. I would also add another important one that is going unsaid. If the Minnesota Vikings did not do that trade it would look like (and would be) they were giving up on the season before it even started. That is bad enough in itself, as you point out, as a signal to your team and the talent they have put together. But even worse would be the signal to your fan base and city. The Minnesota Vikings, as NFL teams are wont to do, held their fans hostage for a brand new stadium, including using the L.A. threat. If they gave up on their first season in their brand new stadium? Very disrespectful, very bad look for the team.
—Kevin Brink
Interesting, Kevin. Hadn't thought of that.
• THE 53RD MAN: Tim Rohan looks at the edgy life of three bubble players as final cuts loomed
SHORT AND TO THE POINT
It is absolutely stupid to give up a first-round pick for Bradford, and you will find out this season.
—Mahmoud Atry, Marlboro, N.J.
You know, Mahmoud, of the avalanche of reaction I got to this column, there are tons of people who agree with you. I disagree, in part because of how Bradford ended last season in a comfort zone at quarterback (final three games: .704 accuracy, 96.6 rating, 354 passing yards per game), in part because a coach who has done marvelous things with good downfield passers (Norv Turner) now has a hold of him, and in part because Sam Bradford has never had a top-10 running game on his side in his NFL career. Now he has one. So we'll see what happens. But if I'd been Rick Spielman, I'd have done the same thing. I'd have kept hope alive and traded for Bradford.
• Question or comment? Email us at talkback@themmqb.com.