Training Camp Conclusions
After a month on the road seeing so much of the NFL, here are a handful of takeaways, including the team that impressed the most. Plus reader mail on Josh Brown, Jerry Jones and San Diego's stadium reality
So I arrived home Tuesday morning on a redeye from Phoenix after most of four weeks on the road at NFL camps and stadiums, and when I walked into my apartment in Manhattan, I realized it was exactly four weeks ago to the morning that I'd seen my first practice of the summer—Packers, on Ray Nitschke Field, across the street from Lambeau.
The bookends were interesting: Green Bay at the beginning, Arizona at the end ... the two teams I'm deciding between for my NFC representative in Super Bowl 51. That's a story for another day. I really haven't decided, and I've got some time.
But I thought, on my first mailbag column of the month, I'd throw out a few opinions from the road, before I get to your mail. Which was plentiful, by the way.
From my 20 stops over 28 days: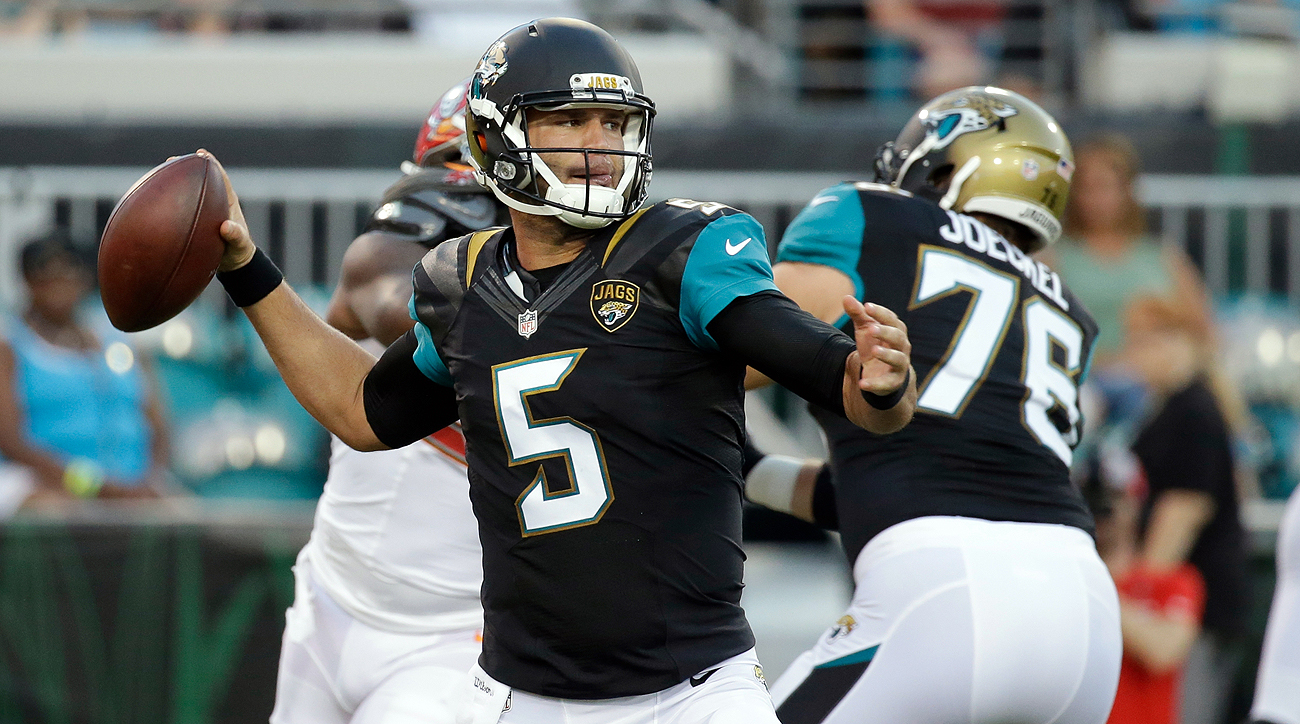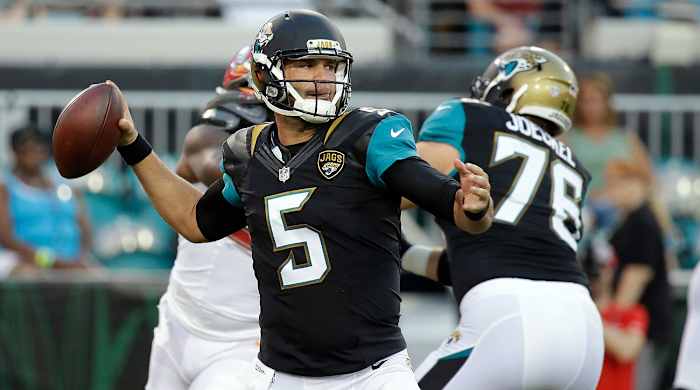 • TEAM THAT IMPRESSED ME THE MOST: Jacksonville. Saw a Friday night stadium scrimmage, and this defense is finally looking like a playoff unit. Dante Fowler and Malik Jackson will be beasts, and the secondary, other than Jonathan Cyprien, is almost all new. Then there's Year Three of Blake Bortles, who threw 35 touchdown passes last season, then spent lots of chemistry time with Allen Robinson (1,400 yards, 14 TDs last year) in the offseason. The Jags should be in contention for the AFC South title into late December.
• MOST MYSTERIOUS PLAYER: Breshad Perriman, wide receiver, Baltimore. I didn't see him practice—he was just taken off the physically unable to perform list this week, 16 months after the Ravens drafted him in the first round to be the cornerstone receiver of the second half of Joe Flacco's career. No one knows if Perriman is really good, or if he can stay healthy. "I've really only practiced with him a few times," Flacco told me early this month. But the Ravens really need Perriman.
• THE MMQB AT TRAINING CAMP: Our reports on location at all 32 camps
• THE PLAYER WHO WILL SURPRISE YOU ALL: Keanu Neal, safety, Atlanta. So, God bless him, Falcons coach Dan Quinn took The MMQB team into his office for 35 minutes on our visit and showed us a little safety tutorial. He showed us some plays from last year, with tight ends and receivers and backs catching intermediate stuff or wheel routes and then turning upfield with room to motor. Then Quinn showed us the Kam Chancellor-sized Neal, there to whack receivers the moment the ball arrived. "I think he'll make a difference, pretty early," Quinn said. Looks like it.
• THE TEAM THAT COULD WEAPON YOU TO DEATH: Arizona. I am serious about this: The Cardinals' third wideout, John Brown, could catch 90 balls. The fourth, Jaron Brown, plays all four wideout spots on the Cards' receiver tree and plays them equally well, and Carson Palmer loves him. Healthy, Arizona is going to score a ton of points.
• FANS WHO MIGHT SURPRISE THE LEAGUE: Rams fans. As one Los Angeles vet told me after last Saturday's win over the Chiefs, "We might have the kind of home field advantage the Seahawks have." Too early to tell if the honeymoon will last, but a crowd helps a team's defense the most, because the opposing offense has to struggle to hear itself over the din of the crowd. And Seattle will be in L.A. first, in Week 2, so we'll see if preseason madness will carry over. But those were some crazy fans I saw Saturday night at the Coliseum.
• SIGHT I WILL NOT FORGET ON THE CAMP TOUR. Easy. The magic show in the Panthers cafeteria. But more importantly, Luke Kuechly spending more than an hour with this magician from Myrtle Beach, desperate to learn a trick or two. It's telling that Kuechly was so interested in soaking up knowledge.
• MOST BEAUTIFUL THROW OF THE TOUR. In Cincinnati, in combined practices with the Vikings, Teddy Bridgewater's deep rainbow to Stefon Diggs over the lunge of Adam Jones. "F---!" Jones said. That happens when you get beat by a perfect throw.
More thoughts on the camp tour come Monday. Now on to your email.
• MONDAY MORNING QB: Peter King on Denver, L.A. and chicken-bleep
* * *
JOSH BROWN SUSPENSION
No mention of Josh Brown's alleged 20 instances domestic violence? When can we expect the reporting to occur? I understand his wife didn't want to cooperate, but is that the athlete's out now? Pay your victim and it goes away? The Giants knew about this for months and they keep him employed? The Giants should react swiftly and cut Brown. You wonder why some readers think you favor the NFL and certain franchises, and this is an example why. I'm sincerely disappointed.
—Bill G., Broomall, Pa.
Good point. As I often say, I miss two or four or six things a week, particularly when I am on the road for all seven days, and that was the case this week. No excuse, but it is the reality of the Monday column. My opinion is that the NFL should have been tougher on Josh Brown because of the original reporting of the crime to police by Brown's wife. I distinctly remember the NFL after Ray Rice saying that even if it didn't get full cooperation from witnesses or police, it would retain the right to punish players harshly. The original evidence in this case, in phone calls by Brown's wife to police, should have been enough to give him more than one game. Whether he should've gotten two or four or six, that's open to debate. But I thought one was light, particularly given the NFL's emphasis on this as a major issue confronting the league.
• COUNTING THE DAYS WHILE MY MIND SLIPS AWAY: Suffering from memory loss, ex-tight end Ben Utecht writes book framed as love letter to family
THANKS DON
Horrible news about SI.com dropping Don Banks from the staff. As much as I enjoy your MMQB, it's always been Banks' Snap Judgments I read first on Monday mornings. I will miss his column greatly. Please keep us informed on where Mr. Banks ends up writing.
—Cliff P., Chesterfield, Va.
Really glad to see so many people like you respond, Cliff. Don told me the other day that despite the stunning news that he was being laid off, it did get him to understand how much his writing had meant to so many people over the years. I will keep you posted on his next gig, or gigs.
THANKS DON II
I'm not happy. Younger, cheaper talent will be hired. It happened to me in the comic book industry. And thanks, Peter, for letting us know. I love your writing too. Keep it coming.
—Tom L., Savannah, Ga.
THANKS DON III
Losing journalists like Banks leaves all of us less erudite and chips away at what we all truly love about sports: family, heart and the lessons that only sports can teach us.
—Roy T.
• SCOUTING 2016: Andy Benoit's team-by-team analysis
SAN DIEGO REALITY
I won't get into the ins and outs of how much money the stadium would cost, who would be responsible for cost overruns, and other serious issues with the proposed stadium deal in San Diego. Where you and Philip Rivers miss the boat is that this IS money that is coming out of the community's pocket. We are creating new taxes and then directly diverting that money to subsidize a stadium, as opposed to starting work on the billions of dollars of infrastructure that has been deferred, investing in our public schools that so desperately need it, or even investing in the hundreds of millions of dollars of fire stations that the city doesn't have enough of. So yes, this is absolutely taking money out of the community. There's no way of arguing that it isn't. I'm a 32-year-old who grew up in Cleveland with my grandfather taking me to Indians games at old Municipal Stadium. I don't even have children. But if my options are to help subsidize a billionaire's new stadium—by the way, Qualcomm is still not paid off—or invest hundreds of millions of dollars into our city schools, streets and fire houses? That's not such a hard decision.
—Ben S., San Diego
I get it, Ben. And that is why it is very hard to imagine this vote passing. But I also would say that once the Chargers are gone, the replacement cost for a new franchise would be out of sight, and thus it is most likely that pro football would disappear from San Diego. That's why, given the alternatives (none of which are good) I think the best is to approve the hotel/motel tax.
JERRY JONES AND THE HALL
I am a big fan, but I feel I need to point out how far off the mark you were in your Jerry Jones assessment. Jerry Jones introduced something to the NFL that wasn't present before him: unadulterated greed. His marketing and sponsorship revenue increases gave the NFL a single provider for merchandise (Reebok, Nike), television (DirecTV) and video games. All of which were bad for the average fan. His "upping of the stadium game" has led to hundreds of MILLIONS of dollars foisted on taxpayers to subsidize stadiums of extreme extravagance. Ford Field cost under $500 million but was sufficiently nice to host a Super Bowl. Now stadiums have quadrupled in cost, which led to the Rams and possibly Raiders and Chargers to relocate. His introduction of greed also brought in new types of owners. Instead of passionate football people, greedy businessmen who will bastardize the game for a buck are everywhere. Jerry Jones helped turn football from a sport into a business, which has led to ownership solely focused on profit rather than fans or the good of the game. Jerry Jones mortally wounded the NFL. It's just a matter of time until it bleeds out.
—Anthony K.
You share the feeling of many anti-Jones people. I have heard from many of you. The fact is the NFL has grown in value exponentially in his time, and some people hate that. His franchise is worth 27 times what it was the day he bought it 27 years ago. But regarding the NFL "bleeding out"—have you seen the TV ratings, Anthony? Not trying to be flippant here, but the game won't die because of Jones's avarice. It will die only if the concussion/head trauma issues kill it, and those have little to do with Jones' impact on football.
• FOOTBALL LIFESTYLE: Dominic Bonvissuto takes early look at NFL's 2016 apparel collection. Plus throwback football gear, Roger Goodell socks and more
THE BIKE LANE TWEET
You need to quit apologizing for the tweet and apologize for the illegal and dangerous act.
—Jennifer D.
I made a mistake, Jennifer, and was rightly called out for it. I am sorry.
• Question or comment? Email us at talkback@themmqb.com.