Inside the low-profile life of top QB prospect Carson Wentz
A look inside the low-profile life of the quarterback who just may end up being the No. 1 pick in the 2016 NFL draft, Carson Wentz.
This story originally appeared in the April 18-25, 2016, edition of Sports Illustrated. Subscribe to the magazine here.
Get all of Greg Bishop's stories as soon as they're published. Download the new Sports Illustrated app (iOS or Android) and personalize your experience by following your favorite teams and SI writers.
Carson Wentz arrives alone and on time at 8 a.m. sharp. He slides into the corner booth at the hottest breakfast spot in Fargo, N.D., where signs on the table advertise banana cream pie and a Friday fish fry and all-you-can-eat pancakes after midnight. No one bothers Wentz here, except the waitress.
"Welcome to Perkins."
Wentz orders a bacon-mushroom-and-tomato omelet lathered in hollandaise sauce, along with breakfast potatoes, pancakes and a cinnamon roll. It's good to be 23. He landed back in town at 10:30 p.m. one night earlier, after meeting with an NFL team he declines to name, and went home, straight to ... the air mattress.
Along with five roommates and three dogs, Wentz lives in a house near campus that he describes as a "total college spot": five bedrooms, stains on the carpets, dishes piled high in the sink. And each night he retires with his 3-year-old golden retriever, Henley, to the air mattress in the living room, where they snuggle under a worn red comforter next to a small TV. There's no cable. Wentz can't even watch himself on ESPN. Between trips, his suitcases double as dressers.
Watch NFL Draft Live tonight, starting at 7:30 p.m. ET. Presented by MET-Rx and Carhartt.
For a guy who considers himself a planner, an organizer, Wentz's current living situation is the opposite of planned and organized. He has to remind himself: At least it's temporary. Because while his roommates study agricultural economics, physical and health education, chemistry and civil engineering, Wentz is prepping for something else: the jump from North Dakota State's starting QB to (probably) a top 10 pick in the NFL draft. In two weeks the guy crashing in the living room with his pooch will be the face of a pro football franchise.
"This stresses me out," Wentz says—and here he means his living quarters, not his draft status. "I showed my agent [the house] a few weeks ago."
The agent's response? "No one's life is about to change more than yours."
Wentz has plans. On this day: Throw to former teammates, sign up for TSA PreCheck. Later this month: Decide whether he'll travel to Chicago for the draft, which begins on April 28; if so, buy a suit and cut his hair. Later this year: Become the most recent FCS quarterback to reach the NFL, after Tony Romo (Eastern Illinois), Joe Flacco (Delaware), Ryan Fitzpatrick (Harvard), Josh McCown (Sam Houston State)....
An older man approaches the table. "Excuse me," he says. "Good luck in the draft."
"Thanks," Wentz says, sheepishly. The attention, the fame—it's all a little much for someone who didn't receive a high-level Division I scholarship offer and who started for just 2 1/2 years at quarterback in high school and college combined. Wentz is hearing that some QB-desperate team might trade up to draft him with the No. 1 pick (and indeed, the Rams and Eagles, two teams in need of quarterbacks, have traded up to the top two spots.) He is suddenly being compared with North Dakota's most famous athlete, Roger Maris.
It's true. All of it. Yes, the Bison went 71–5 and won the FCS championship in each of Wentz's five seasons in Fargo, including the two he started. Yes, his report card was perfect, never even an A-minus. Yes, his course work in health and physical education meant that he regularly volunteered, sometimes with children.
• FARRAR: Counting down the top 50 | BURKE: NFL draft team needs
Wentz is the latest (maybe the greatest) product of the most dominant football program that few fans outside the state have ever heard of. The Bison are winners of 13 national titles (eight in D-II; the last five in FCS), and they accounted for seven NFL players last season alone. Alumni include Jaguars coach Gus Bradley and 49ers general manager Trent Baalke. Wentz particularly loves the introductions at the Bison's Fargodome, where 19,000 supporters stand and scream throughout each home game (while 5,000 more wait eagerly on a list for season tickets). The lights dim before each kickoff and players sprint through an inflatable helmet as AC/DC's "Thunderstruck" blasts over the sound system.
Wentz grew up in Bismarck. His dad, Doug, a loan officer, played linebacker at Northern State, in Aberdeen, S.D.; his mom, Cathy Anhalt, works for the American Heart Association. They divorced when Carson was young. He was a hyperactive child. He never stopped, never stayed inside. Heard of three-sport athletes? Wentz competed in six. He begged his older brother, Zach, to play football, basketball, baseball, hockey, soccer and golf with him.
NFL draft backup plans: 10 fallback options after first round
Sometimes that came with a price. Carson injured his right shoulder playing baseball one spring, preventing him from playing QB his junior year at Century High. By the time he was a 6' 5", 200-pound senior (from a 5' 8", 125-pound freshman), recruiters started to take notice. A few, anyway. Central Michigan called. So did North Dakota State.
"He was a tall, lanky kid with a superstrong arm and speed," says Bison receiver Zach Vraa of those first three years Wentz spent backing up Brock Jensen (now with the CFL's Ottawa Redblacks). "He picked things up faster than anybody I've ever seen." Including forks. Wentz ate his way to 235 pounds, squeezing in four daily trips to the dining hall, where he lived by the motto Eat until uncomfortable. He also became an avid hunter in those early college years, stalking deer, pheasants, ducks and coyotes with a bow or a 12-gauge shotgun.
When Randy Hedberg became the Bison's quarterbacks coach before Wentz's junior season, the other staff members told him, "Wentz is special; he can play in the NFL." On the field, finally starting that season, Wentz suggested they might be right. He threw for 3,111 yards and scored 32 touchdowns.
More telling of his NFL-level composure: He led fourth-quarter comebacks in three of four 2014 playoff games. Against rival South Dakota State in the second round and Illinois State in the championship game, he scored game-winning TDs in the final minute, capping the drives with plays he called himself. "Like it was no big deal," says NDSU coach Chris Klieman.
When the Bison lost last October to South Dakota on a game-ending field goal, it marked their second defeat of the season and only their fifth since the start of 2011. Wentz went to bed that night with a sore right wrist; when he woke up it was swollen. An X-ray revealed a nondisplaced fracture. Wentz's throwing hand was broken.
The QB scheduled surgery for that Wednesday, but when that day rolled around, coaches spied him in the quarterbacks' room, analyzing game film with his backup, Easton Stick. Wentz figured he wouldn't play another college game unless Stick won out in his absence, extending NDSU's season into the playoffs. "No pressure," he joked. "You only have my college career in your hands."
It's time to finally move on from the circus that is Deflategate
With Wentz mentoring him, Stick closed out the regular season with five straight wins, followed by three playoff victories. Wentz ran through the inflatable helmet one last time, on Senior Day, his wrist in a cast, but in the background he says some people encouraged him to think about forgetting 2015, preparing instead for the NFL draft. His response: "That sounds terrible."
Three weeks after Stick whipped Richmond 33–7 in the national semifinal, on the eve of the title game, Klieman announced that Wentz would be starting against top-ranked Jacksonville (Ala.) State. One day later the senior threw for 197 yards and ran for 79 more, scoring three times in the 37–10 triumph. Afterward, he wrapped Stick in a bear hug, stayed through the trophy presentation, then hopped a plane to Los Angeles, celebrating in first class with a single Coors Light.
His life forever changed at that exact moment.
"NFL people always look for flaws in lower-division players," says Hedberg. "I promise you, with Carson Wentz, they won't find any."
Barely 36 hours after his collegiate swan song, Wentz began working out in L.A. with journeyman quarterback Ryan Lindley. He'd called up Lindley, 26, a few weeks earlier and peppered him with questions for nearly three hours. Now they needed to find a way to satisfy those QB-needy teams who might consider drafting a small-school prospect with minimal starting experience against perceived lesser competition.
Their showcase started at the Senior Bowl, where Wentz played the first quarter for the North team and completed 6 of 10 attempts for 50 yards, whizzing tight spirals past the heads of the best defenders FBS had to offer. The quarterback picked up his case four weeks later at the combine, where he ran a 4.77 40-yard dash (tied for second among 15 passers) and crushed his interviews with general managers, as the buzz—top 15! top 10! top five!—began to build.
Wentz met NFL signal-callers Ben Roethlisberger and Blake Bortles. He huddled with dozens of pro teams. They all knew about the Bison, all the wins and the titles, and when they heard about Wentz's grades and the community service, they wondered, Was "too good to be true" actually "too good to be true"? "NFL people always look for flaws in lower-division players," says Hedberg. "I promise you, with Carson Wentz, they won't find any."
Best NFL First-Round Picks by Draft Slot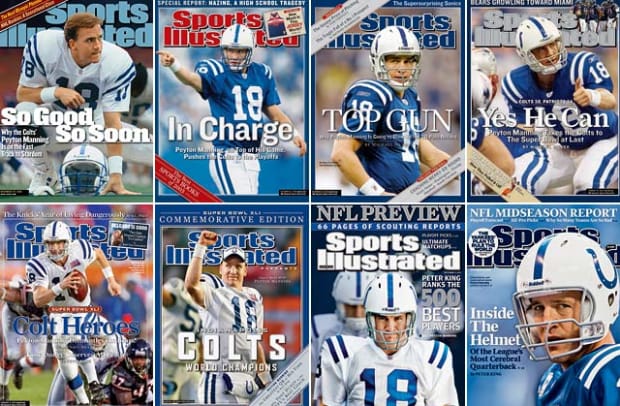 For his pro day at the Fargodome, on March 24, Wentz forsook the safe approach and showcased his mobility and arm strength with a variety of throws. No longer was anyone questioning whether he deserved to be drafted in the first round, only whether he should start right away or spend a few seasons marinating as a backup. "I gave him the Peyton Manning speech, the Tom Brady one," says former Buccaneers and Raiders coach Jon Gruden, who hosted Wentz as part of his QB Camp series on ESPN. "The relentless work ethic, the heart ... I love the kid. He's one of the most pro-ready I've seen in a while."
While Gruden loves hyperbole about as much as Wentz loves pancakes, the consensus from less melodramatic experts has Wentz pegged as either the best or the second-best quarterback, after Cal's Jared Goff, in a draft that lacks both stars and passers. One major difference between the two QBs: Wentz excelled in an offense deemed by draftniks as pro style, which Wentz says means "under center, play-action, dropback, shotgun, make reads, make checks, telling linemen where to slide.... We're doing all of it."
• KING: Inside the Titans-Rams trade for the No. 1 pick in the NFL draft
Fortified by his Perkins feast, Wentz points his gray Silverado pickup toward the Fargodome for yet another throwing session. To buy the truck, he borrowed money from his father, a loan he plans to repay with his signing bonus.
Out on the field he gathers his teammates and they stretch and run and catch in silence. The only sound: Wentz's passes whistling through the air, almost shrieking. He completes slants and out routes and comebacks, and then he leaves, directing the pickup back toward his house. There he'll find no draft speculation, no cable, no comparisons with Flacco or Goff—only Henley and five roommates and an air mattress just waiting to be deflated.