When it comes to football D-leagues, resources are crucial, but locality may be the real key
The Pacific Pro League is the latest developmental league that's hoping to provide its players with a route into pro football. But before it depends on its big budget and names, it should take some notes from three other prominent NFL D-leagues that have thrived on their locality.
Last year, 16,175 college football players were eligible for the NFL draft. Only 256 of them were drafted. When it comes to playing professional football, to say the odds are stacked against you is a gross understatement—Americans have a better chance of getting struck by lighting, (1 in 12,000), or equally as painful, getting audited by the IRS (1 in 175.)
Yet, regardless of your tax evasion status, college football is the most obvious, direct, route into the NFL. It's often derided as a simple pipeline, but it has the resources to provide scholarships, opportunities, and support to a great many student-athletes. The prospect of going to the pros, in addition to those resources, is the carrot that helps draw these students in, while the NFL, which maintains a strong trust in these college programs, has the ability to examine and vet potential draft picks. NFL coaches can call their college counterparts for updates about players, or more importantly, for film of them.
2017 NFL Mock Draft 6.0: Post-Super Bowl look at the first three rounds
But for all the potential exposure, for all the time and commitment given by these players to the sport, only 1.6% of seniors will play at the next level. It seems more likely that one of them will be struck by lightning while debating his tax-deductible donations with unfeeling state bureaucrats, than be in the league right now.
Standing out from the crowd and impressing a scout is hard enough, but for borderline players, or those from smaller programs, getting in front of one may be even harder, if not impossible.
Some players simply need more time to develop. Some need a second chance. Others still need their first. Developmental football leagues fill the need of these niche groups. D-leagues are a rejection, in many ways, of the traditional college football model. They're for the athletes whose financial needs cannot, or would not be met by the college football community; for those whose mistakes have cost them an opportunity; for those who simply have no interest in four more years of school or the hefty price tag that might be attached. And sometimes, they're for those who just love playing football.
The most recent of these endeavors to make headlines is the proposed Pacific Pro League. Headed by notables such as Tom Brady's agent, Don Yee, former NFL receiver Ed McCaffrey, and past Fox executive Jeff Husvar, and with big names such as ESPN's Adam Schefter, former coach Mike Shanahan, and former VP of NFL officiating Mike Pereira all attached to the project, the Pac Pro aims to develop the next generation of NFL athletes. Targeted at high school graduates who have not gone to college, and who have not been out of school for more than three years, the spring ball league currently aims to offer an average salary of $50,000 and even includes the option for one year's tuition and books at community college. For the four teams of 50 players, the West Coast-based Pacific Pro League seeks to create an immersive professional football environment that's unhampered by normal NCAA time restrictions, and to use its modified rules to put its players from across the country in front of the eyes of coaches.
Suspended Disbelief: Tom Brady seals status as greatest QB ever in Super Bowl LI
Of course, in the world of developmental football, everything might as well be set in sand. Developmental leagues, and especially competitors or alternatives to the NFL like the star-studded USFL (which involved now-President Trump and Herschel Walker), the minor league UFL, or the WWE-style XFL, have come and gone in America to great fanfare and then financially-burdened whimpers.
Smartly, the Pac Pro has no intentions of competing with the NFL, but rather wishes to be its new feeder-system. Yet as this new league makes promises regarding salaries and benefits, it may also want to take a few lessons from the developmental leagues that already exist and have been establishing themselves for years in this unusual industry.
In these three prominent D-leagues, games are usually played in high school stadiums, in front of family , friends and maybe a local following if the team is popular enough. Payment varies wildly between the leagues, and in some cases, doesn't exist. But for the players, making money isn't really the point; it's about making waves. Each league uses its connections to put its players or their film in front of scouts from the NFL, CFL, AFL, and even European teams.
MMQB: In Southern California, a new NFL D-league grows
Quentin Hines, a former Patriots player, established the Rivals Professional Football League in 2012, and footed most of the bill himself. Initially based around Detroit, the league of four teams, now eight with an expansion to Miami, "is by a player for the players," according to Hines. Playing a fall season up north, and a spring one in Florida, the Rivals league is aimed at players 18 and over who have exhausted their eligibility or never had the opportunity to compete at the next level. Payment is performance based: rookies need to reach certain statistical milestones before seeing any cash, while veterans see salaries that can range from $500 to $1,500, subject to increase based on the numbers they put up throughout the season.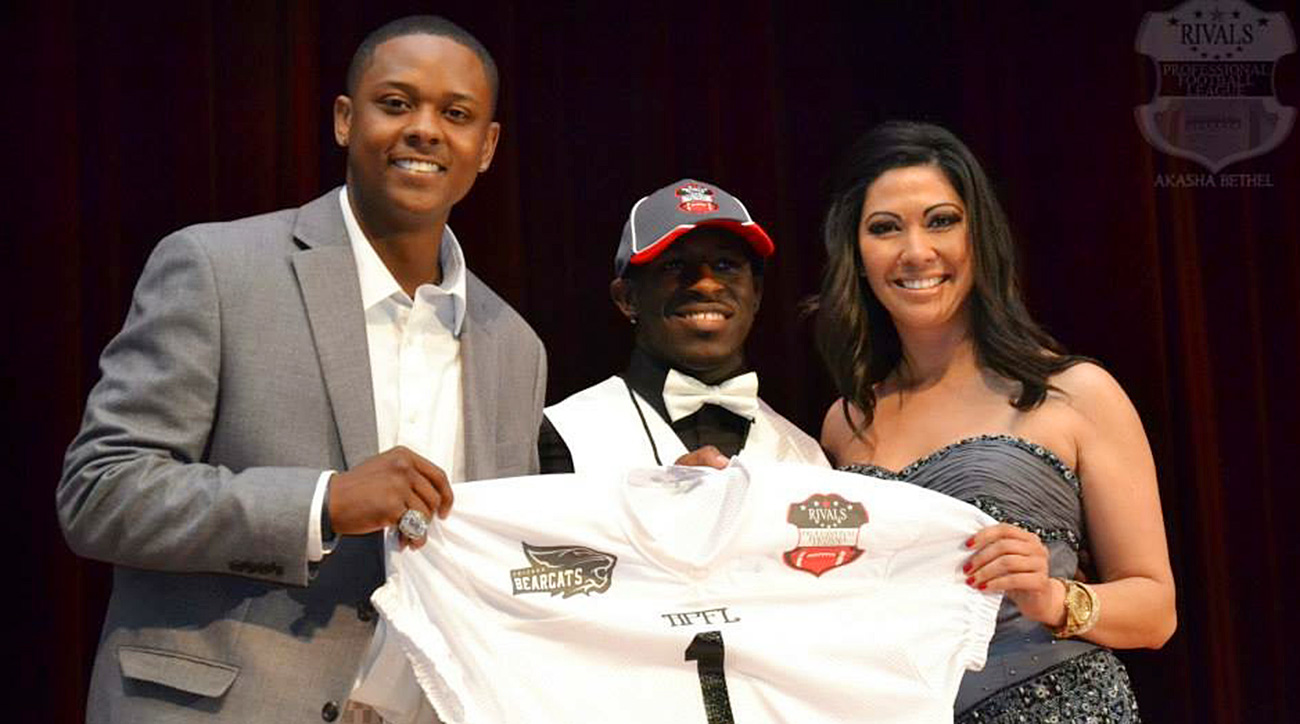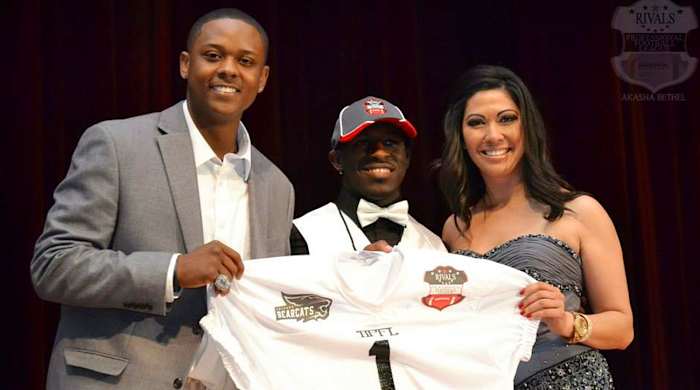 The league has found its way into the Detroit-area news through high profile signings of well-regarded local athletes . For some, Rivals has proven to be a stepping-stone. Most recently, RPFL alumnus Keith Franklin, formerly of the Pontiac Generals, has earned a spot on the CFL Saskatchewan Rough Riders.
When asked if he thinks the Pac Pro can stick around, Hines says "I hope they do. I've seen so many of these leagues come and go." Hines, a veteran of the business for five years who has engaged in sponsorship negotiations large and small, is critical of the Pac Pro's gilded predictions.
"Come on, man," he interjects, referencing the high salaries and benefits the Pac Pro intends to provide. "Those numbers are unrealistic." Considering that the Pacific Pro League is planning to spend about $10 million in salaries by the end of its first season without a major sponsor or TV deal locked in, Hines has a point.
But then again, money has never really been the issue, at least initially, for superstar-backed leagues. It's the lack of interest and support and the poor quality, which catches up to the league, weighs it down, and eventually sinks it. With the big-time names the Pac Pro has on board, finding sponsorships will be easier and footing the bill won't be nearly as precarious or burdensome as the owners of other leagues have found. But in the long run, if it cannot sustain itself and deliver on its promises, the Pac Pro may just be another blip on the radar.
Charles Thompson has been in this business a while, and he's certainly seen his share of football leagues come and go. Thompson founded the Gridiron Developmental Football League in 2010, in Memphis, Tennessee. After a traumatic work injury which involved being hit and pinned by nearly 20,000 pounds of burning steel, Thompson found the conviction for a new league while recovering in the ICU. Thompson, who had played football when he was growing up, and later while in the military, and who had coached former-NFLers Dewayne Robertson and Cedric Wilson in their youth, decided he wanted to continue to help players "realize their dream."
The GDFL uses a franchise model and has expanded to almost 32 teams throughout the Midwest and into the East Coast. Almost 32, because as Tracey Scott, the Chief Operations Officer of the league explains, "many owners start franchises without understanding the investment of time and money it takes for this level of competition" and some teams come and go with the seasons. The GDFL opens its doors to players who missed out on a college experience due to poor choices or financial considerations, as well as experienced players who need help honing their skills for the next level, and pros who need a hand getting back onto a team. It's a wide net, and the GDFL has seen more than a few signings by various professional teams. Saints cornerback Delvin Breux started his journey to the NFL with the GDFL Bayou Vipers, and Tyron Carrier, of the Wichita Falls Nighthawks, played wide receiver for the CFL's Alouettes and now coaches at West Virginia. However, in part because of its franchise model, payment in this league varies per team and per skillset, with some players settling for gas money and others just for the possibility of face time with scouts. "We're here as a safety net for those guys who still may have an opportunity," Thompson says, whether that opportunity is in the states, or increasingly, overseas. He laughs slightly when the Pac Pro League's figure of $50,000 is mentioned. "At the end of the day, " Thompson sighs, "we've watched so many leagues make those claims," though he concedes "it's probably well intended."
Well intended or not, it is similar claims that led to the creation of the final developmental league. Five years ago Bernard Hunt and his wife started the Amateur to Professional Developmental Football League in Dothan, Alabama. Originally, they were franchise owners of a team for another developmentalleague, but became disillusioned with the promises and predictions that never came to fruition.
• Order the Patriots' Super Bowl LI commemorative package
"They were lying," Hunt says, and so he moved to form his own league, and with a franchise system he has established 32 teams located mainly in the Southeast. In a markedly different approach from the previously mentioned leagues, the APDFL chooses not to pay its players in order to preserve their eligibility for college. Hunt, who played intramural football while in the Navy, and later went to secondary school, believes that "all avenues should be exhausted to go to college." The ADPFL uses college football to help its players get enrolled and get support.
In that regard, the ADPFL has done rather well. Hunt attests that the league has sent 112 players to college programs, some as esteemed as the University of Houston, and six of its alumni have played at Florida International University. One former ADPFL alumnus Niqua Hill (listed as Kway Hill on the roster), currently plays for North Texas. "Bernard has a league that is professional," Hill says. "The talent there is amazing." Hill, formerly a member of the Air Force, credits the ADPFL, and the strong local support its teams generate, as a stepping-stone to his current position.
Each of the aforementioned leagues has its own goals, policies, and philosophies, as varied as the places and towns in which they operate. Yet, for all their differences, the most striking similarity of the successful D-leagues is their locality. These leagues are still here, in part, because of their humble beginnings, similar to how the NFL began. The original teams were essentially local clubs, and the Packers got their moniker because Lambeau's employer paid for their uniforms.
In building from the ground up, these D-leagues have established a firm foundation in their small towns and limited spheres of influence. The local fans might not be able to trigger seismic anomalies after a touchdown, but they keep the teams alive with their support. Players find out about the league through friends in it, or through Facebook posts. Local coaches sign on, become invested in their team, and stick around. Twitter advertisements get a few dozen retweets. The Detroit Free Press runs an article about the Rivals League's most recent draft. It is incremental growth to be sure, but it is growth, and these leagues develop each season alongside their players. It may be a blessing in disguise that the ADPFL, RPFL, and GDFL didn't start with the resources that the Pac Pro most likely will. They've been forced to tread the same path that the NFL once did, and it seems to be one that leads to success. Most players will not make it to the NFL, but a surprising number of them will see chances to play Arena football, or overseas. And from there, they are one step closer.
Stars of the 2017 NFL season? 10 potential breakout players to watch
"It's not about reinventing the wheel," Charles Thompson of the GDFL declares, "but about going back into the community and dealing with the people who are already involved."
Maybe the future of non-NFL football actually lies in the NFL's past: local teams, with local kids, filled with redemption stories, and players whose primary motivation is a love of the game and a desire to keep playing it. Perhaps building a strong relationship between itself and these other D-leagues will give the Pac Pro, and thousands of players, a better chance at beating those odds that are stacked against both of them.​ So as the Pac Pro offers its own alternative path to the big show, it should keep in mind that for the next generation of professional footballers, the road to glory might not start with the Alabama Crimson Tide, but with the Sarasota Millionaires, the Macomb County Bearcats, or the Crescent City Kings.